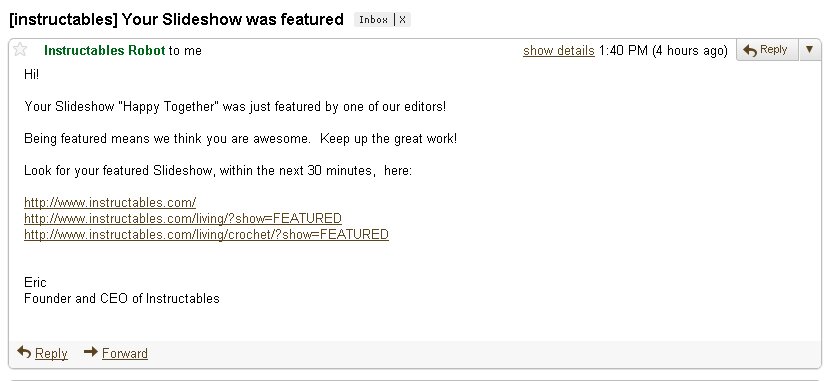 GAAAAHHHH!!!!! I'm FEATURED!!! :D :D :D
My slideshow and critter contest entry "Happy Together" is featured on Instructables!!! :D I'm so happy I might burst!!!
I wasn't going to post about Happy Together because… well, it's a secret. But I realize I need to post this now before they rotate my slideshow out of their list of featured items!
So if you visit in the next few days you can see Happy Together in the front page (!!!), the Living section, and the Crochet section :D
Happy Together deserves its own post, and I will write a more detailed post when it's safe to do so…
So happy… sniff… tears…
The critter contest is one of my attempts to try to participate more in the crafting community. I started to read lots of craft blogs recently and realized that I'm missing out on so much fun and really lacking motivation when I just make stuff in my own bubble. It is a bit of a risk, because what if people see the stuff I make and think they're silly or ugly or something? But the encouragement from friends and family certainly helped me take that step, and so far I've met quite a few nice and encouraging people on the web and it's been so much fun!
Anyways, another thing I participated in was Leethal's Saturday Make-Along. You can see the Saturday Make-along results on her blog post (look for genuine mudpie!). It's really cool to see what everyone made and I'm so thankful for all the work the host has done to put the whole event together!
I've also posted the pattern for Sakura Mochi on Ravelry — my first time writing a pattern! It's a really simple and straightforward test-run, but it's a rather magical feeling when I see someone makes the pattern and post a picture of it… it's like Sakura Mochi is able to spread the joy of crocheting somehow…
And I'm always thankful for your visits :)