Was apart­ment-hunt­ing with a friend in a near­by neigh­bour­hood. It was such a fab­u­lous day. So sun­ny but not too hot with some nice breeze. Then sud­den­ly we were greet­ed by this big, pink, fur­ry tree, which my friend called "the smoke tree", which I thought was such a poet­ic name for a tree…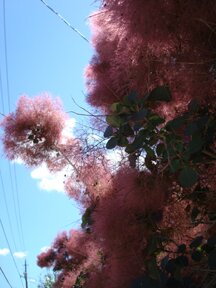 I've nev­er seen such a tree before. The pink "fur" was so light and soft I just want­ed to stick my face in it. (Actu­al­ly, I did stick my face in it, for a second.)
Then I saw anoth­er tree, which looked like a pine tree, but it did­n't have pine nee­dles. I mean it had some­thing that looked like pine nee­dles but they weren't prick­ly like pine nee­dles, they were soft like leaves. And it had pine cones but they were much small­er than reg­u­lar pine cones. I could pic­ture them being real­ly cool neck­lace charms but I for­got to check if there were any fall­en ones in the bushes.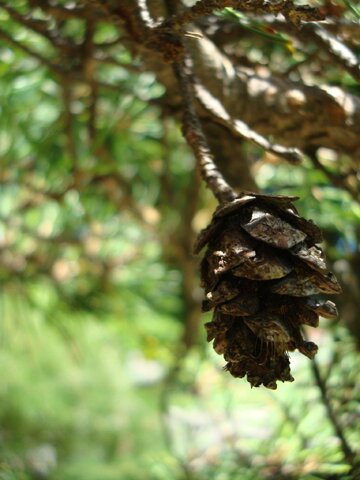 Speak­ing of neck­lace charms, I reg­is­tered for a resin jew­el­ery work­shop next week! I've been want­i­ng to learn that since I was in grade 5! We were still liv­ing in Hong Kong then, and my school had *manda­to­ry* extracur­ric­u­lar class­es (uh, oxy­moron?) every oth­er Sat­ur­day (yes, we had school on Sat­ur­days). I signed up for Girl Guide and then was picked for the choir, but my friends signed up for craft, and one day they came back with these real­ly neat crys­tal-like things with seashells and stuff embed­ded in them — it was so NEAT! And I want­ed to learn to make it so BADLY! But once you signed up for some­thing you can't change your mind so I was stuck with the choir (which I did­n't pick) and the Girl Guide… SO! 17 years lat­er, no more choir and no more Girl Guide and I can sign up for what­ev­er the heck I want and so next week, I'm going to make resin jew­el­ery! :D
By the way, the work­shop (and many oth­er fun and afford­able craft work­shops!) is held at Wise Daugh­ters Craft Mar­ket in the Junc­tion. If you live in Toron­to or if you ever vis­it Toron­to and you like crafts and the hand­made be sure to check it out! It's a won­der­ful place to buy art­works and crafty things cre­at­ed by local artists! I like to make half-day trips to that area because it's also down the street from High Park which is breath­tak­ing­ly beau­ti­ful in the sum­mer, and also many sweet lit­tle shops and cafes along the way.
Have a won­der­ful Wednesday!