Remember this?
Filigree cardigan from Stitch Nation! Yep, I got around to making it! :D It actually didn't take very long. The pattern was more straightforward than I thought.
Since I used an aqua colour yarn (it was donated! And there happened to be 9 almost-full skeins of it! :D), I figure I would pose for a similar-looking picture, with a similarly severe look on my face…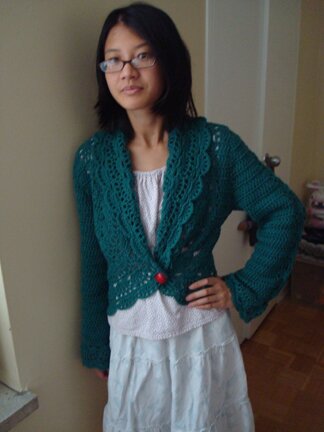 … and failing. After a day of working at the computer, I looked more dull than severe… so I stopped trying…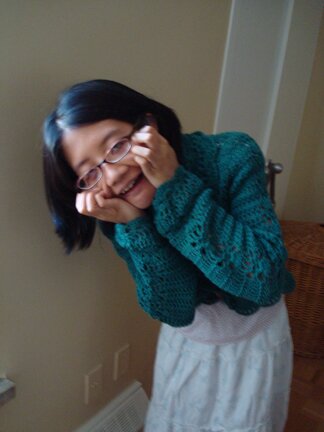 So, anyway. It was a good project. I also tried blocking for the first time. One would think that having been crocheting for so many years, I would've blocked something at least once? Nope. I never thought that it would work because I always used acrylic yarn. And usually things are at least wearable. But this cardigan turned out too short. Everything matched the gauge except the length (even though I didn't check gauge :P), and I couldn't button it up, so I had to find a way to lengthen it. I don't know what this yarn is made of, so I thought, why not, it was an excellent opportunity to try blocking :D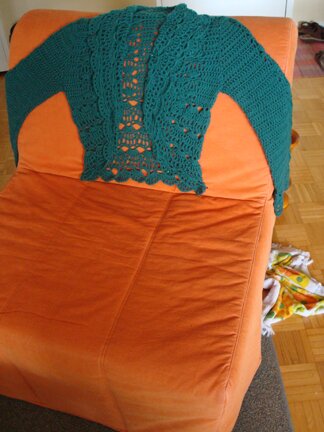 I soaked it and then pinned it to the chair… the towel you see on the floor was catching the water dripping from the sleeves. The sleeves were stretched too long after the blocking, but they looked better because the shell patterns were all bunched up before. Overall I think it worked out. A bit big on me; the looseness and the lace pattern remind me of seaweed. I like to name my projects :D
Have a very happy Friday, friends!