'Tis the season for candy corn! I was pointed to a tutorial for making candy corn trick-or-treat bags on The Purl Bee — they're so cute! They would make great party hats as well, I think!
While browsing on The Purl Bee, also saw these sweet felted bucket hats! I love the purple one. I would really like to try making these, as I've never tried felting in the washing machine before, but I don't have a 16mm crochet hook. So I was really happy to see that there is also a non-felted crochet version of the bucket hat! Maybe I'll make that for now until I get a 16mm crochet hook…
More sweet treats! Recipe for a GIANT s'more cake on The Birthday Blog! (I also think that a blog that is all about birthdays and birthday parties has got to be one of the most awesome blogs ever.)
Spotted this via the Craftzine blog, featuring a frosted cake between a giant piece of solid chocolate and two homemade graham cracker. I'll be such a happy camper if I ever get such a cake for my birthday!
Equally awesome but perhaps not as sweet… a crocheted owl pellet!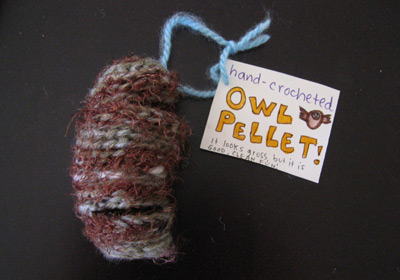 Found on Futuristicky via the Craftzine. I never knew what owl pellets were until last year, when I saw some real owl pellets on posters created by grade 4 students. It's quite fascinating what can be found in these, um, regurgitated bundles of undigested food. And the crocheted owl pellet even comes with pieces of crocheted bones!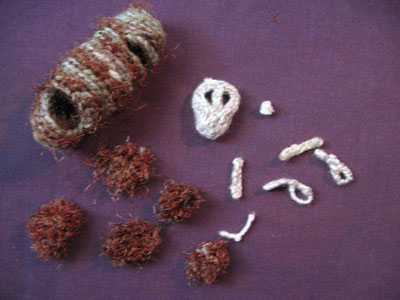 And finally, a video! While browsing on Amazon trying to find a book to read on the upcoming 17-hour plane ride, I saw this!
A Kirby's game, all in YARN!! :D
I don't play much video games except Tetris (and I'm really rather good at it, if I do say so myself). But I'm rather excited that there's a game based on yarn. I probably won't spend $50 to buy it, but I will likely rent it just to see what it's like!
Maybe one day they'll make Tetris in yarn too.
Have a great weekend everyone! :D