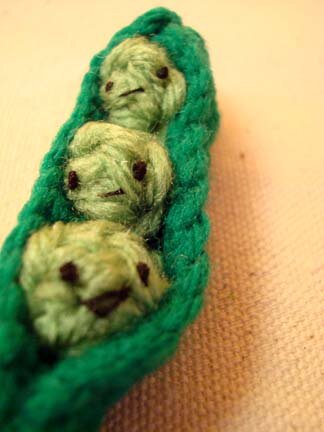 I was work­ing on a cus­tom order (which I will share with you very soon! :D) and it involves mak­ing a set of peas in a pod. It was a small part of a rather exten­sive project and I still had a lot more to do besides the peas, so I did­n't real­ly want to make the indi­vid­ual peas and stuff them. So I thought of using the pop­corn stitch, and here's what I did…
(Here's a great video about how to make the cro­chet pop­corn stitch just in case you want to get an idea of what it's like.)
I used:
A bit of worsted weight yarn in two dif­fer­ent shades of green
3.5mm cro­chet hook
Black sewing thread
Sewing needle
Yarn needle
For the peas:
The first pea: ch 4, 4 dc in 4th st from hook.
Then I did what I like to call the pop­corn maneu­ver: Â drop loop from hook, insert hook from front to back between the begin­ning ch and first dc, rein­sert hook into dropped loop, yo, pull through loop and space between begin­ning ch and first dc, ch 1.
The sec­ond pea: Repeat instruc­tion for the first pea.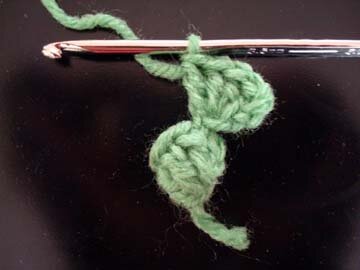 You can make as many peas as you wish, repeat­ing the instruc­tion for the first pea, and fas­ten­ing off after the last pea. I made three.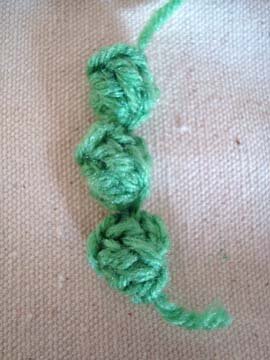 Next, I embroi­dered faces onto the peas with dou­bled black sewing thread, and then stuffed them slight­ly with some yarn-ends.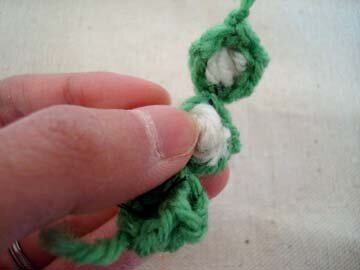 For the pod:
(The stitch count is for a pod with 3 peas. If there are more peas I would just eye-ball it and add more stitch­es to the begin­ning ch to fit.)
Row 1: ch 16, sc in 2nd st from hook, sc in each ch across.
Row 2: ch 1, 1 sc in each st across.
Rows 3–7: repeat Row 2.
Leave a 12″ tail, fas­ten off.
Fold pod in half length-wise. Using the 12″ tail and yarn nee­dle, sew one end togeth­er, like so…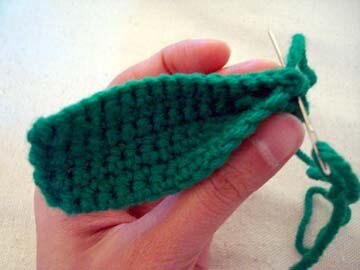 Then, place the string of peas inside the pod, and sew through the sides of the pod and the peas, zig-zag­ging across the length of the pod to the oth­er end, like so…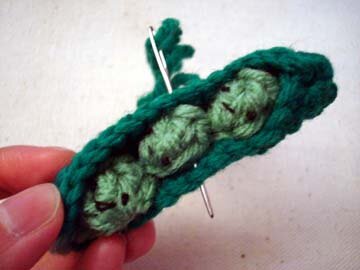 Final­ly, sew the oth­er end togeth­er, like so…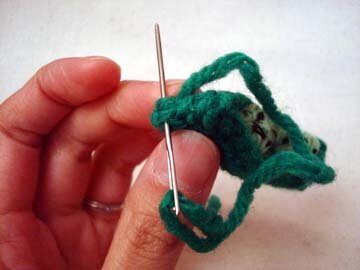 And here you have it, peas in a pod! :D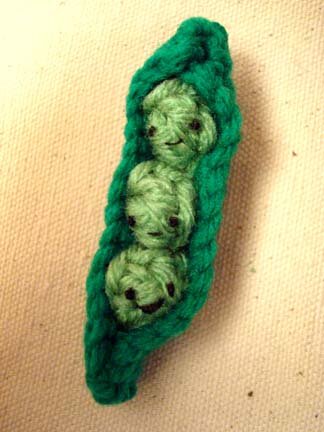 These peas think that they'll make a great fridge mag­net, or a pin, or an orna­ment, or a zip­per pull, or a cell­phone charm, remind­ing you to give peace a chance in this brand new year.
But if you need some ideas about how you can give peas a chance, here's a fab­u­lous mushy peas recipe — it's my favourite way to eat peas! :D
Have a love­ly evening and a won­der­ful Friday!