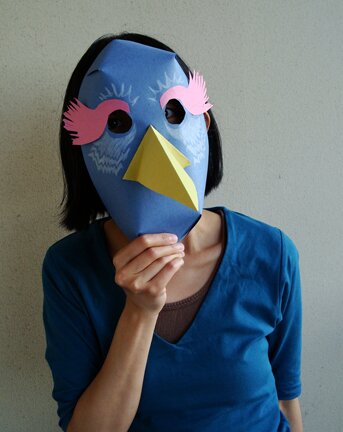 Not exact­ly like Kevin from Up, but since I was wear­ing blue when I took the pho­to it kinds of remind me of him :D
More craft­ing with kids last week. A rather large group of kids. What's sim­ple and straight­for­ward and costs next to nothing?
The ani­mal masks from Rice­Ba­bies remind­ed me of the mask-mak­ing work­shop from school. The masks we made were less "sculpt­ed" than the Rice­Ba­bies masks, but still three-dimen­sion­al. Last time I pre­sent­ed the idea to oth­er kids they were pret­ty impressed, so I decid­ed to go with it. I even found a pack of 200-sheet con­struc­tion paper at the dol­lar store for $2. The cashier would­n't believe me until she scanned the bar code.
This is the tem­plate we used. See? Pret­ty sim­ple. I sup­pose one could refine its shape more by hav­ing 3 cuts on each side instead of 2. And it does­n't have to be per­fect either, since it's going to be dec­o­rat­ed and shaped. This is just on a piece of 9"x12" con­struc­tion paper, and it's large enough for an adult's head, like mine. I just esti­mat­ed the posi­tion for the eyes; I think plac­ing them slight­ly above the mid­dle and 3 fin­gers apart gen­er­al­ly works well.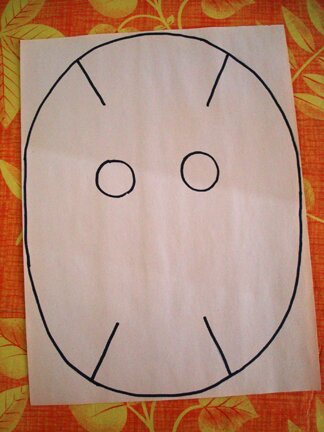 And then it's build­ing and draw­ing the fea­tures of the mask — the sky's the lim­it! We weren't going to be able to use paint, so I made this test one with con­struc­tion paper and drew on it with pen­cil crayons. It worked out fine, though it need­ed to be dec­o­rat­ed first before shap­ing and sta­pling the mask togeth­er. Def­i­nite­ly bet­ter to use card stock.
I think it's a pret­ty good project for a rainy day, like today. Hap­py Sat­ur­day, everyone!