I'm very easily amused, so it's not hard for me to find awesome things to feel happy about on an ordinary day. But last week was SUPER awesome! Just an accumulation of awesome things that I don't encounter on a regular basis.
First, the weather was REALLY nice all week. So nice that I started to expect rain — sunny weather doesn't last more than a few days until the rain clouds start to take over again, and so if I start to expect rainy weather than I wouldn't be too disappointed about the loss of sun and blue sky.
But rain didn't come! And at the end of most days last week Mike and I were able to enjoy some gorgeous sunsets on our west-facing balcony.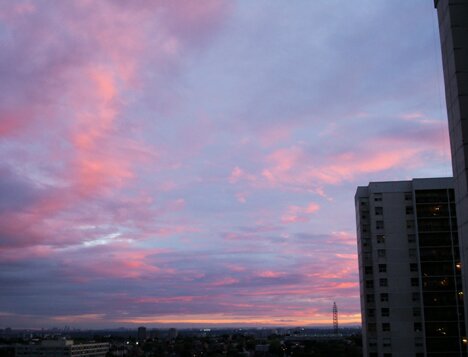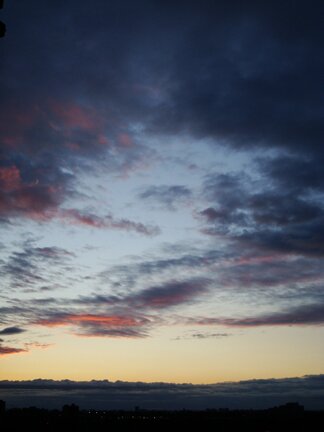 Thursday was the day that I was really praying for the rain to stay away. It was the opening reception of a small art show I organized in the community, and the Weather Network called for rain all day. So I was a bit nervous about it throughout the day, but guess what? It didn't rain. Not one bit.
AND guess who walked through the door at the art show opening?
MURDOCH!!!
I still can't get over it — Yannick Bisson, of Murdoch Mysteries, one of my absolute favourte TV shows, came to the opening reception!
I was too utterly shocked to go up to introduce myself or even to snap a picture (I also had to give a short speech and I'm terrified of public speaking, so I wanted to focus on preparing myself for that). I saw that he was mingling with the directors, so I thought someone would eventually introduce me after the speeches and all that… but he left! He left early, even before I gave my speech :'(
Oh well. It was still really cool to see detective Murdoch in person! :D Murdoch Mysteries is probably my second favourite show at the moment (a close second behind Fringe), because not only is it a Canadian production, it is also set in late 19th century Toronto (you know how I like to visit old houses and learn about life in the past). And so when Inspector Brackenreid mentioned "Mary of Shuter Street", I know exactly where that is! :D
The next day I had to work at a school picnic. The sky finally sprinkled a few drops of rain on us but nothing major after everything was set up, which I was really thankful for, because otherwise it wouldn't be possible to run the cotton candy station outside!
I even got to work at the station for part of the day, making cotton candy cones! Despite my hair and glasses and clothes being covered in cotton candy floss, it was way fun!
I also served popcorn from the popper!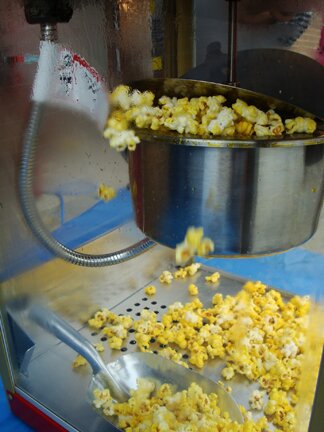 I saw this very cool tutorial for making animated image on Make it and Love it, and thought some of the pictures I took of the popcorn popping would make a fun animation. Though I didn't take the pictures with that in mind and so only two pictures were usable… but I thought I would give it a try anyway :D
Looks like it's eating the popcorn rather than popping them out :P
nom nom nom nom nom…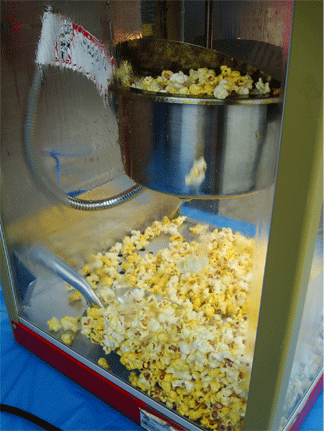 The animation was so much fun to make! I'll have to try it with other pictures sometimes…
And then I got a cupcake at lunch break (on top of all the other great food the parents brought), which I ate while sitting on the grass. The cupcake was as delicious as it was pretty.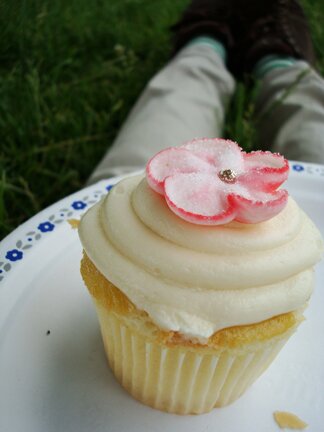 Then on Saturday we met up with some old friends and witnessed another old friend being married :D Very exciting indeed. There was sushi as far as eyes could see at the lunch buffet reception. After much eating and chatting and clapping and laughing and singing, and while other guests started leaving and helpers started cleaning, here I am resting by the watercolour, feeling very happy.
Recognize the mussels dress, and my summer shoes? :D
The flower pin is another crafty story in itself. I will have to save it for next time.
I know not every week will be like this one, and some weeks are completely disastrous, but I'm just very, very thankful for all the wonderful things this week. Hope you have a great start to your week!
If good things lasted forever, would we appreciate how precious they are?
— Hobbes (the stuffed tiger)