"What's the deal with Pin­ter­est?" I've been won­der­ing for a while. A few blogs I fol­low talked about it. A few blog­gers I fol­lowed start­ed a Pin­ter­est account. I knew that I was­n't about to sign up for yet anoth­er thing that I feel com­pelled to check every­day, so I was­n't even inter­est­ed in check­ing it out. But one day I had some time to kill so I went on it.
Oh boy.
Pin­ter­est is a dan­ger­ous place.
As  a result, this week's favourite things is rather long… I tried to restrain myself, and I've left out quite a few things… so these have got to be my favourite of the favourite this week! (I hope it's not too over­whelm­ing to read…)Â
Â
Nev­er thought of weav­ing shrink plas­tic before! Bril­liant! Here's a tuto­r­i­al by A Bird in the Hand Art.
These are like Jack and Casey — except made of felt instead of cro­chet! :D Post­ed on Check­out Girl, for the book Kids' Crafter­noon Sewing.
A very styl­ish ver­sion of glue batik! I think I'll try it on a plain white tee I sal­vaged from  my old clos­et at my par­ents'. Tuto­r­i­al on Ucre­ate.
Â
Pom pom Angry Birds and green pigs! XD Now one can set up a game of real life Angry Birds in min­utes! How-to on Make and Takes.
Â
I don't do much embroi­dery but these are the cutest embroi­dered sheep ever! And very clev­er­ly made too. From Just Crafty Enough.
Â
Mak­ing image trans­fer with sand paper and wax crayons — what a nov­el idea! (well, to me any­way.) From Alphamom.
Â
I've turned men's shirt into skirts before but only with an elas­tic waist, nev­er this ele­gant. Maybe Mike has a shirt he does­n't want… :P Tuto­r­i­al and dia­grams on Bur­da Style.
Â
Hang­ing pic­tures with pop tabs! Appar­ent­ly it's been test­ed and it works. Handy! From Apart­ment Ther­a­py.
Â
A springy coin purse made with a plas­tic con­tain­er lid and fab­ric! Such a clever idea and makes a great gift! How-to on Idle Hand Emp­ty Brain.
Â
Make your own chalk­board paint! I'm aller­gic to chalk dust so I can't ever have this in my home :( or my hands will break out in eczema and be cov­ered in a gazil­lion tiny blis­ters *shud­der* (actu­al­ly, same thing would hap­pen if I pet a cat, but I do it any­way >_<)… any­way, it is a great idea nonethe­less for those who can enjoy chalk, and cus­tom coloured too! Good things come from the Martha web­site.
Â
Real life ver­sion of anoth­er inter­net meme — the Nyan Cat! :D Down­load tem­plate from ddi7i4d on Deviant Art!Â
Â
I love these illu­mi­nat­ed pho­to neg­a­tives. Mak­ing them into votive hold­ers makes a great way to appre­ci­ate them. How-to on Pho­to­jo­jo.
Â
Isn't this the cutest tiny tooth plush ever? Pat­tern gen­er­ous­ly shared by Knit­ting Pony.
Â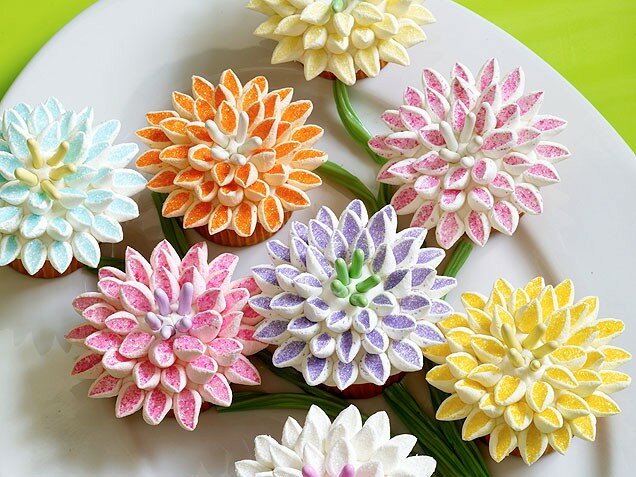 These gor­geous mums are appar­ent­ly very sim­ple to make, by cut­ting minia­ture marsh­mal­lows in half and dip­ping in coloured sug­ar! From iVil­lage.
Â
Â
A while ago a friend asked me if I have an ice cream mak­er — I don't, but it does­n't seem too dif­fi­cult to make ice cream with ingre­di­ents and tools eas­i­ly found at home! I love projects with read­i­ly avail­able mate­ri­als. Learn how to make ice cream in a zip lock bag at 2 Lit­tle Hooli­gans!
Â
Â
When I trav­el I always dread the lug­gage con­vey­or belt. What if my suit­case does­n't come? What if anoth­er per­son has the same suit­case and mine got tak­en by some­one else? What if I miss it as it goes by? What if I can't get it off the con­vey­or belt and I get dragged along and stum­ble and fall on the con­vey­or belt? And so on. With these suit­case eyes I sup­pose I can at least solve the "what if anoth­er per­son has the same suit­case" prob­lem. One less thing to wor­ry about :D Via Swiss­miss.
Â
Spot­ted on Craft, this jel­ly fish one caught my eye. Though it's sold already. But many more fas­ci­nat­ing tiny worlds in tiny bot­tles over at the Tiny World in a Bot­tle Etsy Shop :D
Â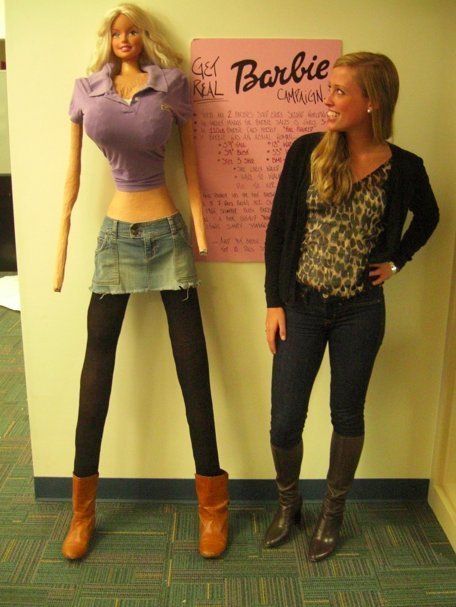 Final­ly, I'll end with a tremen­dous­ly inspir­ing sto­ry of a young woman advo­cat­ing for a real­i­ty check by cre­at­ing a real life Bar­bie doll. It baf­fles me that after all the efforts on chal­leng­ing the cul­tur­al con­cept of "ide­al beau­ty" and wom­en's roles in soci­ety, lit­tle girls still aspire to look like Bar­bie. I was in fact quite scared when a 4 year-old told me that she was going to wave her mag­ic wand and turn the whole city into "Bar­bie World". Good thing her mag­ic wand was only imag­i­nary *whew*. I do hope that as she grows up she finds role mod­els more wor­thy of her admi­ra­tion and imi­ta­tion than a plas­tic pup­pet of cor­po­rate prof­it-mak­ing. Any­way, I invite you to read the orig­i­nal arti­cle and the young wom­an's sto­ry, but here are a cou­ple of facts from the arti­cle that stood out to me, things that I find sad­ly laughable:
- If Bar­bie were an actu­al women, she would be 5′9″ tall, have a 39″ bust, an 18″ waist, 33″ hips and a size 3 shoe.
-Â Slum­ber Par­ty Bar­bie was intro­duced in 1965 and came with a bath­room scale per­ma­nent­ly set at 110 lbs with a book enti­tled "How to Lose Weight" with direc­tions inside stat­ing sim­ply "Don't eat."
Â
I'm off to scoop myself some ice cream :P
Hap­py Fri­day, friends!
Â
Â