Fall is in the air! :D
Lattice cookies by Not Martha, perfect over hot apple cider. (With step-by-step photo tutorial on how to make the lattice!)
Mini cherry pies baked in a muffin tin! Isn't that cute? Recipe on Sew Sweet Stitches.
An altered book project! Thinking of my librarian friend who loves fall decorations… How-to on Creations by Kara.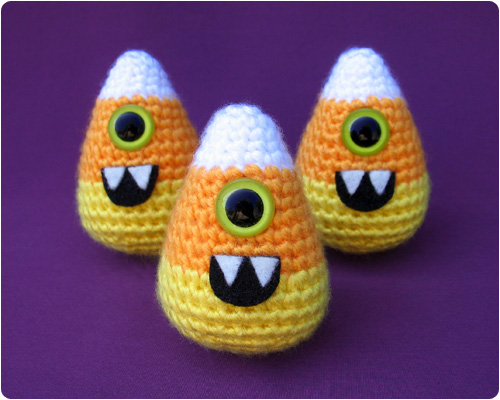 Candy corn clops! XD Free pattern on Gleeful Things.
And now for things less seasonal but equally awesome…
Stylish earrings made with those ubiquitous buttons/pins from I Could Make That. Now I have a way to make good use of my button collection :D
Custom picture frames made with kraft paper tape (or as my high school art teacher calls it, butcher's tape — actually, I haven't heard anyone else call it butcher's tape. Maybe she made it up. She says it in a really funny way too, makes me smile every time I see butcher's tape). How-to on Oh Happy Day.
The process of this is so cool — it starts with a plain black tee and with alternating layers of bleach and dye it became a whole universe! From Unicorn Parade.
A lovely thimble necklace by Maize on Instructables. I've got to make one of these if I ever come across an extra thimble. I only have one and need it for sewing…
And finally, from one of my favourite plush designers…
A tiny sushi from Mochimochi Land! Isn't this ever cute! There is no pattern for this but I have to show it to you. I could just look at it all day and marvel at the craftsmanship of it. I've made crocheted sushi but the knit version just has a different kind of smooth and refined look to it. I wish I could knit better… And it doesn't end here, check this out…
A tiny edamame! Enter the caption contest before Monday and you could win the Ninjabun pattern! (I would totally try making up a haiku for this if I could knit!)
Have a happy weekend, everyone! :D