Haven't opened my Google Read­er (where I book­mark all the blogs I fol­low) for about a week, and today I was ter­ri­fied to see that there were 200 unread items! >_<Â
I end­ed up not read­ing any of it, just clicked the "mark all as read" but­ton while look­ing away… I kind of feel bad not read­ing them — what if I miss some­thing real­ly impor­tant? (appar­ent­ly, as Mike told me, it's called the "fear of miss­ing out" effect — FOMO for short) But I just can't spend the time to read all that right now. "And isn't the point of book­mark­ing the abil­i­ty to eas­i­ly access blogs one likes and to read them when­ev­er one likes?" I told myself.
But any­way, here are a few awe­some things I've book­marked this week! :D
Ever eat­en an acorn? I've nev­er even seen the inside of an acorn, let alone eat one. Lil Fish Stu­dio opened my eye to a whole new world of acorn-eat­ing! Would this be some­thing you might try? (Not sure if I'll win if I have to fight over them with the squir­rels though… espe­cial­ly the nin­ja ones :P)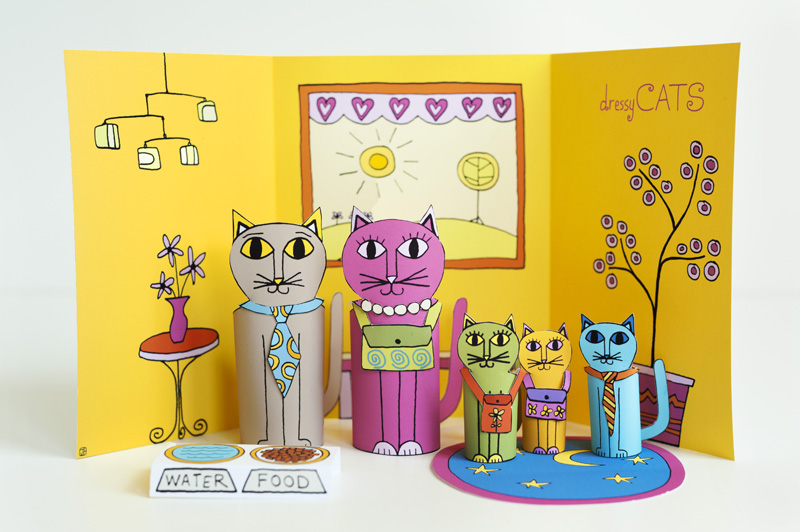 Dress-up paper cats from one of my favourites — Made by Joel! Coloured and colourable tem­plates free for down­load! I love Joel's cre­ativ­i­ty and style as much as I love his gen­eros­i­ty. So much work goes into design­ing and he shares so much of that for free.Â
Â
Awe­some­ness! Six crafts kids (and kids-at-heart) can make in a cof­fee shop! Also in awe of the illus­tra­tion :O From What I Made.
Â
Turn a board book into chalk book! How-to on WhipUp.
Â
No more cry­ing over spilled drink — watch them turn into but­ter­flies instead! What a mar­velous con­cept. Via Inspire Me Now.
Â
Have a hap­py week­end, everyone!
Â
Â