Awesomest idea of the week — break a glow stick in half + pour glow goo into a jar + swirl = instant lantern! :D Spotted on Pinterest.
Another light fixture idea involving bottles. Festive! From Taste of Home.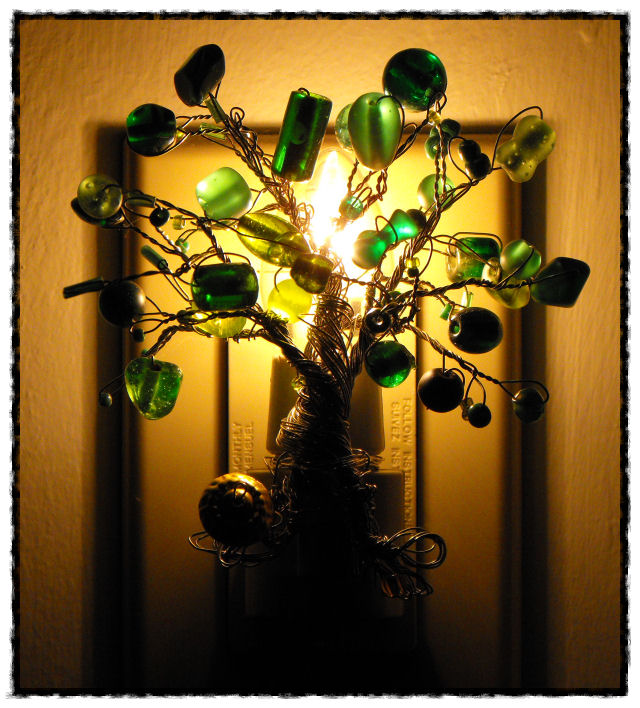 More cool-looking lights! Tutorial for adding a beaded wire tree to a night light from …Squirrel!
Awesome way to repurpose old leather purses and other leather scrap. How-to on Design by Night.
This is so cute! Another way to recycle leather things. Tutorial on Cation Designs.
For when you need a friend… Monster pet rocks from The Cocoa Bean Blog.
Love the simplicity of this. Hexnut and macrame bracelet — tutorial on Minieco.
This is apparently an Anthropologie knock-off. Anthropologie appears to be all the rage in the States but I don't think I've seen one in Toronto yet… could be because I avoid malls. Knock-off or not, I just think this is really pretty! How-to on Kojodesigns.
Isn't this brilliant? Both a candle holder and a planter — the plant is really planted and growing in the pot! How-to on Family Chic.
Coffee cake in a mug in under five minutes! Must try! Recipe on Prudent Baby.
Have a wonderful evening, everyone!