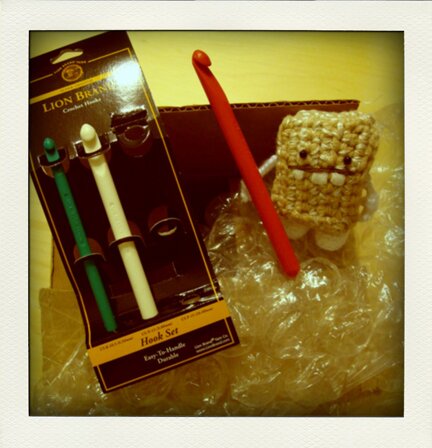 It's been over a year and a half, but I've just spent the $25 Lion Brand gift certificate that Marshie won through the Critter Contest. And they've arrived yesterday — new hooks!
The hooks themselves were under $10 but with shipping it just pretty much consumed all of the $25 certificate (isn't that mind-boggling?). But I'm so excited about the hooks! I had no hooks in between size 6mm and 16mm before, so now I can work on projects that call for 6.5mm, 9mm or 10mm hooks!
Not sure what I'll make yet… but just thinking about the possibilities is making me quite happy :D
I'm currently working on a small knitting project (small and simple enough that I can handle and complete as I have very little patience with knitting :S). I so want to show you because I'm so proud that I'm knitting, but I can't because they're Christmas presents… oh well, I will be able to share them in due time.
Hope your weekend is fabulous!