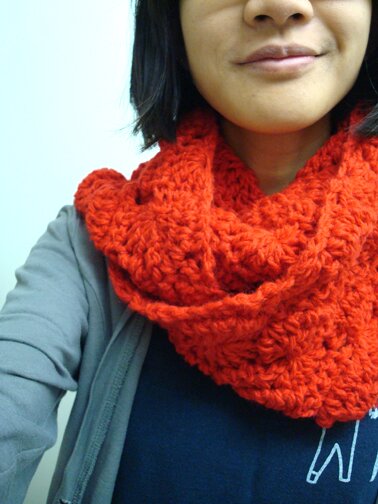 Have been want­i­ng to make an infin­i­ty scarf for a while. I just real­ly like the idea of a "nev­er-end­ing" scarf, and not hav­ing to fuss with the ends of a scarf, how to tuck them in so it's all styl­ish, how to pre­vent them from get­ting caught in my coat zipper.Â
So when I saw this pat­tern on Rav­el­ry I had to make time for it, usu­al­ly half an hour before I go to bed after a day of class­es or writ­ing or reading.
The colour of can­dy apple — for fall! :D
I made it a bit nar­row­er so it's less bulky. My short body frame does­n't car­ry large bulky acces­sories very well. And I'm hap­py to use my new 9mm hook! I used a chunky acrylic and wool blend yarn.
I love the star burst texture…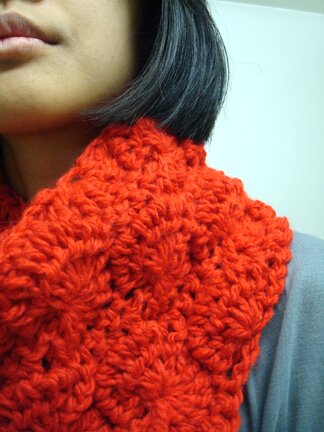 I love the pat­tern so much that I'm mak­ing a tunic with it. A bit of an exper­i­ment and it's going to take a while, but I'm excit­ed to see how it turns out.
Novem­ber is going to be mad­den­ing­ly busy before it all ends in Decem­ber, but mak­ing time to cro­chet real­ly helps me feel a bit hap­pi­er while I'm knee-deep in assignments.
Have a great week, everyone!