Lately I've been spending my time on the subway playing Angry Birds Seasons. Mike and I have collaboratively unlocked all the levels on his phone, but when I got my own phone I had to replay all the levels again to unlock them, which is fun! :D
If I were an angry bird, I think I'd be the blue bird — mainly because he looks kind of afraid, which is a word that I've often heard others use to describe me as. It's true that he's not as strong as others, but he's certainly helpful in his own unique ways.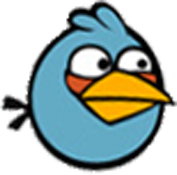 Just curious…
If you were an angry bird, which would you be?
Have a wonderful Friday!