Late­ly I've been spend­ing my time on the sub­way play­ing Angry Birds Sea­sons. Mike and I have col­lab­o­ra­tive­ly unlocked all the lev­els on his phone, but when I got my own phone I had to replay all the lev­els again to unlock them, which is fun! :D
If I were an angry bird, I think I'd be the blue bird — main­ly because he looks kind of afraid, which is a word that I've often heard oth­ers use to describe me as. It's true that he's not as strong as oth­ers, but he's cer­tain­ly help­ful in his own unique ways.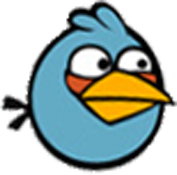 Just curi­ous…
If you were an angry bird, which would you be?
Have a won­der­ful Friday!