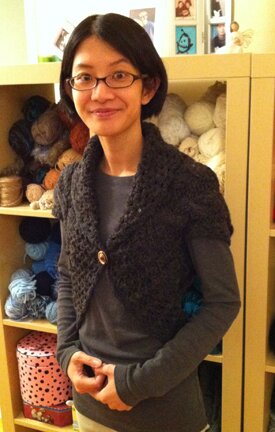 Look! New fin­ished project! :D
I final­ly decid­ed that the oval shrug in my yarn-craft­ing res­o­lu­tion list is way beyond my knit­ting skill lev­el, so I found anoth­er pat­tern to replace it. It's by Tiny Owl Knits.
It's kind of shaped like the oval shrug, but much sim­pler! AND it has a cro­cheted edg­ing :D It's per­fect because a) I want­ed to prac­tice knit­ting cables, and b) I don't know how to pick up stitch­es from a knit­ted edge to knit an edg­ing. So it's a col­lab­o­ra­tive effort between knit­ting and cro­chet­ing :D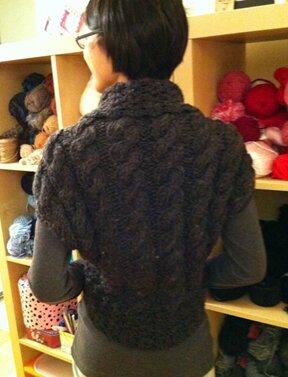 Fits well, and it's real­ly rather warm, because it's knit­ted with 2 strands of bulky weight yarn held togeth­er on 10mm nee­dles. Which means that it also knits up very quick­ly :D
When it first came off the nee­dles the cables looked real­ly bulky, but I was­n't sure if block­ing would work because the yarn I used is a wool/acrylic blend. And it's been used in anoth­er knit­ting project before, washed, and frogged. But my friend shared with me a method of block­ing for acrylic that involves iron­ing the gar­ment under a wet tow­el, so I tried it…
… and it worked! :D
I'm not exact­ly block­ing here, as I'm not pin­ning the shrug down to mea­sure­ment. But the cables stayed flat nonethe­less, which makes it look more "store-bought" and pol­ished-look­ing, I think.
I'm now work­ing on anoth­er knit­ting exper­i­ment… might be able to get a pat­tern out of it, will let you know! :D
Have a won­der­ful week­end, everyone!