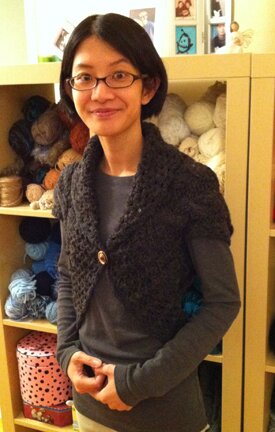 Look! New finished project! :D
I finally decided that the oval shrug in my yarn-crafting resolution list is way beyond my knitting skill level, so I found another pattern to replace it. It's by Tiny Owl Knits.
It's kind of shaped like the oval shrug, but much simpler! AND it has a crocheted edging :D It's perfect because a) I wanted to practice knitting cables, and b) I don't know how to pick up stitches from a knitted edge to knit an edging. So it's a collaborative effort between knitting and crocheting :D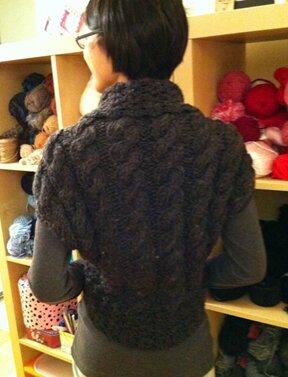 Fits well, and it's really rather warm, because it's knitted with 2 strands of bulky weight yarn held together on 10mm needles. Which means that it also knits up very quickly :D
When it first came off the needles the cables looked really bulky, but I wasn't sure if blocking would work because the yarn I used is a wool/acrylic blend. And it's been used in another knitting project before, washed, and frogged. But my friend shared with me a method of blocking for acrylic that involves ironing the garment under a wet towel, so I tried it…
… and it worked! :D
I'm not exactly blocking here, as I'm not pinning the shrug down to measurement. But the cables stayed flat nonetheless, which makes it look more "store-bought" and polished-looking, I think.
I'm now working on another knitting experiment… might be able to get a pattern out of it, will let you know! :D
Have a wonderful weekend, everyone!