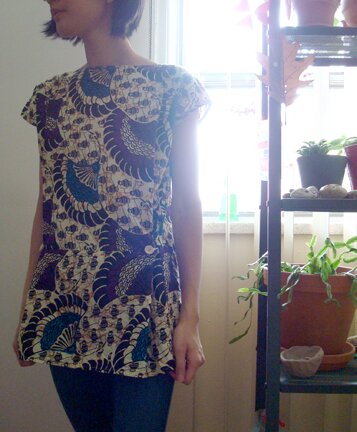 I spent much of last week sewing. My goal was to make sev­er­al light square tops in prepa­ra­tion for the super hot Toron­to sum­mer (although it's rather unsea­son­ably cold at the moment. Also, there's an awe­some super easy square top tuto­r­i­al by C&C if you're inter­est­ed :D).
Bought this fab­ric at a very friend­ly and afford­able fab­ric shop down­town (will vis­it again!). I first made a square top, and then I thought it would look great if it were longer, so I added more fab­ric to the bot­tom. But then it looked real­ly wide and a bit tent-like on me, so I added two but­tons and cro­cheted but­ton loops on the sides so I could fold the sides in to give it some shape.Â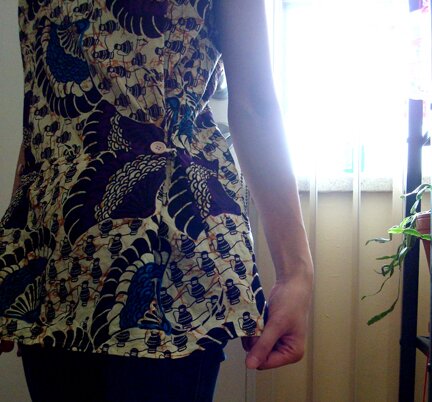 So it 's more a rec­tan­gle than a square. And here's how the but­tons and but­ton loops are placed.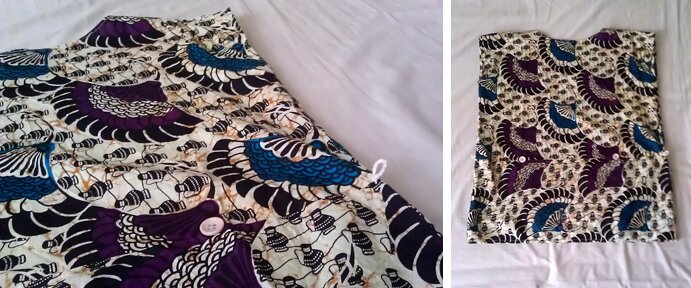 Â
More of a front view…Â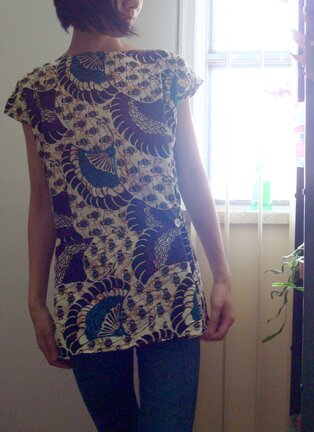 On a sep­a­rate note, while tak­ing these pho­tos with a self-timer I attempt­ed to take lev­i­tat­ing pho­tos like the awe-inspir­ing ones by Nat­su­mi Hayashi (it's fas­ci­nat­ing! Check them out if you have a moment :D). Thought this would be a nice top to lev­i­tate in style :P But it real­ly made me real­ize how very dif­fi­cult it is to not only jump at the right time but also look nat­u­ral­ly float­ing in mid jump! Plus the shut­ter speed of my point & shoot isn't real­ly fast enough to take good lev­i­tat­ing pho­tos. I gave up after 10 jumps or so (real­ly out of shape!) and there­fore don't have any suc­cess­ful pic­tures to show… but maybe I'll ask Mike to help me with his super cam­era some day…
More sewing projects to come! :D
Hap­py Wednesday!