I mentioned a while ago that my friend opened a shop across from the art college we attended, and I was renting some space for my plush… I don't think I've ever showed you pictures of my plush in the shop!
Here they are! :D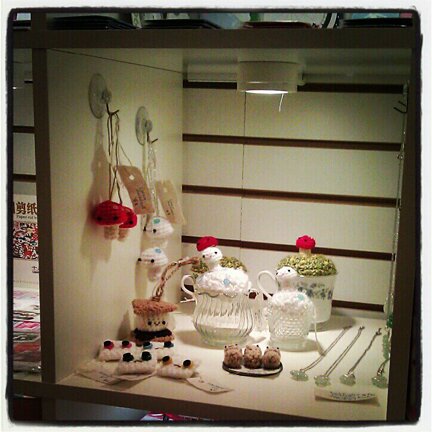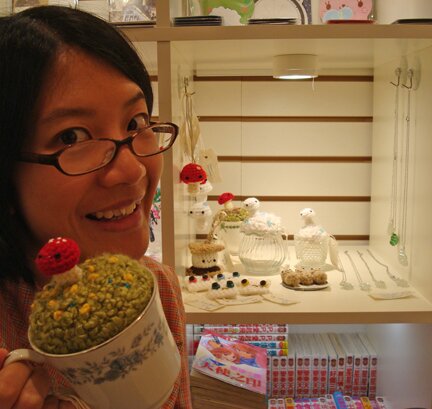 That was back in April. I've added more stuff this past weekend.
Fierce octopus pins!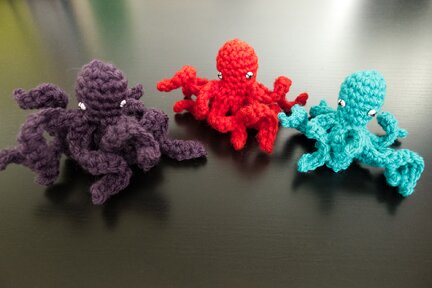 The prototype had eyes made of beads from the gift package that my friend sent me — they're extra fierce, bulgy eyes! So I had to keep it for myself :D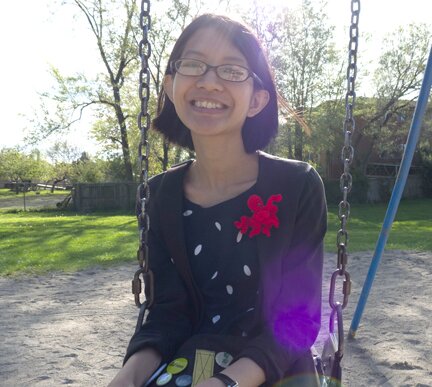 Close up of the extra bulgy eyes…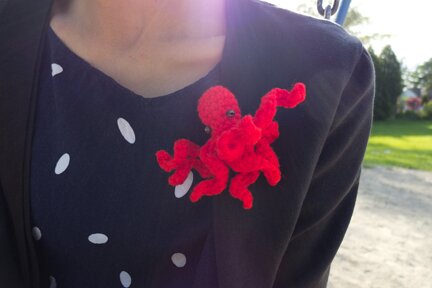 Also made tea rose pins that can also be worn on a necklace.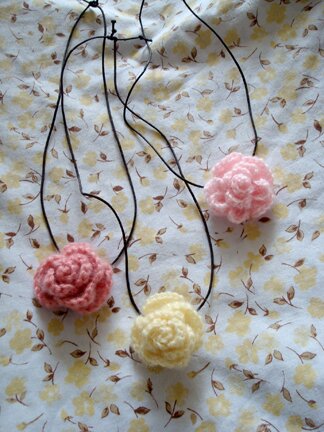 And the updated shop! :D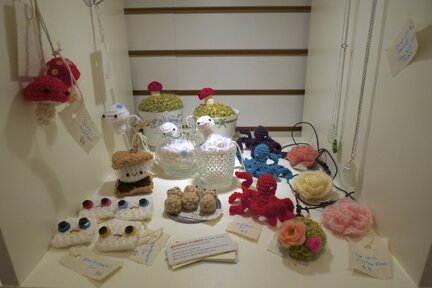 Mike brought the new items to the shop and took this picture for me, because I didn't have time to go that day. If you look closely you'll see that one of my snow mushroom lid has been pushed into the jar… I suppose a customer thought it belonged inside the jar rather than sitting on top of it. And I suppose that's one of the risks of putting my beloved plush into a public, physical shop. My friend kindly fixed it for me afterward.
I actually found it difficult to walk away from all my plushes when I put them into the shop. Felt like I was leaving them behind… :'( So I like selling online for this reason, I can keep my plushes with me indefinitely, until someone buys them. At the same time, sales have been extremely slow at my Etsy shop, while quite a few things have gone to good homes at my friend's shop. So I've been contemplating whether to keep the Etsy shop…
Also, I've been hearing a lot about unfair practices on Etsy lately. The latest news came from one of my favourite crafters.
I won't repeat the stories here (if you're interested in learning more please visit the above and following links), but I will certainly join the protest, because a lot of what has happened is simply not right and our voices need to be heard.
Some believe that closing our shops for one day won't make a difference. My shop, for instance, will likely not make any sales on any given day even when it's open. Thus, its temporary closure pretty much means nothing to Etsy in terms of profit. But I suppose by joining in the protest I can at least let the company know that I'm not okay with its unfair practices toward my fellow crafters and its inaction toward reselling.
Some expressed concerns that all the shops that are involved in the protest will be closed down by Etsy. I personally don't believe that will happen. And if that happens then I will definitely not partner with an organization that operates through dictatorship and simply seeks to eliminate all expressions of opposition. I suppose the stakes for me is not as high as artisans who depend on their handmade business to make a living. So that's all the more reason for me to contribute my voice to this protest, in the hope that things can change for the better especially for crafters and artisans whose independent businesses are their main sources of income.
Support handmade!