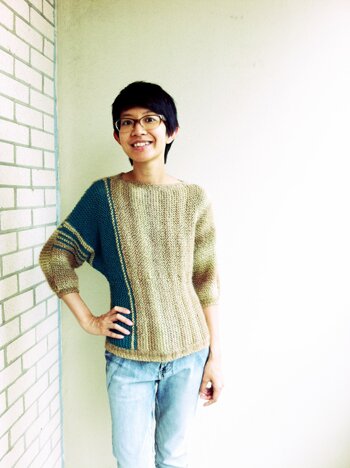 A sandy-coloured sweater! :D KNITTED!!
I've always wanted to try a pattern by Pickles. They always look really stylish and seem simple to knit. Simple enough for someone who doesn't knit very much, like me.
This sweater is made from the Late Summer Sweater pattern. I added random stripes of teal half way through the back piece because I thought I would run out of the sandy-coloured yarn (which, by the way, I bought from Value Village last year :D). I'm very much used to crocheting, where making a sleeve can consume an ENORMOUS amount of yarn, so I definitely overestimated how much yarn it would take to make the sweater. I ended up with an entire skein leftover. Yay :D
Here's how the back looks, it has a different stripping pattern than the front.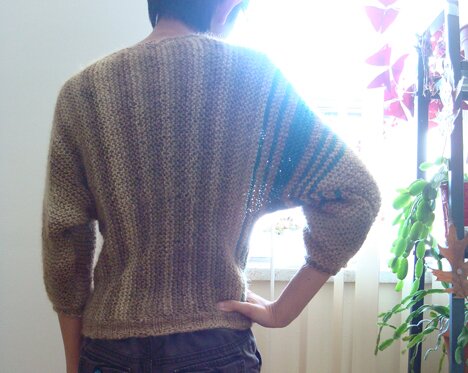 I also made the sleeves and the bottom half of the sweater longer than instructed. More precisely (if you're interested in making the sweater), the bottom part of the body (below the beginning of the bat wing sleeve) has 30 stitches in length, compared to 16 stitches in the pattern. And I did several more increases for the sleeve, ended up with 38 stitches before casting on extra stitches for the body.
Rather proud of myself for being able to add ribbing (2x2) to the edges :D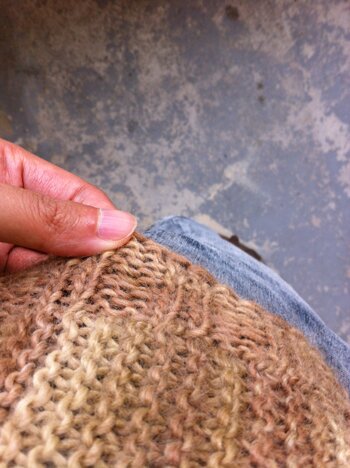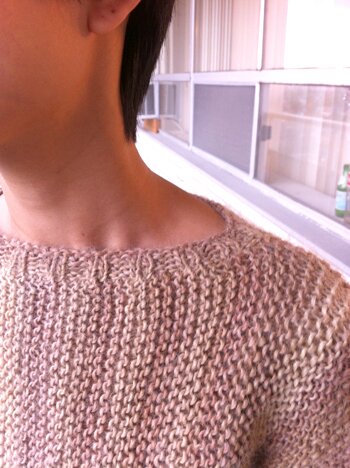 The collar and the bottom edge are knitted on circular needles back and forth, and then the ends are sewn together. The sleeve cuffs however, are knitted *in the round* on DPNs — a new thing I don't have a lot of practice with and pretty much avoid in patterns. It's really not that hard but I'm still quite happy about it :D I used Lacey Bind off so it's stretchy (#3 on the list in the link).
I'm all ready for fall! :D
Have a wonderful weekend, everyone!