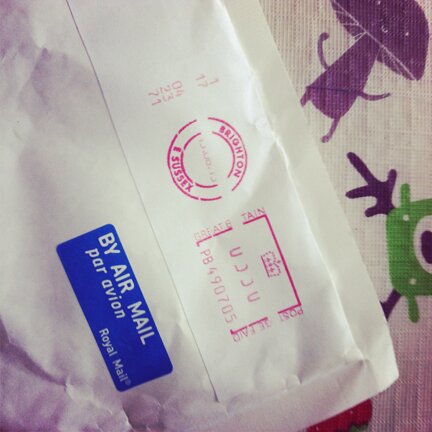 I love getting Royal Mail :D
This time it carries two opalite beads that I ordered from Kerrie Berrie, a very friendly bead shop in Brighton. Not that I've been there in person (I wish I could be there in person), but the shipping was fast and when I had questions they replied right away. Very friendly services. And they have teardrop-shaped opalite beads!
I've been looking for opalite beads in this specific shape for a long time. The local bead stores don't seem to have them. Of course I could get a string of like 100 on Etsy, but I don't need that many. (Well, Etsy shops would probably sell them in a string of 10 or something, I was exaggerating. But I don't even need 10) I just wanted one to make a necklace with. So I just kept looking every time I go to a bead store, hoping it would wondrously appear in front of me in a bead tray one day.
And one day I did a Google image search and saw a picture with two perfectly smooth teardrop-shaped opalite beads. I clicked on it and it took me to this bead store in Brighton, where one could shop online and buy as few as ONE opalite bead. I bought two :D
And finally a necklace was made, following this tutorial on how to wrap a briolette.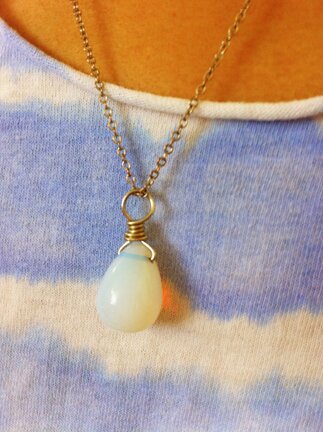 I love opalites because they glow.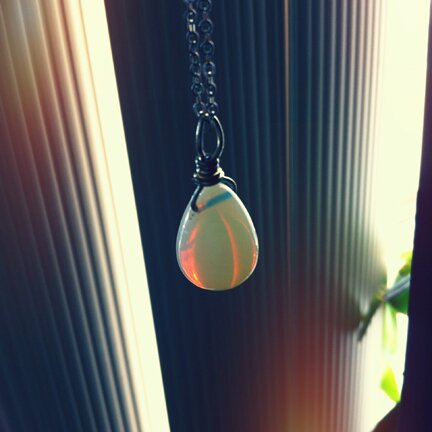 :D
Another happy news! Last Friday Sara of Illuminate Crochet posted an interview that she did with me :D Feeling so grateful that Sara gave me space on her blog to talk about crochet and plush and things I love. You can read the interview here, and be sure to browse around her awesome, informative blog and features on other crocheters!
Have a wonderful week, everyone! :D