Update — May 6, 2015:
I've just received a com­ment from origa­mi book author, Mr. Didi­er Boursin, inform­ing me that the origa­mi crane card mod­el comes from one of his books (his com­ment can be found below).
I want to clar­i­fy that in the orig­i­nal post (see below), I have clear­ly stat­ed that I did not invent the origa­mi crane greet­ing card instruc­tions. I have in all hon­esty for­got­ten where I've learned it. I was an avid fold­er in my teenage years, and have pored over prob­a­bly over a hun­dred origa­mi books from the library. I have been fold­ing this dia­gram from mem­o­ry for many years, but I do not own the book that con­tains this dia­gram, nor do I remem­ber which book con­tains this dia­gram. With some exper­i­men­ta­tion I came up with this dou­ble crane ver­sion, and thought I would share it in case oth­ers would also find it useful.Â
From his list of pub­li­ca­tions it is evi­dent that Mr. Boursin is a pro­lif­ic origa­mi design­er and author, and so it is like­ly that I've come across this crane greet­ing card mod­el in one of his books, or a book that includes his dia­gram, as he has sug­gest­ed in his com­ment. How­ev­er, it was nev­er my intent to deceive the read­ers or dis­re­spect Mr. Boursin and oth­er origa­mi design­ers. I apol­o­gize for not remem­ber­ing where I ini­tial­ly learned this pat­tern and there­fore could not prop­er­ly cite it when I wrote this post. And so, since now we know where the pat­tern comes from, out of respect, I am tak­ing down the rest of the instruc­tion on this post.Â
If any­one is inter­est­ed in fold­ing this mod­el, please con­sult Mr. Boursin's list of origa­mi books.Â
Thank you for reading,
Trish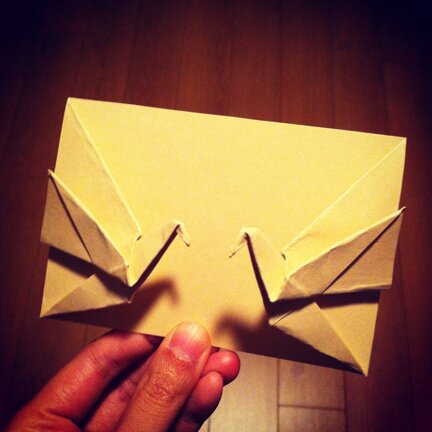 Last week I men­tioned that I was going to a wed­ding (pho­tos to come! :D). I decid­ed to exper­i­ment on a vari­a­tion of my usu­al origa­mi crane greet­ing card, which has only one crane, and make a dou­ble-crane ver­sion. I was quite proud that it worked out! So I thought I'd share the fold­ing instruc­tions here, in case it will come in handy for you some day too :D
I must say, though, that I did­n't invent the origa­mi crane greet­ing card instruc­tions myself. I learned it from a book, but I for­get what that book is… there might also be instruc­tions of it float­ing around on the inter­web some­where. If you're not famil­iar with mak­ing origa­mi cranes, it might be help­ful to first try your hands on the orig­i­nal origa­mi crane to get a feel of how some of the folds work (video here).