Update — May 6, 2015:
I've just received a comment from origami book author, Mr. Didier Boursin, informing me that the origami crane card model comes from one of his books (his comment can be found below).
I want to clarify that in the original post (see below), I have clearly stated that I did not invent the origami crane greeting card instructions. I have in all honesty forgotten where I've learned it. I was an avid folder in my teenage years, and have pored over probably over a hundred origami books from the library. I have been folding this diagram from memory for many years, but I do not own the book that contains this diagram, nor do I remember which book contains this diagram. With some experimentation I came up with this double crane version, and thought I would share it in case others would also find it useful.
From his list of publications it is evident that Mr. Boursin is a prolific origami designer and author, and so it is likely that I've come across this crane greeting card model in one of his books, or a book that includes his diagram, as he has suggested in his comment. However, it was never my intent to deceive the readers or disrespect Mr. Boursin and other origami designers. I apologize for not remembering where I initially learned this pattern and therefore could not properly cite it when I wrote this post. And so, since now we know where the pattern comes from, out of respect, I am taking down the rest of the instruction on this post.
If anyone is interested in folding this model, please consult Mr. Boursin's list of origami books.
Thank you for reading,
Trish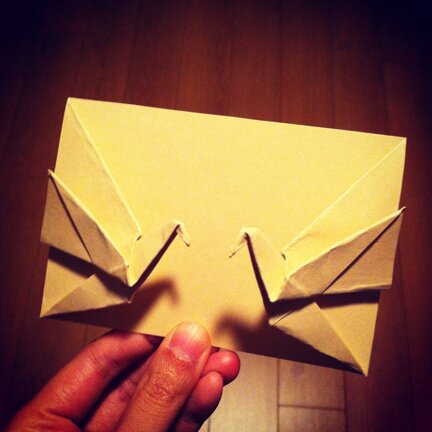 Last week I mentioned that I was going to a wedding (photos to come! :D). I decided to experiment on a variation of my usual origami crane greeting card, which has only one crane, and make a double-crane version. I was quite proud that it worked out! So I thought I'd share the folding instructions here, in case it will come in handy for you some day too :D
I must say, though, that I didn't invent the origami crane greeting card instructions myself. I learned it from a book, but I forget what that book is… there might also be instructions of it floating around on the interweb somewhere. If you're not familiar with making origami cranes, it might be helpful to first try your hands on the original origami crane to get a feel of how some of the folds work (video here).