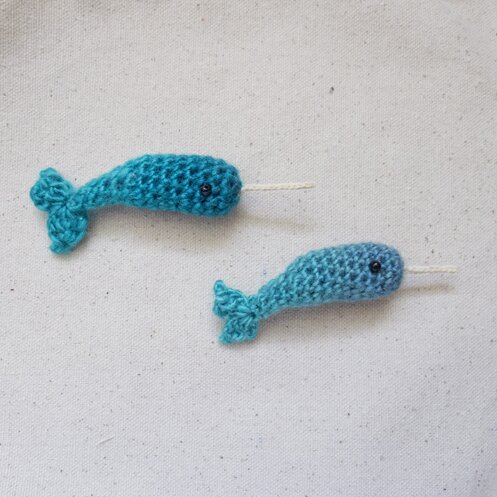 The narwhals are tiny, and they are also very apologetic today, because this pattern is WAY overdue! Remember this giveaway months ago? Where I asked everyone what animal I should make for a new amigurumi pattern? This is it. So sorry about the massive delay!
Here's Mike's hand, as a size reference.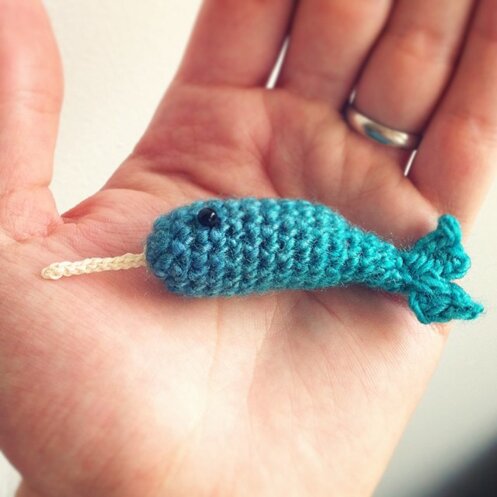 I made two, one goes to the giveaway winner :D and the other goes to Mike for his birthday. You might notice that they're slightly different sizes. For the slightly larger one I used Mary Maxim Prism (light worsted. Red Heart Boutique Unforgettable is similar, but slightly heavier), and for the other I used Mary Maxim Step It Up (a sock weight yarn — unfortunately discontinued). They are just leftover yarn in my stash. I do like the gradation of colour, makes a very magical-looking narwhal :D
I'm quite happy with how the tusk turned out. I was just going to glue a toothpick to it and call it a day, but thought I'd give cotton thread a try first. And it worked! So it's crocheted, then stiffened with acrylic medium.
So here it is, finally, I present to you, the narwhal pattern :D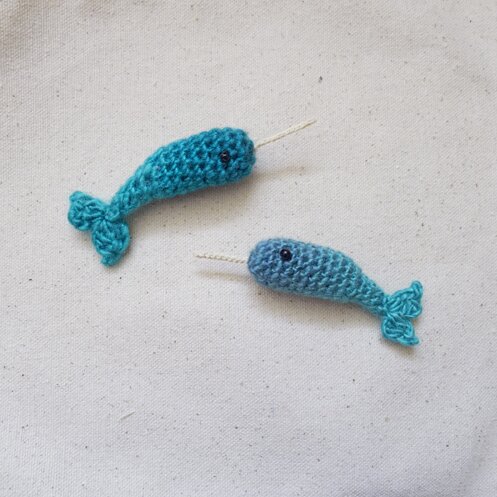 I used:
Narwhal body — light worsted or worsted weight yarn, 3.5 mm hook
(if you use a lighter yarn i.e. sock weight, scale down on hook size accordingly i.e. 3 mm or even 2.5 mm)
Tusk — cotton crochet thread (I used Aunt Lydia Classic #10), 2 mm hook
Stuffing (I like to use yarn ends), 2 small beads for eyes, needle and thread for sewing on eyes, fluid acrylic medium to stiffen tusk (or white glue will do as well, but acrylic medium is more durable)
Stitches used: magic ring, chain (ch), single crochet (sc), double crochet (dc), 2 single crochet together (2 sc tog), 2 double crochet together (2 dc tog), slip stitch (sl st).
Narwhal body is crocheted in rounds in one piece, including the tail.
Rnd 1: 6 sc in magic ring, do not join
Rnd 2: 2 sc in each sc (12 sc)
Rnd 3: 1 sc in each sc (12 sc)
Repeat Rnd 3 until piece measures about 1.5 inches or longer if desired. Then begin to decrease into the tail part.
Decrease Rnd 1: 2 sc together five times, sc in each of next two sc (7 sc)
Repeat Decrease Rnd 1 for three rows (7 sc)
Stuff body firmly. I like to use yarn ends.
Decrease Rnd 2: 2 sc tog three times, sc in next sc (4 sc)
Decrease Rnd 3: 2 sc tog twice
Tail: ch 3, 2 dc tog in the base of the ch 3 just made, ch 2, sl st in second ch from hook, ch 3, sl st in the base of the same ch 3 in the beginning of row, ch 3, 2 dc tog in the base of same ch 3, ch 2, sl st in second ch from hook, ch 3, sl st in base of same ch 3. Fasten off, weave in ends.
Tusk: Attach crochet thread to head of narwhal. With smaller hook, ch 13, sc in second ch from hook, sc in each ch to end of chain. Fasten off, weave in ends.
With small brush (or finger), apply acrylic medium to cover entire tusk. Let dry, then apply another coat.
I didn't do this, but wouldn't it be fun if one sprinkles a bit of fine glitter on the tusk before the acrylic or white glue dries? :D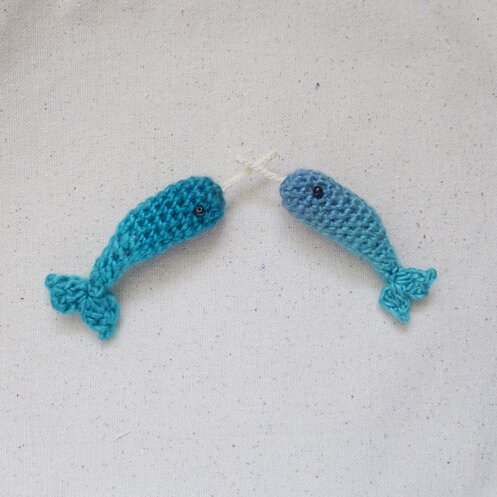 And here we have it, the tiniest narwhal, unicorn of the sea.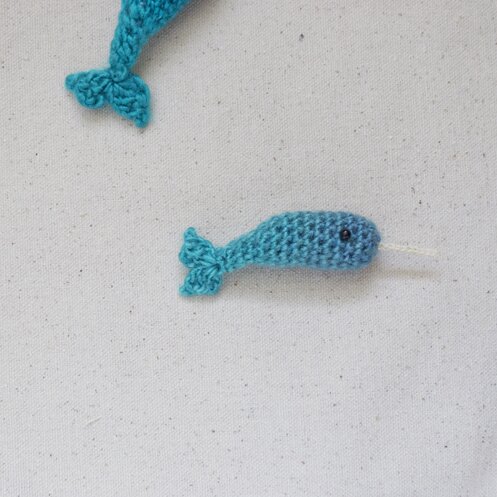 If you have any trouble with the pattern please don't hesitate to drop me a note!
Happy weekend, everyone! :D