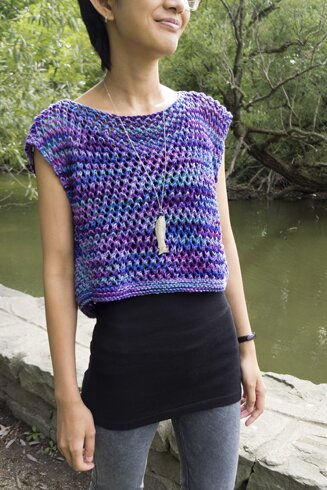 What to do with half a skein of Bernat Handicraft cotton that's been in my stash since the late 1990s? Make a retro cropped top :D
It's a cropped top because I don't have enough yarn to make a full length sweater. And this colour is probably discontinued, so it's unlikely that I can get more of it. I do really like the colours in this variegated cotton though. It's just that every time I try to crochet something with it the colours tend to clump together (as I later found out, the proper knitting/crocheting term is "pooling", as in the colours "pooling" together). So I thought maybe a knit pattern would decrease the pooling a bit.
I adapted the cap sleeve lattice top by The Purl Bee. Made some simple changes to accommodate the heavier yarn (the original pattern uses a sport weight yarn), so I thought I'd share them here in case anyone would like to make a similar top.
I used:
Worsted weight cotton. I'm not sure how many yards I had left in the leftover skein, but I still have quite a bit leftover after the sweater, so I'd say the sweater used about 450–500 yards.
6mm needles
Finished size: Bust 38″, length 15″
What I did:
CO 61 (can adjust for size by casting on more or fewer stitches, just make sure that there is an odd number of stitches)
Work in garter stitch (knit every row) for 5 rows.
Work in lattice pattern (as per The Purl Bee) until piece is 15″ (or as long as you like), end with lattice row 3.
Neck opening row 1 : k 15, BO 31, k 15
Neck opening row 2: work in pattern for first 15 stitches, CO 31 (see The Purl Bee's instruction for cable cast on), work in pattern for remaining 15 stitches.
Work in pattern until piece is 14″ from neck opening (or as long as you like, matching length of the the back minus the garter stitch rows).
Work in garter stitch for 5 rows, bind off.
With right sides together, sew sides together, leaving an opening of 7″ from top of shoulder to underarm (or length as you see fit).
And it's done! :D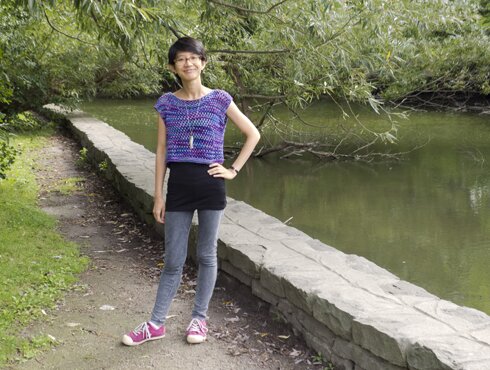 We happened to be at High Park on the weekend so I took some pictures of it by the duck pond :D
I have to say that the pooling was still happening with all the dark purple clumping together in large areas, so I ended up dividing the skein of yarn into two balls, and knitting two rows from each ball alternately, which definitely helped.
Wishing you a fantastic week!