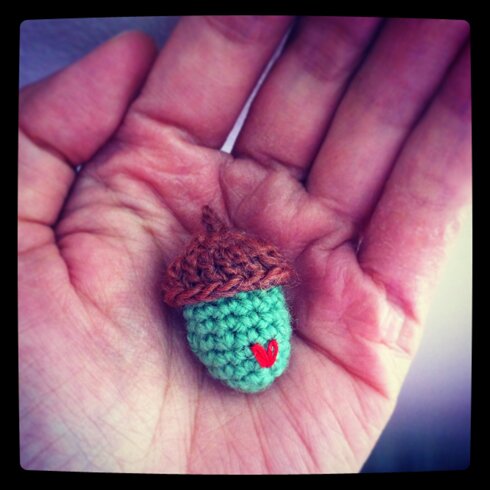 "Today's mighty oak is just yes­ter­day's nut that held its ground." ― David Icke
(and yikes, I have real­ly dry hands…)
3rd pat­tern in the 12 Days of Wood­land Crea­tures (and Their Favourite Things)! Today we have the squir­rels' favourite things — Acorns!
The mighty acorn would make a mighty oak, or a mighty good snack for the wood­land crea­tures. Either way it's going to do good :D
An extra small acorn makes a won­der­ful neck­lace. Sim­ply attach a jump ring at the top and put a chain through ‑Â voila!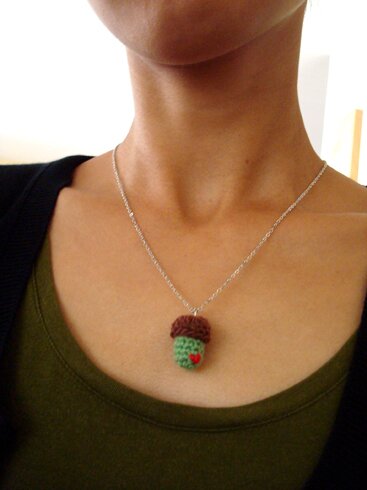 Fun~ So I thought I would write the pat­tern for both the mini acorn and the reg­u­lar acorn. They're very sim­i­lar, just slight­ly dif­fer­ent stitch counts.
For the acorns I want­ed to use a sock weight yarn in my stash that has very rich shades of brown, so I've used small­er hooks. But if you're using worsted weight yarn you can just use the 3.5 mm hook as usu­al, and you would end up with a slight­ly larg­er acorn.
I used:
Sock weight yarn in brown and green
2.25 mm hook
Scrap yarn for stuffing
Red embroi­dery thread (option­al)
Nee­dle for sewing and embroidering
Pat­tern:
Note: instruc­tions are for mini acorn [reg­u­lar acorn in square brackets]
Cap:
Round 1: ch 4, sl st in 2nd ch from hook, sl st in next ch (you've just made the stem), ch 1, 8 [10] sc in next ch, sl st in first sc to join.
We're basi­cal­ly cro­chet­ing a cir­cle with the stem in the cen­tre, so when join­ing you will have to go behind/around the stem, like so…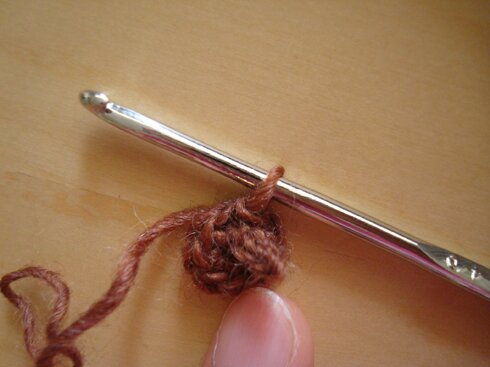 Round 2: ch 2, dc in same sc as start­ing ch, *dc in next sc, 2 dc in next sc*, repeat from * to * to end, sl st in top of turn­ing ch 2 to join. Fas­ten off and leave a long tail for sewing.
Nut:
6 sc in mag­ic ring, do not join.
sc in first sc, *2 sc in next sc, sc in next sc*, repeat from * to * 2 [5] more times.
sc in each sc until piece is 3/4″ tall. Fas­ten off, weave in end.
Assem­bly:
If you'd like, embroi­der a heart on the acorn by mak­ing two lazy daisy stitch (here's a great tuto­r­i­al for it). But the acorn would be just as awe­some if you leave it plain.
Stuff the acorn with scrap yarn. Sew the cap on the nut using the long tail left on the cap. Because it's so small I just sew right through the acorn in a cross-man­ner all around, sewing through the bot­tom edge of the cap and top edge of the nut, being care­ful not to pull too tight so the acorn would keep its plump shape.
And here we are! I made dif­fer­ent colours :D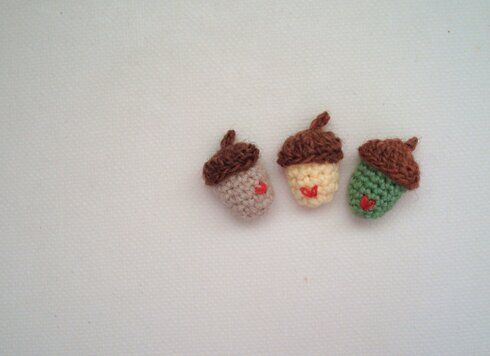 They would make great pins with mini pin backs attached on the back. I think they would also make great hang­ing orna­ments on the tree or by the win­dow. You can also skip stuff­ing the acorn nut, squash the cap and acorn flat, then sew them togeth­er to make an applique.
Hope you enjoy the acorn pat­tern! Hap­py Mon­day! :D