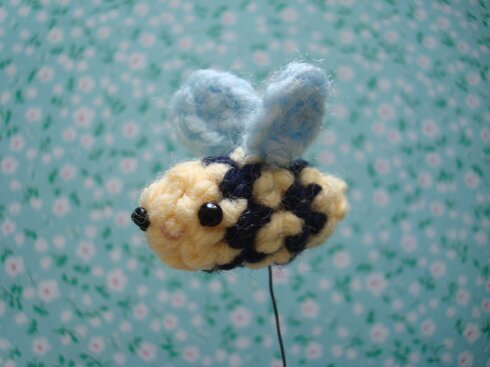 The 7th pattern in the 12 Days of Woodland Creatures (and Their Favourite Things) project!
It's been a very busy week (hence the delay in posting this pattern, so sorry about that!). I'm frantically making as much stuff as possible for my booth at a show this weekend (more below!!), at the same time preparing for a research presentation and trying to meet other deadlines… *deep breath* so I thought a bee pattern would be a perfect representation of this busyness!
He's very quick to make. The body consists of only 6 rows of 6 stitches around. But because of the colour change and his tiny size it can be a little tricky. The good thing is that because it's such a small and quick pattern even if one has to start over it's not such a big deal. It took me a couple of tries to get the joining seam neat and tight, so don't be discouraged if your first try doesn't go as smoothly as you'd like, the bee will come along with just a bit of practice :) Those tiny wings are pretty sweet, if I do say so myself.
I used:
Worsted weight yarn in yellow and black
Sport weight yarn in pale blue
3.5 mm hook (for body)
2.25mm hook (for wings — you can probably use a hook size from 2mm to 2.5mm, it doesn't have to be exact)
2 small seed beads for eyes
Needle and thread for sewing and embroidering
Pink thread for embroidering mouth
Pattern:
Body (use 3.5mm hook)
Row 1: with yellow, 6 sc in magic ring, sl st in first sc to join.
Row 2: ch 1, 1 sc in each sc around, sl st in first sc to join, change to black yarn, carry yellow yarn up as you go.
Row 3: repeat row 2 with black, change to yellow, carry black yarn up as you go.
Row 4: repeat row 2 with yellow, change to black, carry yellow up as you go.
Row 5: repeat row 2 with black, change to yellow, fasten off black.
Stuff body with some scrap yarn.
Row 6: ch 1, *2 sc tog over next 2 sc*, repeat from * to * two more times, fasten off, leave a 6″ tail.
Weave yarn tail through the remaining 3 sc, pull tight, fasten off, weave in end.
Tiny wings (make 2, use 2.25mm hook)
With pale blue, 4 sc in magic ring, ch 2, 2 dc tog in magic ring and in first sc made in ring, fasten off, leave a 6″ tail.
Securely tie off the loose end of the magic ring, weave in and cut end.
Assembly
Tie both wings to one stitch at the top of body.
Sew on eyes and embroider mouth, hiding thread ends and knots in the black stripes at the back of the body.
And buzzzz!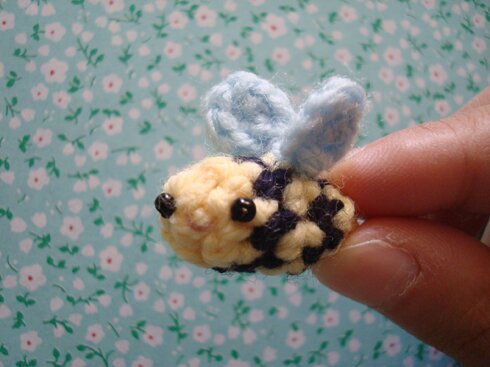 Here's the bee with my fingers holding it as size reference.
AND if you're in Toronto or nearby, and looking for fun things to do on the weekend, come by the Weekend Vendor's Market! It's at 1630 Dundas Street West.
I have a booth in the market tomorrow. It's been a long time since I've done a booth so I wanted to make something new. And guess what, it's woodland themed! :D
Here are my fancy stealthy friends: city bandit, ninja cat, garden rabbit, and white squirrel (not picture, because, stealth!)
And an assortment of mushroom and acorn pins and magnets.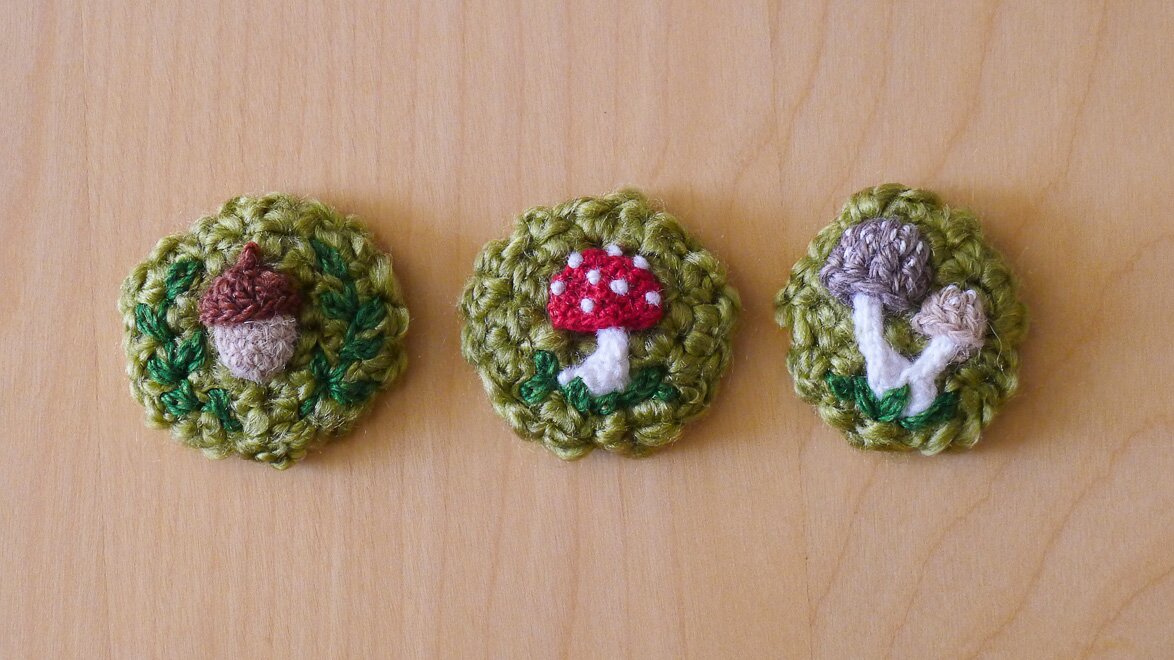 And as you may recognize, owls and hedgehogs too!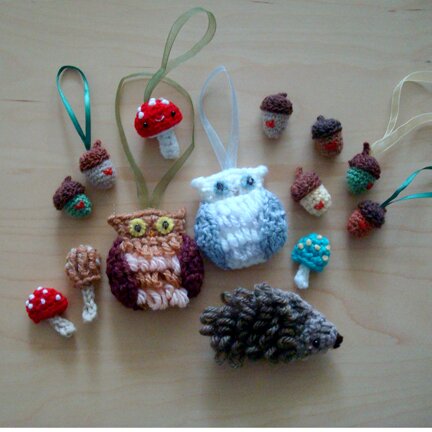 Plus! Mike has also made a series of delightful greeting cards! Would love to see you if you're in the neighbourhood! :D
Nuit Blanche is also happening tomorrow evening so it's a good time to come exploring in the city!
Wishing you a fabulous weekend of rest and fun!