Tiny and easy. Looks like I've got a bit of a theme going after the tiny donuts!
I have a cou­ple of sweater pat­terns that I've been hop­ing to share, but I just haven't had the time or ener­gy to sit down and write it. So for now, tiny and easy it is :)
These are super quick to make! And they are very tiny. Here is my hand in the pic­ture for scale. They're about 7/8″ in diameter.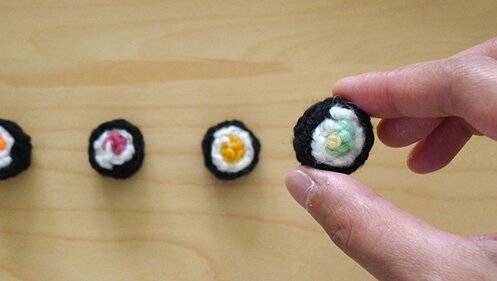 I just hap­pen to have scraps of var­ie­gat­ed green and orange yarn at home, they worked beau­ti­ful­ly for avocado/cucumber and salmon.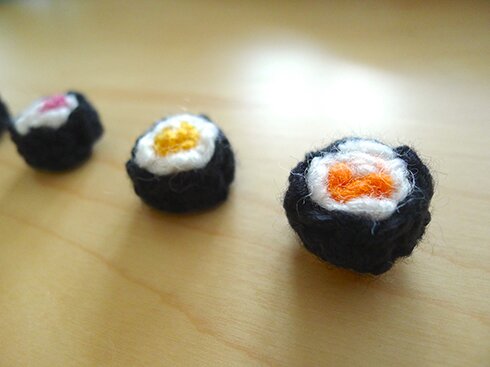 The "pat­tern" is not at all orig­i­nal. A quick search on Rav­el­ry would yield a cou­ple of cro­chet sushi pat­tern made in the same method, like this one (inge­nious! I actu­al­ly made one for a sushi-lov­ing friend years ago), and this one. But I sup­pose the stitch count that I came up with is par­tic­u­lar to these tiny maki rolls, so I thought I'd share it. It's also not so much a pat­tern but more like a recipe. One can eas­i­ly adjust the length and width to include more fill­ings for the maki rolls.
I used:
tiny bits of black, white and oth­er colours for desired fill­ings, in worsted or light worsted weight yarn.
3mm hook
tapes­try needle
What I did:
Note: turn­ing ch does not count as a stitch.
Row 1: Using fill­ing colour yarn, ch 3, sc in 2nd ch from hook, sc in next ch, ch 1, turn.
Row 2: sc in each of next 2 sc, ch 1, turn.
Row 3: sc in each of next 2 sc, switch to white yarn, fas­ten off fill­ing yarn, ch 1.
Rows 4 — 12 (9 rows): repeat row 2. At the end of row 12, switch to black yarn, fas­ten off white yarn, ch 1.
Rows 13 — 24 (12 rows): repeat row 2. Fas­ten off, leav­ing a 10″ tail for sewing. Weave in ends.
Assem­bly:
Start­ing from the end with the fill­ing colour, roll up the strip tight­ly. Sew end of strip to the maki roll, then sew through the diam­e­ter of the maki roll in dif­fer­ent direc­tions a cou­ple of times. Fas­ten off, weave in ends.
And we're done! Easy, right? I found it pret­ty hard to stop mak­ing them :S But what can one do with so many tiny sushi rolls? They're very light, so great for ear­rings! I've made these yam roll ear­rings for the shop :D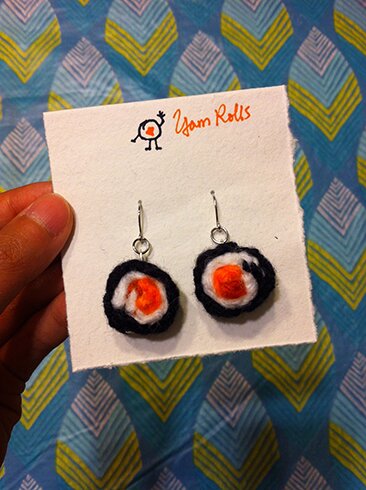 And I made a futoma­ki brooch sort of in a free-form style. It is list­ed in my Etsy shop — cus­tomiz­able and fresh­ly made-to-order! :D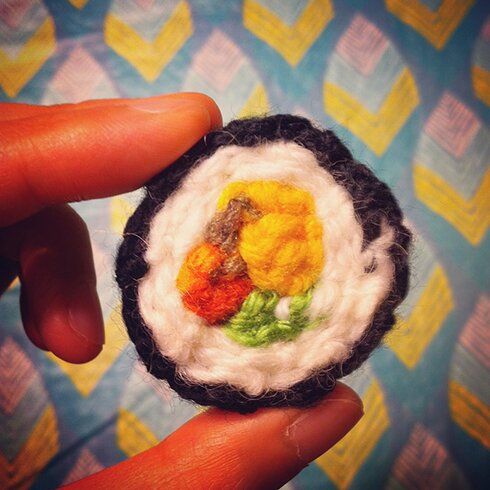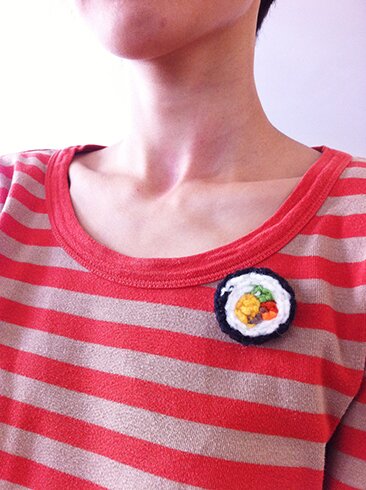 And here we have it, futomaki and friends :D

But wait, we're not done with sushi mak­ing! In our next episode we will make easy nigiri! Stay tuned! :D