I recent­ly received a love­ly email from a friend­ly staff per­son at War­by Park­er invit­ing me to write a post about my sum­mer moments and to pick some of their sun­glass­es to go with them, for their #seesum­mer­bet­ter cam­paign. While I'm not receiv­ing any mate­r­i­al or mon­e­tary com­pen­sa­tion for writ­ing this post, except per­haps friend­ly shout-outs from the War­by blog, I'm still feel­ing rather flat­tered that there is inter­est in this blog, espe­cial­ly since Mike just got a pair of glass­es from them and he quite liked them, and had been telling me good things about the com­pa­ny, includ­ing friend­ly and approach­able cus­tomer ser­vice :) Anoth­er thing that attract­ed Mike to shop from them is their Buy a Pair, Give a Pair pro­gram, which does­n't only cre­ate access to afford­able glass­es, but also oppor­tu­ni­ties for skill-build­ing and employment.
So I was hap­py about writ­ing this post. But there is one problem:Â I don't usu­al­ly wear sun­glass­es. It's kind of a for­eign top­ic to me and I don't real­ly know what to write about.
Not that I don't like wear­ing sun­glass­es. I think they're very impor­tant for eye health. I'm just rather util­i­tar­i­an about it (among many oth­er things). I used to own a pair of sun­glass­es that I bought from the drug store, they go over my reg­u­lar glass­es (as in wear­ing two pairs of glass­es at the same time). But then I got new glass­es that are a lot wider than my old pair and the sun­glass­es can't fit over them. And I nev­er both­ered to get a pair of pre­scrip­tion sun­glass­es. So I haven't been wear­ing sun­glass­es for a few years now. Prob­a­bly not good for my eyes, espe­cial­ly in the sum­mer. The invi­ta­tion to write this post might actu­al­ly be a good reminder that I need to get myself a pair of pre­scrip­tion sun­glass­es soon… and maybe I'll think a bit more about style rather just util­i­tar­i­an this time (sun­glass­es that go over reg­u­lar glass­es aren't the most styl­ish ever :S).
So I sort of inter­pret­ed the invi­ta­tion to write this post as: if you were to buy a pair of sun­glass­es from our shop, which ones would you consider?
It's always fun to win­dow shop :)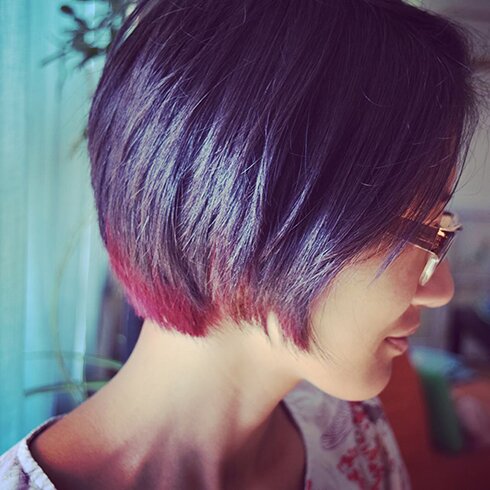 Last week I got my hair cut and coloured :D I'm quite hap­py with the vibrant but not too bright colour show­ing from under­neath. I have an affin­i­ty for grey glass­es, so I think the new hair would look great with these :D And with a beau­ti­ful name like Luna Fade it's hard to not like them.
Have I ever shared pic­tures of the cur­tains I final­ly sewed and put up? It's only tak­en me 8 months! :S For the longest time we had dis­pos­able plas­tic table cloths taped to the win­dow… but now we have these sea glass coloured cur­tains! :D And look at the glo­ri­ous blaz­ing sum­mer sun­set shin­ing through.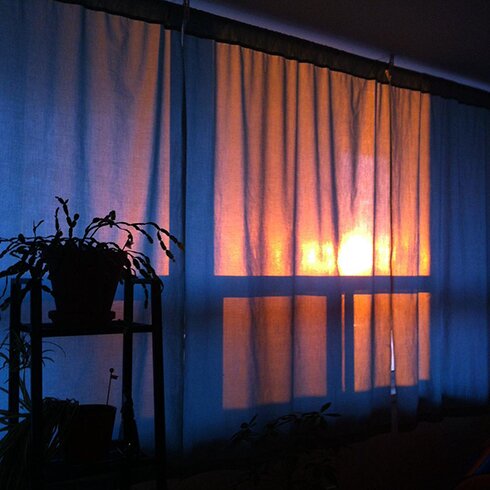 I like sea glass… or is it seafoam? Any­way, I like these, because they're sea glass coloured… and they are indeed named Beach Glass! :D
And today we had the per­fect sum­mer evening — san­dals, cot­ton-can­dy-colour pants, trip to the library at 8pm in daylight!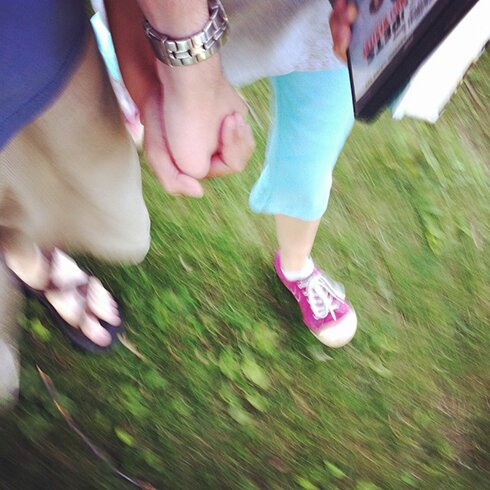 Today's awe­some finds for sum­mer reading/viewing — Mup­pets Most Want­ed, Amigu­ru­mi at Home, and Life After Life :)
And what goes well with cot­ton-can­dy-coloured pants?
I love these… and they're beau­ti­ful­ly named Moon­stone! (As you may notice I'm a suck­er for nice prod­uct names.)
Thanks for win­dow shop­ping with me! :D Hope every­one has a fun and sun-filled weekend!