The friendly folks at Yarn Canada sent me a Denise2Go knitting set to review :D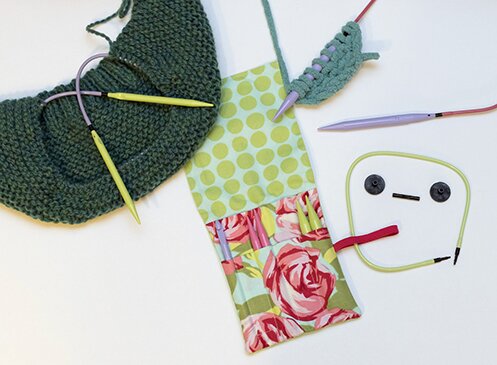 So very generous of them! Clearly I was very excited, and started a couple of projects to try it out :D
The knitting kit that I chose comes with 4 pairs of needles (6.5mm-10mm) and 3 cords of different lengths (14″, 16″, 19″), and they're interchangeable! It also comes with a 6.5mm crochet hook (handy to have in a knitting kit for weaving in ends, picking up stitches, adding crochet details, or taking up crocheting if one doesn't already crochet…), 2 end buttons and a connector (I'll show you what they do in a bit).
The cord locks into the end of the needle with a half turn and a click. And we're ready to knit!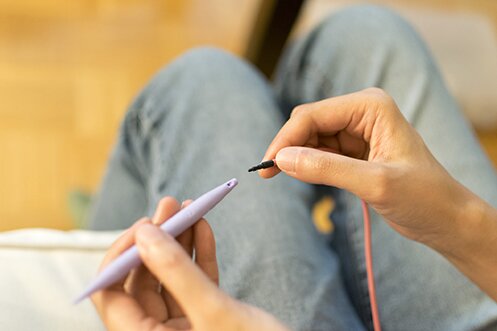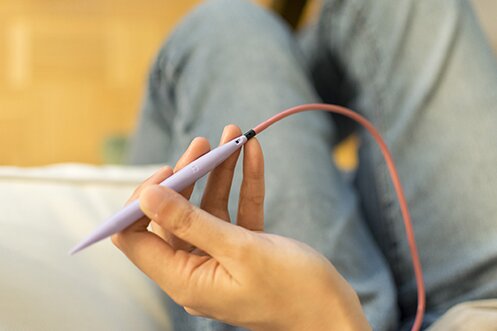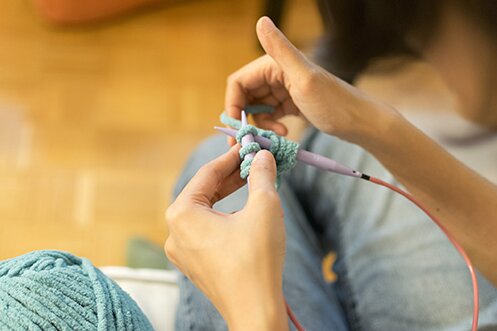 I'm super excited about the cords. Since I usually avoid projects that work in the round, I don't have a lot of circular needles, but I do need them for knitting collars (even though I try to avoid knitting those in the round as well), and for large projects. This is where the connector is very useful.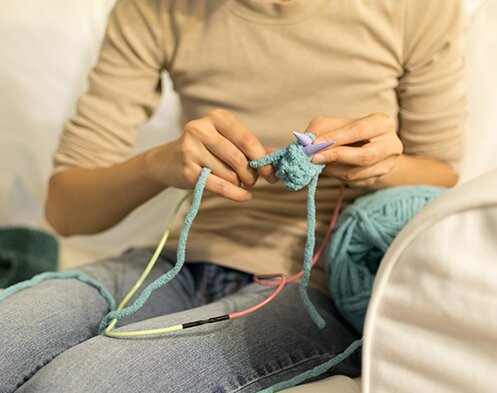 I could link two cords together to make a super long cord! Initially I had just connected the cords for a photo, but as my knitting grew I realized that without the cord connector I wouldn't have been able to continue :S (I've never knitted anything this large before).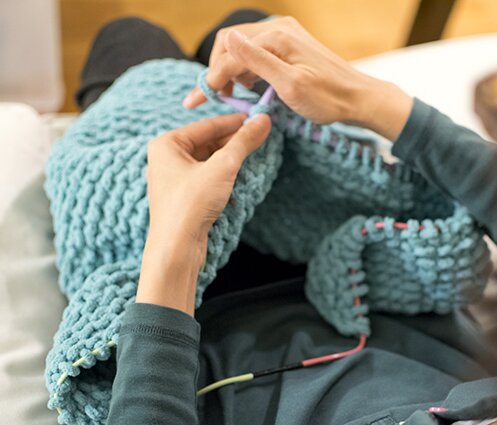 The plastic is kind of stiff when it's new, and it's a tiny piece, so I found it a bit hard to to grip and turn some pieces in place, but wide elastic bands (from buying broccoli :D) saved the day.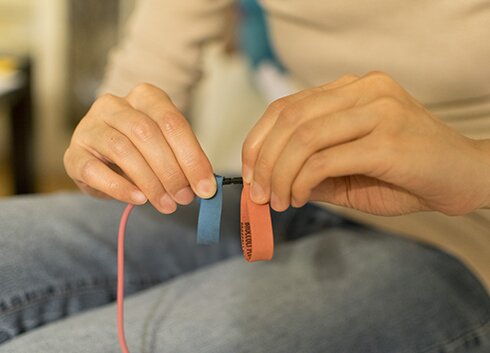 I also wondered about the cords becoming disconnected in the middle of knitting. So far it's been fine, everything seemed secure. The cord only came off the connector once when I accidentally turned it while pushing the stitches forward.
And the end buttons! They can turn circular needles into "straight" needles.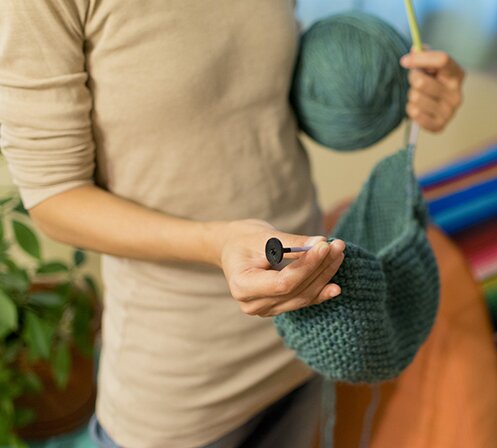 All in all I do prefer actual straight needles, because I can rest them on my forearms as I knit, and I find that easier on my wrists. But have you seen my bin of needles? I will spare you the headache and won't show you, but it's a giant mess! The good thing about this kit is that it wraps up in a neat bundle, and it's organized and small and easy to store. And the case is handmade! Maybe I should look into making cases for all my other needles…
Yarn Canada also carries a crochet kit and a knitting kit with smaller needles, you can find them here :) They also carry a wide variety of yarn, with free shipping options. I've never bought yarn online before, but might give this a try if I already know the look and feel of the yarn I want.
And now I'm off to the yarn shop! :D Happy Wednesday, everyone!