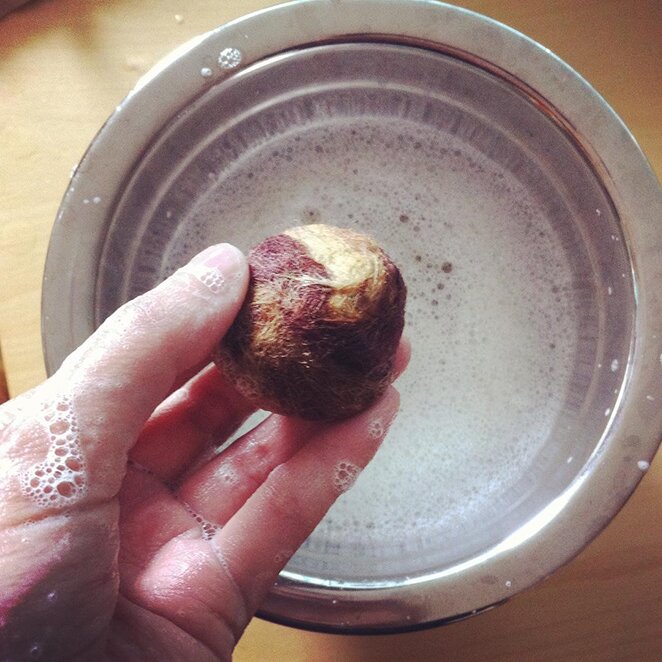 I was look­ing up Christ­mas gift ideas and stum­bled upon tuto­ri­als for felt­ed rocks. All I need­ed was some wool rov­ing, some stones, hot water and soap. I had all of those things. So I thought I'd give it a try.
There are many tuto­ri­als for felt­ed stones. I fol­lowed the one from Dai­ly Colours. I was gift­ed two bags of rov­ing some years ago. One bag was in fall colours, and the oth­er was in beau­ti­ful shades of blue. I had real­ly want­ed the blue rov­ing to work, but it just would­n't felt/bind/shrink around the rock. I thought the water was­n't hot enough, or I was­n't rolling the rocks in the right way… then I noticed that the tuto­r­i­al had specif­i­cal­ly not­ed not to use "super­wash" wool, so then I read the label on my rov­ing, and noticed that what I was using was indeed super­wash wool. No won­der it did­n't work!
For some unknown rea­sons the fall colour rov­ing worked much bet­ter though. It felt like the wool did­n't bind as firm­ly as it was sup­posed to around the stone, but I thought they still look great! Next time I'll get some dif­fer­ent wool, and maybe pick up some rocks from the beach! :D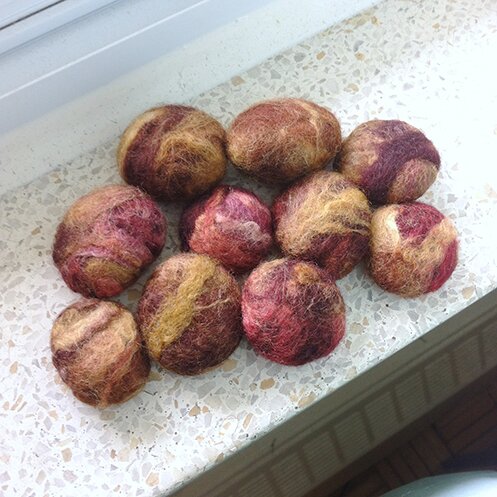 I think I might try stitch­ing on them. Will keep you post­ed if I do!
Have a hap­py weekend!