Last year I helped a friend make these as wedding favours. I thought it's the most brilliant thing! And very cute-looking with the marshmallow on top. So when Mike and I were thinking about small gifts that we can make a lot of at once for our coworkers, we decided to give this a try again.
We followed the recipe from Dessert Design Life. There are many hot cocoa on a stick recipes out there, but I chose this one because it's got some pretty good tips about the ingredients and methods that seem to be helpful for people who don't bake or make desserts much, like me.
It's actually REALLY easy to make. It doesn't even involve turning the stove on (we melted the chocolate in the microwave, but one could use a double boiler).
We crushed up some candy cane in the Magic Bullet (sifted out the fine powder), and sprinkled some in the bottom of the ice tray before piping in the chocolate.
After the chocolate was melted, we mixed in cocoa powder and icing sugar, and piped them into an ice tray with a cut-up zip-lock bag. We added a marshmallow on top and put in a stick (bamboo skewers from the dollar store).
Here they are, setting in the ice tray. (with our festive table cloth in the background :D)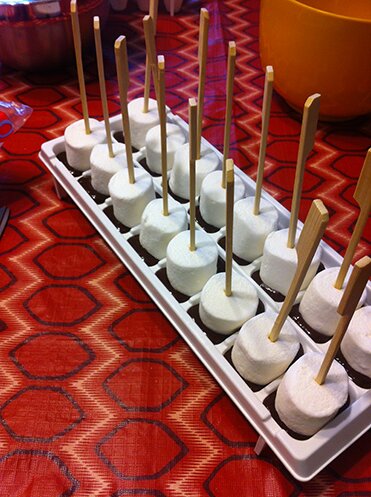 We put them in the fridge for about half an hour, and voilà! We were worried that they might be more difficult to de-mold with the candy cane bits in the bottom, but they popped out like ice.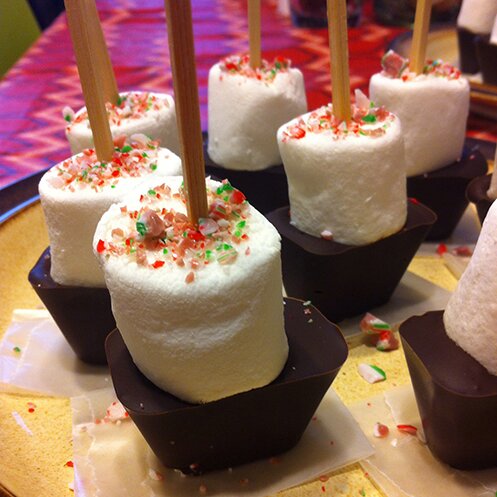 I brushed a very small amount water on top of the marshmallows and sprinkled more candy cane bits on top.
Mike made the stylish tags :D And we just put them in clear sandwich bags and tied them up with yarn :)
We made about 50 sticks in a day, and it was a lot of fun :D
After giving them away last week we had just two sticks left over. Which means we can celebrate the beginning of winter with a cup of hot cocoa together :D Happy winter solstice!