I'm battling a cold as I write this. I rarely get sick so this feels particularly sad :'( but maybe this is the body's way of telling me that it needs to come first sometimes.
Anyway. I was talking with a friend about breakfast habits one day, and I told her that I often can't stomach more than a frozen waffle or a piece of buttered toast in the morning, and end up feeling extremely hungry by 10am. She shared about her new found excitement for overnight oats and gave me some ingredients to try. I don't like the texture of oatmeal very much but I thought it was an intriguing idea (soak overnight? No cooking? No baking? You can add all kinds of fruit and toppings? Like a sundae?), so I did give it a try.
And it's the best thing ever! :D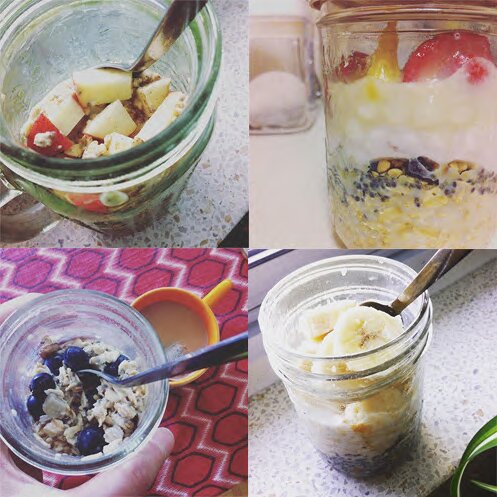 There are a lot of recipes for overnight oats (like this list!). I think it's something that you can just put whatever you want in it and it would taste pretty good. I generally use 1/3 cup oats (old fashion, not quick), 1/3 cup milk, some kind of fruit, and 1 tablespoon of this Qia cereal mix (it was on sale at the supermarket and has chia seeds, hemp seeds, buckwheat, almonds and cranberries in it. I thought it was a more sensible purchase than buying full bags of chia seeds and hemp seeds when I was just trying things out). Here are some combinations of ingredients I've tried:
Clockwise from top left:
Apple, cinnamon and honey
*Delux!* Strawberry/peach/mango frozen fruit mix, strawberry yogurt and vanilla soy milk
To celebrate Year of the Monkey — peanut butter, banana and honey
Humble blueberry and honey
Nothing fancy, but super filling! Now I start feeling hungry at noon instead of 10am! :D
I don't have it every day, but have been making it for both Mike and me especially when we anticipate a busy day ahead. I find it less mushy than oatmeal. Cold oatmeal somehow tastes a lot better to me than hot oatmeal. And I like having fruit in it. And it's so simple to put together the night before, saves a bunch of time in the morning!
Seeing that it is Chinese New Year tomorrow, here's wishing everyone a year of good health and happiness!
祝

大家

新年

快樂,

身體

健康!