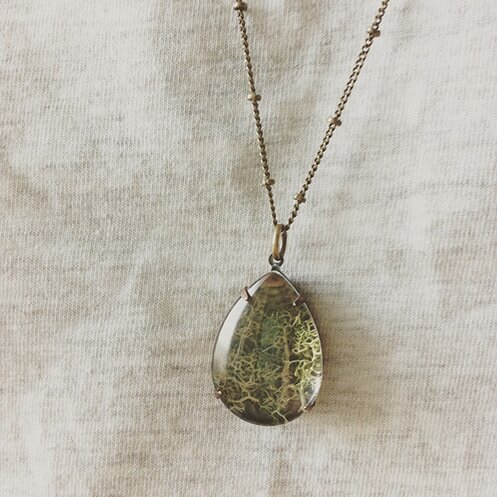 I bought these beautiful vintage shadow box pendants from Etsy shop youarenotthebossofme to put moss in :D It turned out beautifully, I'm so pleased. Looks like there are a few more of these pendants for sale, pop by the shop if you're interested in making something similar! I bought the moss from the model-making section of my local art store. Or one could put in small stones or yarn or tiny shells or whatever one finds meaningful to carry around.
I've always felt more connected to water-related analogies — like the river, or the sea, going with the flow, fill the gaps, like what Bruce Lee said,
"You must be shapeless, formless, like water. When you pour water in a cup, it becomes the cup. When you pour water in a bottle, it becomes the bottle. When you pour water in a teapot, it becomes the teapot. Water can drip and it can crash. Become like water my friend."
One can't make a dent in water, it can't be hurt.
But I've been feeling drawn to moss lately. Grounded and tenacious. It can be pulled out of the ground and be damaged, but it comes back again, reaching and covering even further grounds. Its roots spread wider than eyes can see. It re-emerges always after winter frosts.
So maybe it's about acknowledging the hurt rather than saying to myself that things don't or shouldn't hurt. And maybe it's about standing my ground rather than filling whatever gaps or needs others put before me, trying to be everything to everyone.
A bit of reflection as I enter another year in my life! :D Another year wiser, hopefully.
Thanks for visiting today!