If Gudetama were ever made into a cheesecake, this would be it…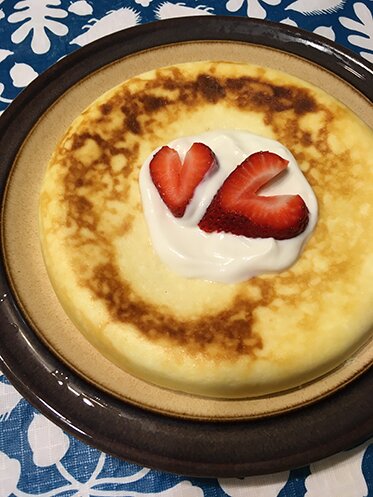 … because I made it in a rice cooker :D
I literally just mixed all the ingredients together and pressed the "cook" button. Found the recipe from this Japanese cooking website, I chose it because it was the easiest (no separating egg whites and egg yokes kind of stuff). I converted some measurements and substituted some ingredients, and it turned out quite beautifully if I do say so myself :D so I'm recording the modifications here in case I have to come back to it again, or if anyone is interested in trying it. Note: I have a 5‑cup rice cooker; for a smaller rice cooker, you might have to halve the recipe as suggested on the original recipe, so it will cook through.
Warm 200g of cream cheese to room temperature (I eye-balled 1/5 of the 250g brick and cut it off), fluff with fork.
Mix in 2 eggs (beaten), 1/3 cup sugar, and 1 tbsp lemon juice.
Gradually mix in 1/3 cup pancake mix (I bought the kind that you have to add milk and egg, not the just add water kind) and 1/3 cup half-and-half cream. Mix very well to eliminate lumps (I used a hand mixer).
Grease inner pot of rice cooker with margarine/butter. Pour mixture into pot. Cook on regular rice setting.
When done, test with toothpick to see if the centre is still runny. If so, cook on same setting again. (Toothpick will not come out clean, but as long as the inside is not runny it should be ok)
Take out inner pot and cover with plastic wrap, cool to room temperature, then refrigerate for a few hours (I wanted to minimize the chance of it crumbling when I flip it out).
Flip the cake out of the pot carefully with my hand (or a plate that fits inside the pot) pressing gently on the cake (as demonstrated with pictures in the original recipe).
Ta-da!
It tasted like a cross between Japanese cheese cake (light, fluffy, not too sweet) and New York style cheese cake (dense and rich). I suspect the denseness is due to me cooking the cake 3 times. The toothpick didn't come out completely clean the second time and I thought it had to be, so I think I overcooked it. Next time I'll just cook it twice.
I made it for Mike's birthday :D I'll probably make it again for my parents, Mike's parents, my co-workers, my friends, church potluck… it's so easy!!
Wishing everyone a sweet Sunday afternoon!
p.s. Gudetama is a Sanrio character in the shape of an egg who is very lazy. It also morphs into different kinds of egg-based foods. His short anime are hilarious, and a bit bizarre… but fun for a short break in the day :)