I spent yesterday morning stuffing awesome swag bags with awesome people for everyone coming to the TTC Knitalong (heart-eyes, heart-eyes, heart-eyes). Check this out!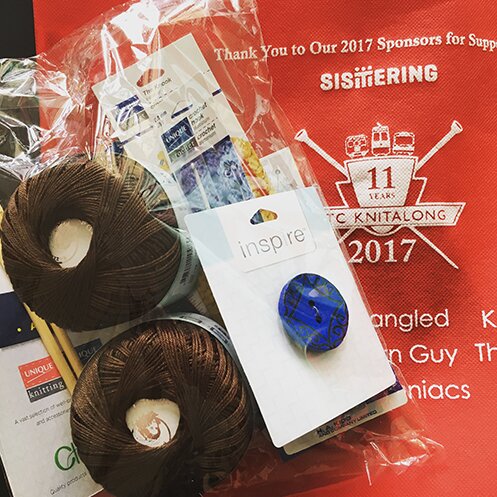 So excited!! It's only one week away! It's not too late to sign up, but hurry, there are only a few tickets left!
So grateful for the sponsors this year!! <3 we've got very nice mercerized cotton, large buttons, needles, hooks and knooks (new craft to learn btw!), gauge ruler, and knitting patterns!
There are ALSO lots and lots of YARN raffle prizes, which you can check out on the TTC Knitalong Instagram feed :) And you can get a free raffle ticket for every yarn or finished item donation! The yarn donations go to organizations like Street Knit, Knitted Knockers and hospitals. Proceeds from the event goes to Sistering, a drop-in and support centre for women in Toronto.
Come join us this Saturday if you're in the Toronto area! :D You'll see me with team Magic Loop!
Have a good week everyone!