This month Mike and I took a trip out west, and it was pretty epic in our history of travels! Our route went from Vancouver, through the Rockies to Calgary, then a few days' stay in Drumheller, Alberta.
What I loved about our first stop, Vancouver!
1) People walk slower
That was first thing we noticed getting into the city from the airport. While Mike and I saw the bus approaching at the stop across the street and ran to catch it (with our luggage and everything in true Torontonian panic style), everyone else were just walking casually, then formed a neat line to board *blush*
2) Logs on the beach!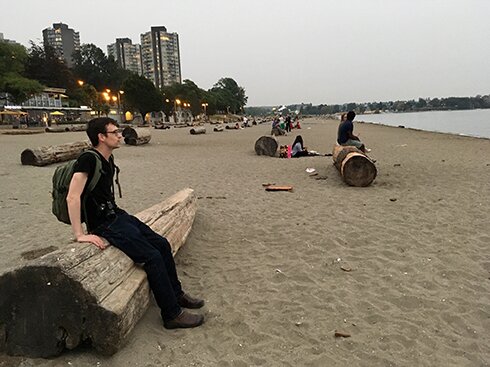 We stayed in English Bay, which I highly recommend if anyone is visiting Vancouver. It's so easy to get to downtown attractions, Stanley Park and Grouse Mountain by bus, and the beautiful beach is just steps away, perfect place to watch the sunset every evening with an ice cream cone — and yes, many great food places just on the one street where our hotel was, including sushi, Korean food and ramen! It even has palm trees! There are quite a few hotels in the area but we stayed at this more affordable one, which was owned by very friendly people and the room was spacious!
And the beach have logs that people can sit on and relax! I thought that was the most brilliant thing. Everyone was so relaxed. It must be the ocean breeze. People playing instruments, chatting in different languages, so lovely.
At one end of the beach there is a giant inukshuk, and all around it along the sea wall we were happy to find that there were inukshuks of all different shapes and sizes :D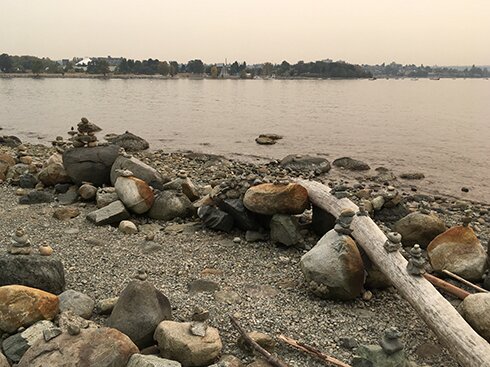 3) The magnificent rain forest
We took a free shuttle to the Capilano Suspension Bridge Park. The main attraction was the bridge, which I mainly focused on crossing without fainting :S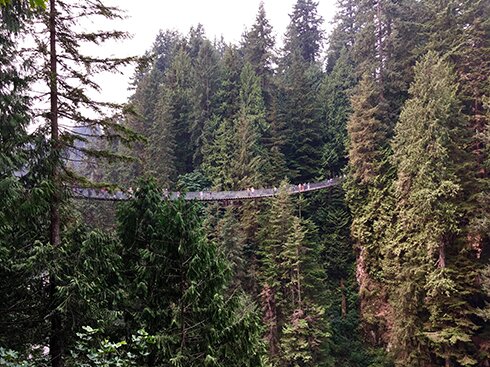 I managed to snap one photo while on the bridge, it was stunning.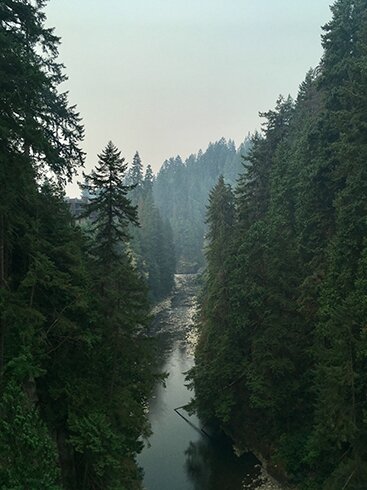 But I much more enjoyed walking around in the rain forest, marveling at the very, very tall trees, and the smaller suspension bridges around the treetops.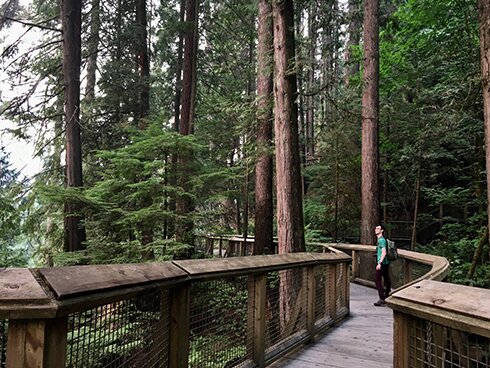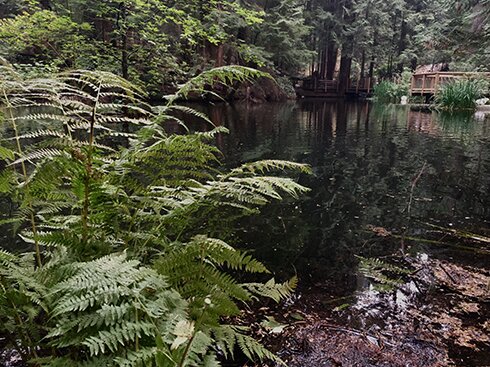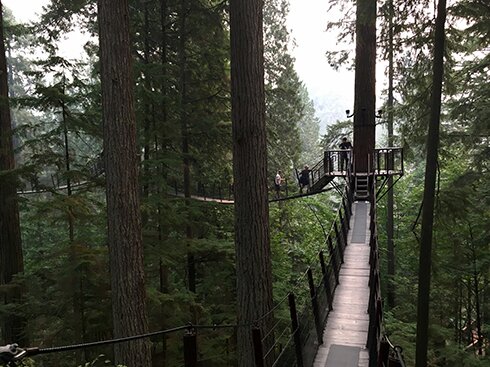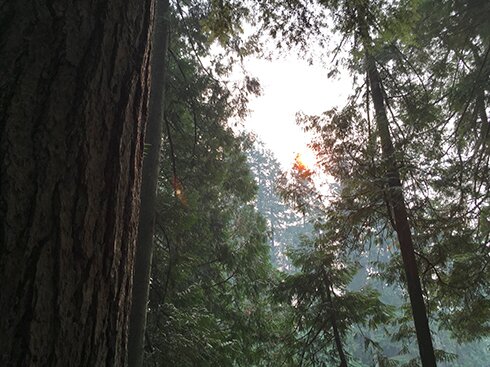 The air was hazy because of smoke from the wild fires. And the sunlight filtered through the haze painted everything orange.
There was so much to look at on the forest floor — different kinds of moss, rocks, a stream flowing through, a nurse log with so much diversity and life growing from it… I could explore forever.
4) The Vancouver Aquarium!
Has the most beautiful exhibits of jellyfish! I could spend all day (well I kind of did) watching them flow.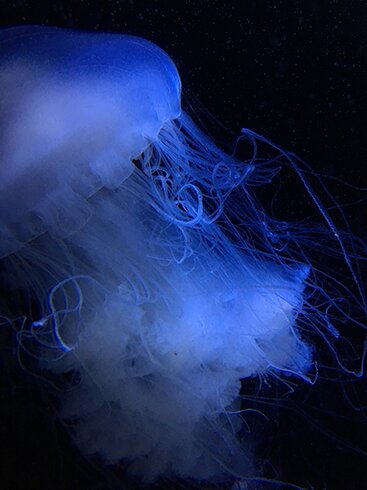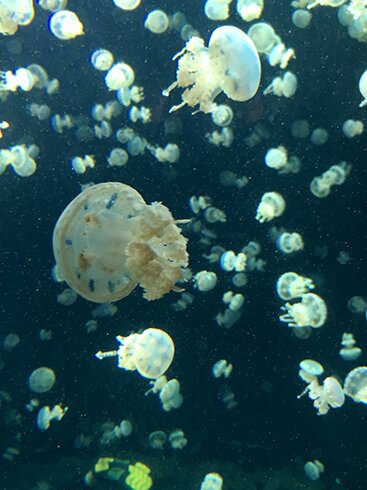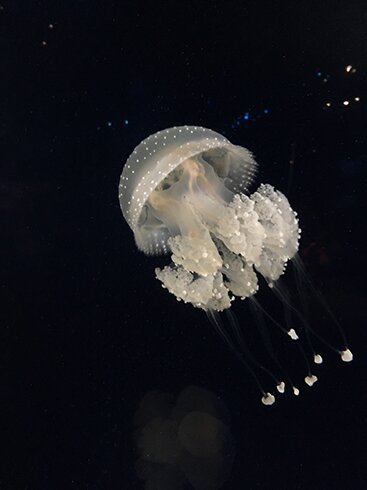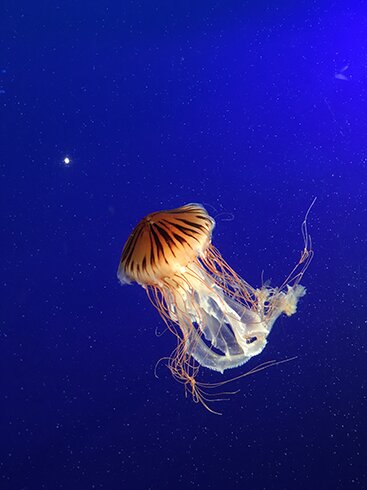 And the gallery is decorated with origami jellyfish! It's an interactive display where one could control the colours of light illuminating the jellyfish. Maybe I'll decorate our apartment with lit up origami jellyfish too…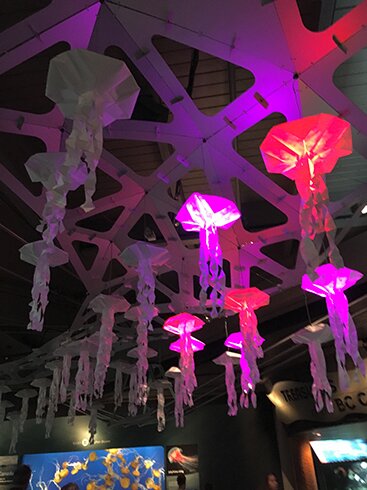 And sea otters! They're the cutest creatures, so fluffy, floating on their backs. We learned that they were orphaned, and rescued by the aquarium staff, they sometimes hold paws when swimming together so they don't lose each other (so sweet!), they tuck food in their armpit pockets to snack on later (smart!), and they hold favourite stones in the same pockets to open clams! ("or for when they worry," says Mike)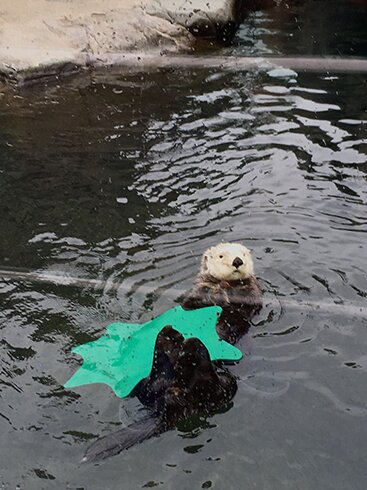 5) LYS!
On Granville Island! There's the lovely Fibre Art Studio, with a group of 5 artists who sell yarn that are hand spun and dyed by themselves. It also sells weaving supplies. I couldn't fit much yarn in the luggage (I wish I could bring back some hand-dyed yarn though!!), and just needed small amount of various colours to make amigurumi dinosaurs (more on that later! :D). The yarn for weaving was just perfect.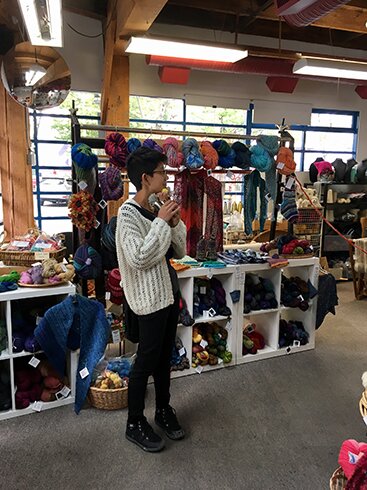 6) Chinese Garden
The Dr. Sun Yat-Sen Classical Chinese Garden. A re-creation of a 15th century Chinese garden, in the middle of Chinatown! A very serene place. It has a bamboo forest and different nooks and crannies with different views of the lily pond. Also has a resident turtle and koi fish!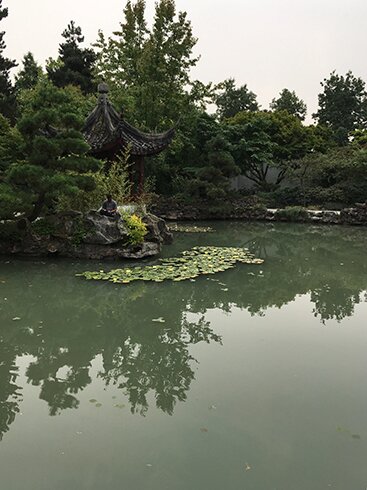 7) Massive public library!
Must love a city with a library like a Roman Coliseum! It's definitely massive, with kind of a street and shops inside, not to mention floors and floors of books!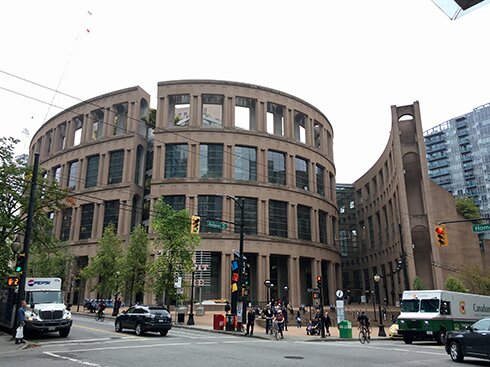 8) Stanley Park
And of course, last but not least! A dear friend recommended the hop-on-hop-off tour bus while in Vancouver, which was really helpful and we probably saw 50% more than what we planned to. Without a car, there was only so much ground we could cover by walking, and Stanley Park is huge! We went through Stanley Park twice! There were many lovely views but you're probably tired of my photos by now, so I'll leave you with my favourite — because it captures a seagull. (they're chicken-size out west!)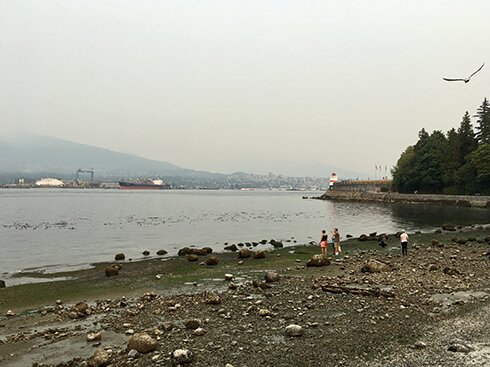 Oooh, and a bonus one — Digital Orca by Douglas Coupland at the harbour :)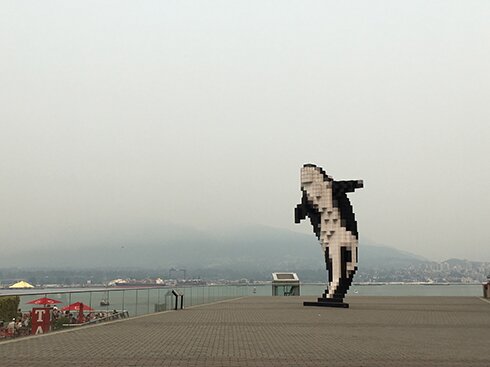 Already miss you very much, Vancouver! We will meet again <3
Stay tuned for "what I loved about the Rockies" and "what's so bad about the Badlands?" :D