It's my lat­est craze! I can't seem to get back to the nee­dles at the moment… I'm sure I will, but right now I'm just look­ing for all kinds of things to loom knit. I saw some real­ly cute cro­cheted and knit­ted tea cozies in the shape of plum pud­ding late­ly, and I thought I could prob­a­bly loom knit one! So here it is :D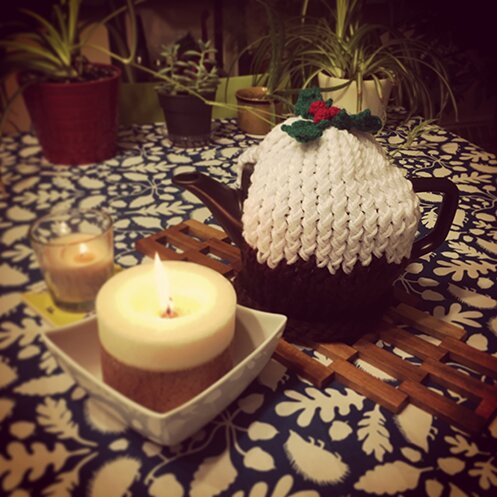 I've actu­al­ly nev­er had plum pud­ding, but always thought it's the cutest-look­ing Christ­mas-relat­ed thing! The light­ing in my apart­ment is quite poor espe­cial­ly in the evening, but here's a bet­ter look at the tea cozy.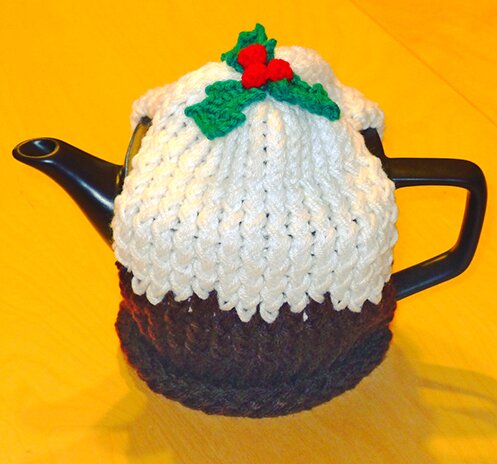 I thought I'd share what I did here, in case you're a loom knit­ter and want to give it a try, or if you also want to try your hands on loom knit­ting (it's so much fun!), and for myself to remem­ber when I need to make one or a few more next year :D
I used this 31-peg loom, it came in a set of 4 by Loops and Threads at Michaels. I bought it because it's afford­able, espe­cial­ly with the week­ly Michaels coupon, for my first try with loom knit­ting. I'm not sure why this par­tic­u­lar loom has an odd num­ber of pegs, because I thought all round looms have even num­ber of pegs… but it worked anyway.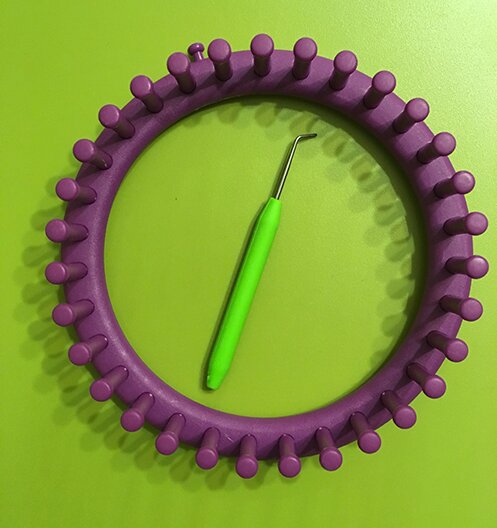 I used:
Worsted weight yarn in brown and white, with 2 strands held togeth­er throughout
A bit of worsted weight yarn in green and red
3.5 mm cro­chet hook
Yarn nee­dle
How to:
To begin, cast on using chain cast on (I learned using this video) with brown.
Then, using e‑wraps (here's a tuto­r­i­al), work 8 rows around. The tea cozy uses e‑wraps throughout.
We now sep­a­rate front and back pieces.
Front:
Work 16 stitch­es back and forth (to cre­ate a flat pan­el) for 7 rows (video on how to make a flat pan­el here).
Then, incor­po­rate white using this chart.

Start with the bot­tom row. Work two stitch­es of brown. Make a slip knot with white and put on next peg, and work this stitch. When wrap­ping the next peg with white, make sure that the brown work­ing yarn is lay­ing on top of the white work­ing yarn, thus car­ry­ing the brown yarn along. Con­tin­ue fol­low­ing the chart, car­ry­ing the brown when wrap­ping with the white, and vice versa.
After fin­ish­ing the chart, work 10 rows back and forth in white. (My teapot is a bit on the tall side stand­ing at 6.5″ includ­ing lid, so if your teapot is small­er, you can prob­a­bly omit a few rows.) Cut yarn.
Back:
Attach brown to the first unworked peg at row 8. Wrap and knit the remain­ing 15 unworked stitch­es for 7 rows.
Fol­low the chart for the next 3 rows. If you have the same loom as me you would need to omit either the far left or far right col­umn of the chart.
Work 10 rows in white (or the same num­ber of rows on the oth­er side).
Work 5 rows in the round. Tie and secure the yarn tail when you get to the peg where the yarn was cut at the end of the front piece.
Leav­ing a long tail, cut yarn. Thread yarn tail in nee­dle, weave nee­dle through each stitch while tak­ing the stitch off the peg, gath­er and cinch the stitch­es togeth­er, turn piece inside out, weave the nee­dle through the gath­ered stitch­es a few more times and tie off. Weave in all the ends. Turn piece right side out.
Here's close up of the com­plet­ed icing chart…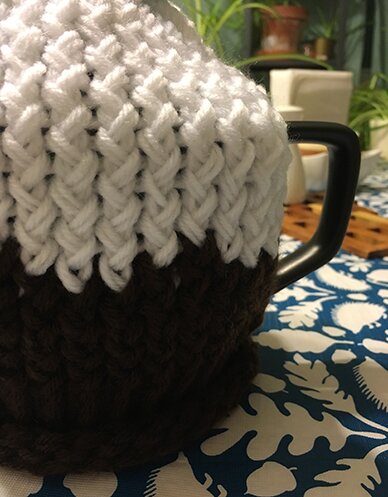 Hol­ly:
Leaves (make 3): Leav­ing a long tail for sewing, ch 10, sl st in 2nd ch from hook, through back loop only, *sc in next ch, dc in next ch, ch 2, sl st in 2nd ch from hook, dc in next ch, sc in next ch, dc in next ch, ch 2, sl st in 2nd ch from hook, dc in next ch, sc in next ch*, sl st in next ch. Now work­ing on the oth­er side of the foun­da­tion chain, repeat from * to *, sl st in last ch, fas­ten off, weave in this end.
Berries (make 3): Leav­ing a long tail for sewing, 6 sc in mag­ic ring, don't join in the round, 1 sc in each sc for 2 rounds (or just work 12 sc's), fas­ten off. Stuff tail end into berry. Thread begin­ning tail in nee­dle, pull on tail to ensure mag­ic ring is closed as tight­ly as pos­si­ble, pass nee­dle through the mag­ic ring and the berry and pre­pare to sew on the pudding.
Assem­bly:
Sew leaves and berries onto the top of the plum pud­ding with the yarn tails, like so…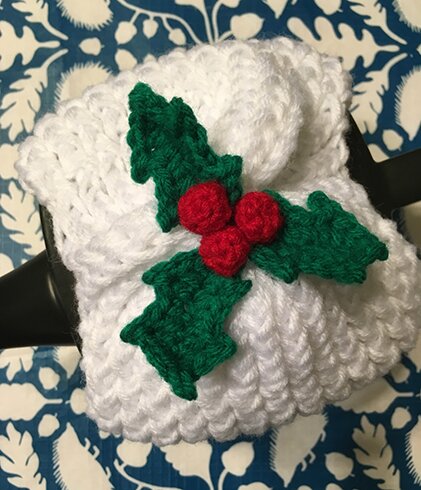 Put teapot in cozy, and we're done! Pret­ty quick and easy. Makes a great gift for tea lovers :)
Have a cozy, hap­py week­end, everyone!