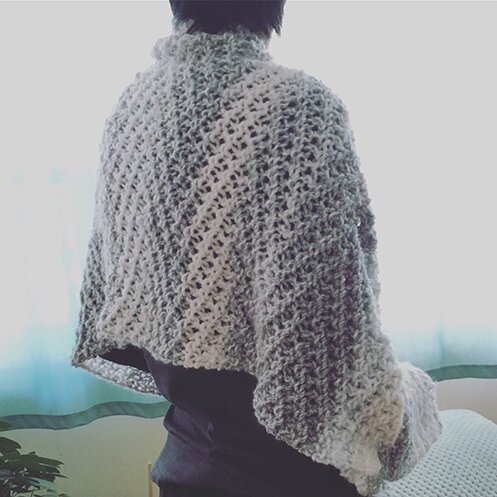 If I were to give this shawl a name I would name it "going places". Because of the repeated arrow pattern.
It is a loom knitted project, for a gift. I used a 41-peg loom (largest of the set), and followed this pattern for "woven herringbone stitch", but I replaced all the yarn-overs with purl stitches, because the yarn-overs just came out way too loose with the gauge of my loom.
(But you know what, the other night I had a dream that I got a new finer gauge loom that works perfectly with worsted weight yarn. Yes, very specific dream. So maybe it's a sign. We'll see. Anyway, I digress.)
It's actually a really easy k2 p2 pattern repeat with just different number of knit stitches at the start of each row to create the herringbone pattern. Perfect for knitting while TV-watching, but not boring.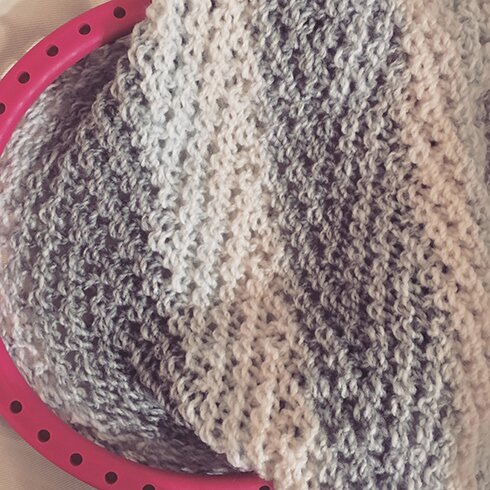 The yarn I used was Loops & Threads Barcelona. It's quite soft, the colour transitions are fun to knit with, and the weight works well with the gauge of my loom, plus it was on massive sale at Michaels.
The pattern is worked over multiples of 4 stitches, so I knitted this over 40 pegs, until it reached 46″. Basically until I ran out of yarn, which is one skein and a bit more (leftover from another skein). With the regular bind-off method it really puckered, so I used a stretchy bind-off method. If I were to make it again I would definitely make it longer. I did win at yarn chicken on this one though, so no complaints!
It was even long enough to work as a squishy scarf :D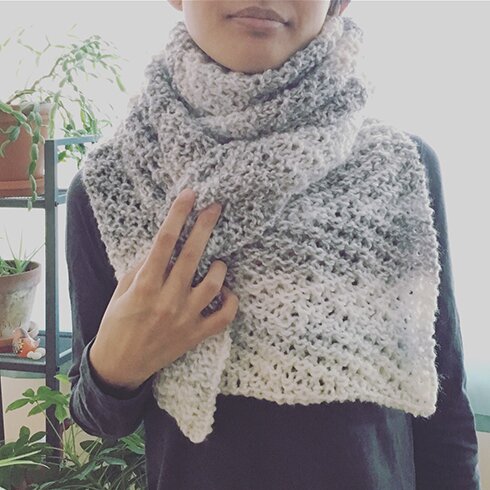 Perhaps you'd give this a try? Let me know if you do! :D
Whether you use needles, hooks or looms, have a happy crafting week!