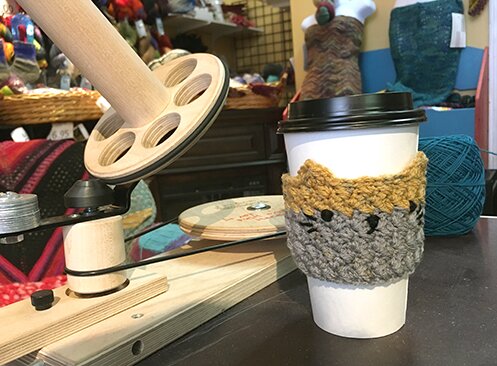 Today IS the day! The annual Toronto Yarn Hop! Caturday the cup cozy is chilling out at my neighbourhood LYS Yarnsomniacs, one of the many exciting stops on our grand tour of Toronto LYS's today!
A bunch of us (over 120 people, to be more precise! :D) are yarn-crafting in public transit and going around to different independent yarn shops today while raising funds for Sistering, a 24/7 drop-in/support centre for women who are homeless or precariously housed. Last year we raised around $2700, which went toward much needed services such as primary healthcare, counselling, support groups and meal program (learn more about the event by reading my previous post here).
If you're not able to physically come to the yarn hop this year, you can still join us (and help us reach our fundraising goal of $3000!) by donating to Sistering through this link here, and in return I will send you the pattern for the Caturday cup cozy (more photos here), which is a pattern that I wrote for yarn hop participants to crochet along. You can donate any amount and you don't have to tell me how much or send me proof, just simply make a donation then email me at genuinemudpie@gmail.com to let me know, and I will send you the pattern in appreciation :)
Happy weekend!