After a bit of fren­zy gear­ing up for the Yarn Hop, I've been qui­et on the blog late­ly, catch­ing up on oth­er things…
My niece and nephews have birth­days rel­a­tive­ly close to each oth­er, so every sum­mer we give them all their gifts at the same time — that way every­one gets to open a gift! :D
One of the gifts was a loom knit­ted dinosaur — when I first stum­bled upon it on the web I thought I had to make this! The pat­tern is by The Loom Muse.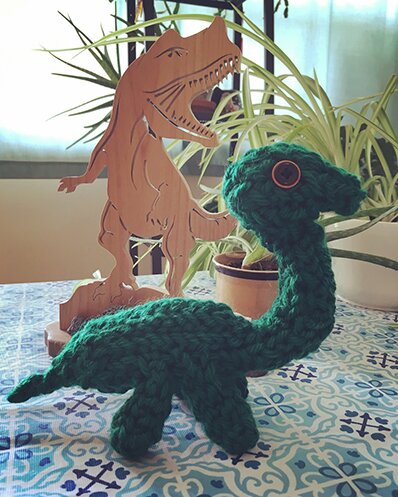 (The wood­en dinosaur is a gift from a dear friend :D) I find that with the extra small 12-peg loom the gauge is very loose, and I end­ed up hav­ing to weave a strand of yarn through all the stitch­es in every col­umn of knit­ting to pre­vent the stuff­ing from being vis­i­ble. Per­haps I will have to try using an even heav­ier yarn next time (I used extra bulky for this one). I'm still quite hap­py with how it turned out!
Anoth­er gift was an owl pup­pet, pat­tern also by The Loom Muse but only avail­able as a video. The pat­tern is for a stuffed owl but I ran out of yarn, so I left the bot­tom open and a pup­pet it is!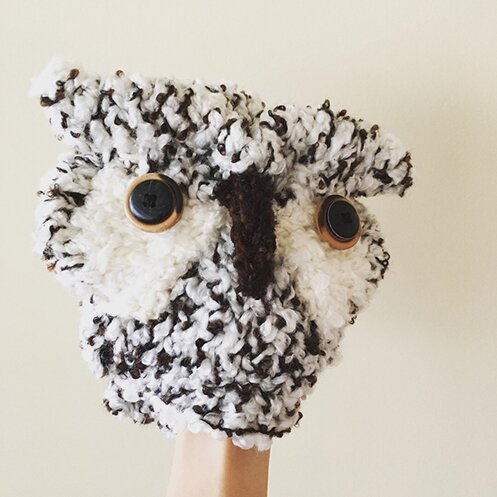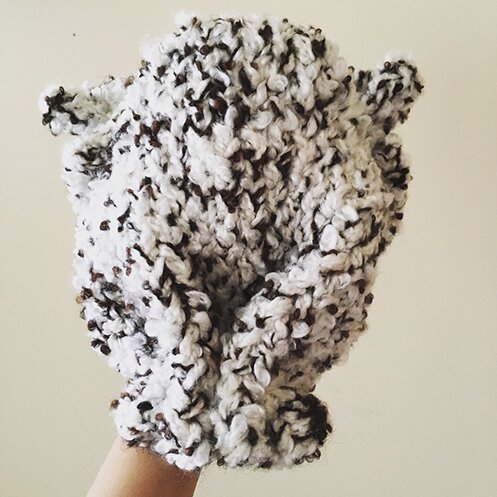 I love that it also has a tail! :D
And we've all met the alpaca! The mas­cot I loom-knit­ted for the Yarn Hop (because we were team alpaca). The pat­tern is also by the Loom Muse (it is a trea­sure trove of stuffed ani­mal pat­terns!). Here's our fab­u­lous team in front of the won­der­ful Pur­ple Purl! (You can also kind of see the makeshift alpaca car­ri­er on my tote.)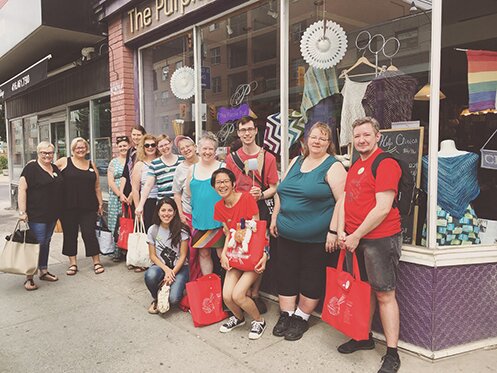 Through­out the day alpaca got named Albert, inspired by Lam­bert at Spin Me a Yarn, anoth­er local yarn shop :D (you'll find Lam­bert and his yarn adven­tures on this Ins­ta feed)
Here's Albert at Yarn­som­ni­acs enjoy­ing the very soft yarn made by his friends.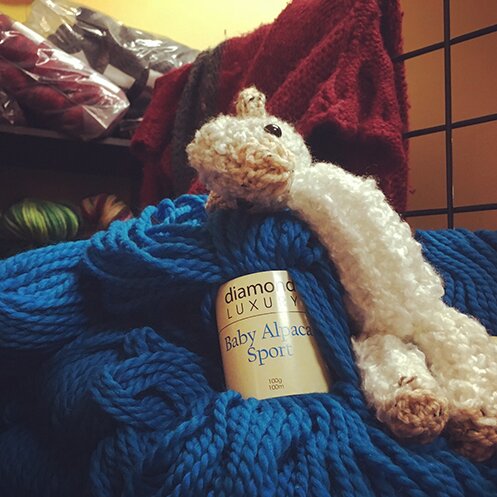 As you can see we also made an alpaca sign to keep us humans from wan­der­ing off. The super cute tem­plate is from Picot Pals. Here he is at Knit-O-Mat­ic with every­one busy look­ing and crafting!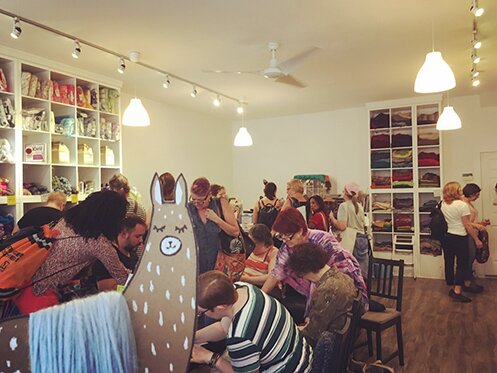 And here we are at Pas­sionknit — note the beau­ti­ful wall of Cana­di­an hand dyed yarn on the right!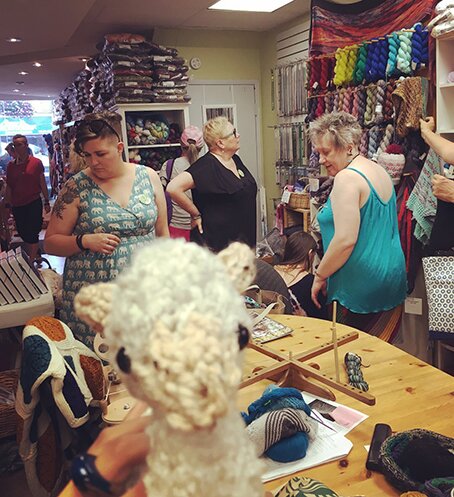 In oth­er news, I wore my cro­cheted san­dals out­side for the first time since mak­ing them last year (or even the year before?). I don't know why I haven't worn them. Wor­ried they'll break I sup­pose. But it's been so warm late­ly, I decid­ed to give them a go. It's real­ly dif­fi­cult for me to find san­dals that don't hurt my feet, so I haven't bought or worn san­dals for like the past ten years, and always suf­fered from socks and sneak­ers no mat­ter the heat wave >_<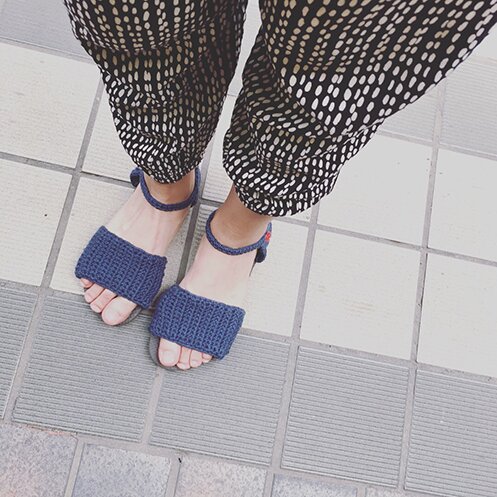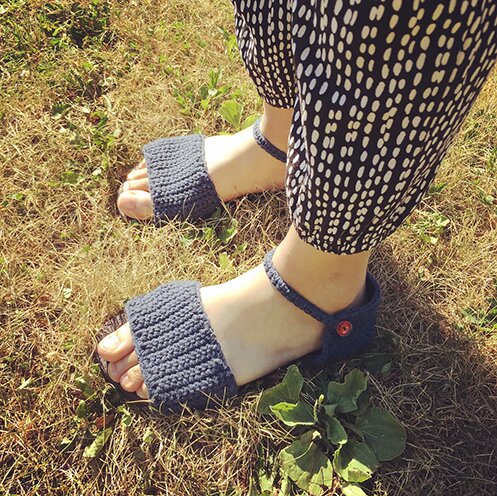 So I wore these out on the street, walked around, took the sub­way and street­car, walked on the grass… and they're real­ly com­fort­able! My sum­mer shoes prob­lem is solved! :D
In case any­one's inter­est­ed, they're made with flip flop soles and worsted weight cot­ton, pat­tern is here.
And final­ly, I'm down to my last row of the mitered square blan­ket!!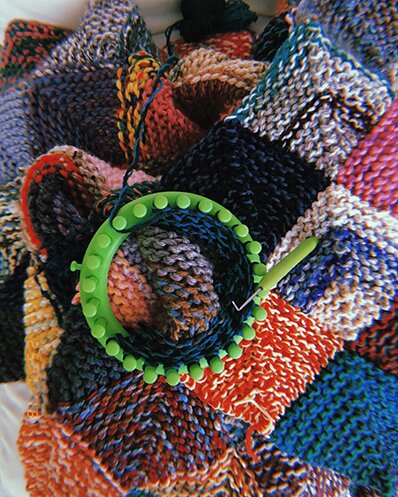 There will be 150 squares in total! And about 4 feet by 5.5 feet! I have been slow­ing down with mak­ing this though because inevitably I have to put it on my lap to knit and it's been real­ly warm >_< def­i­nite­ly a win­ter project, for next time. But soon I'll be able to show you the blan­ket with all 150 squares in all its glory!
Until next time, keep on crafting!