It is granny square day today! So I thought I'd take the opportunity to finally take a picture of my finished mitered square blanket :D it's loom-knitted!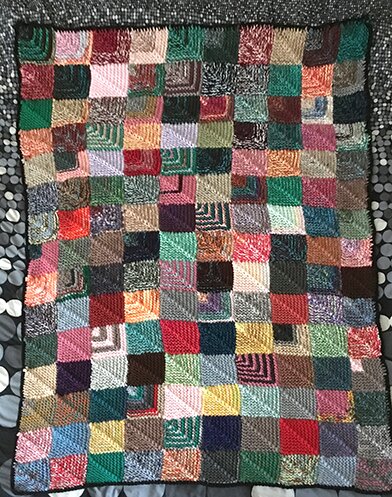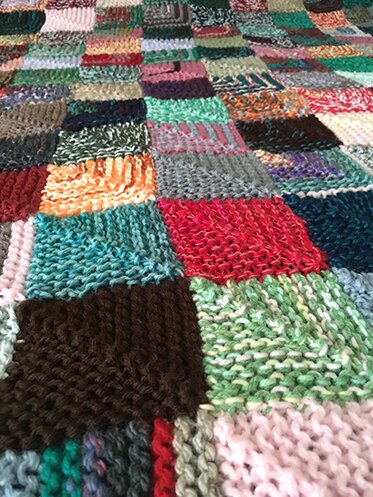 150 squares! It took about 2 months to make, it's the biggest blanket I've ever made, 42″ by 63″!
I made a series of tutorials if you're interested in making your own! (a dish cloth / potholder with four squares is a fun make too if you don't want to commit to an entire blanket)
After the blanket and the c2c top in my last post, I found a pattern that would be perfect for the yarn I won at the Yarn Hop raffle, from Yarns Untangled, in "untangled" colourway :)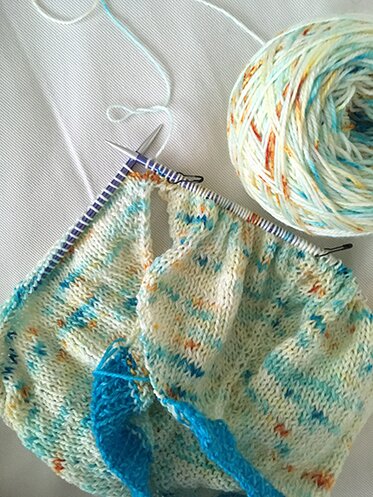 The pattern is Retro Solstice Eclipse by JL on Ravelry. And look! I'm knitting in the round! (I'm always kind of afraid of patterns that knit in the round, but once I get started I find it actually easier than knitting flat) I also figured out why my last in-the-round sweater had this weird gap at the joint — my stitch marker was too big. That seemed like a really silly mistake. But now I have these sleek stitch markers that came with the raffle prize so it's all going smoothly :)
Speaking of the Yarn Hop, since we've had so much fun the day of, we've been meeting throughout the summer! Here we were enjoying the park…
And here were were at Spin Me a Yarn, who graciously hosted our meetup last week!
Can you spot Albert the Alpaca sharing a chair with me? :D Albert finally got to meet Lambert, the resident lamb at the shop, looking spiffy with sock in his own "Lambert" colourway.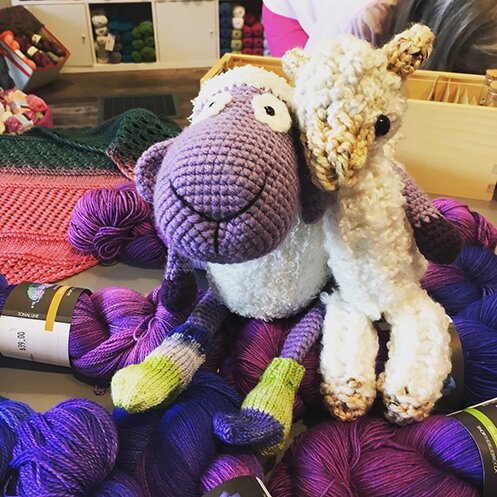 If you live in Toronto and would like to join us at our meetups be sure to follow The Great Toronto Yarn Hop on Facebook!
Hope you're enjoying summer and much crafting!