Yikes! I haven't written for over a month! I don't think that that's ever happened since I started this blog in 2010! Oh man. It's been very, very busy with school and work, just getting a bit of breathing space after finishing a mid-term paper today… And! We North Americans get an extra hour thanks to daylight saving! So guess what I did with that extra hour?
Blocking! :D
The really nice folks at Yarn Canada sent me a couple of cakes of Red Heart It's a Wrap quite a while ago to try out and review, and I recent found a perfect pattern for it — it calls for a thread/lace weight cotton, it's a relatively quick project, and it's something that I think my BFF will really like…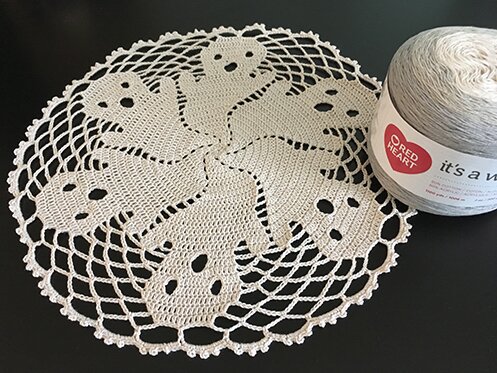 A ghostly doily! :O
I like to call it the Casper-go-round — it's got the perfect Casper head-shape!
My BFF loves all things Halloween, so I'm thinking she will enjoy this even when it's not Halloween. (and she doesn't read my blog, so she won't know this is coming her way. shhh.) This brilliant (free!) pattern is called "Boo" by Marsha Glassner on Ravelry. The pattern calls for a lighter thread, but for the Red Heart yarn I used a 2.5 mm hook.
With 50/50 cotton and acrylic content, the yarn was smooth and soft to work with and has great drape. While I'm trying my hands on it with the doily I'm thinking it would be great for a garment.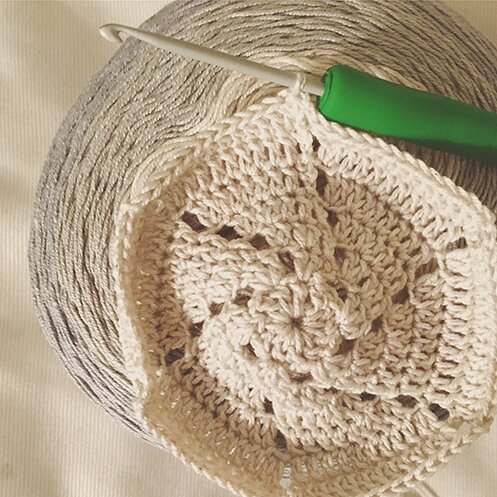 It has exceptional yardage — 1100 yards per cake (for under $12 CAD!). I used less than half of the centre beige section for a 13″ doily, with the "Western" colourway because I'm partial to muted colours, but the yarn also offers other colour combinations that are more bright and cheerful. It would be great for shawls, cardigans, even a toddler's dress, with all that yardage!
Because it is a lace pattern it was necessary to block, which I'm not too familiar with. But I did get some tips from a knitting circle I was a part of in the summer, so I gave that a try, and I thought it would also be a good way to test out a different aspect of the yarn for this review.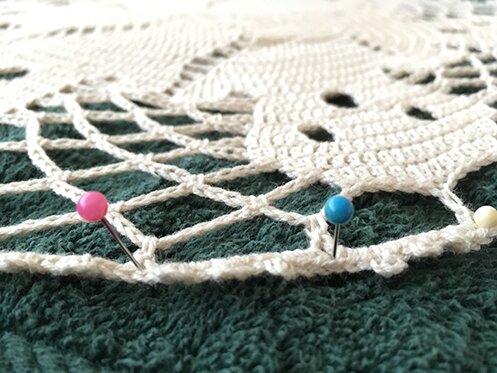 So first, I soaked a hand towel and wrung out the excess water. Then I rolled the doily in the towel and added more water to it, then carefully pressed the excess water out (but careful not to wring, I was told). Then I laid the doily on a folded large towel (the plushiest I have, because I don't have blocking mats), and stretched and pinned it to shape.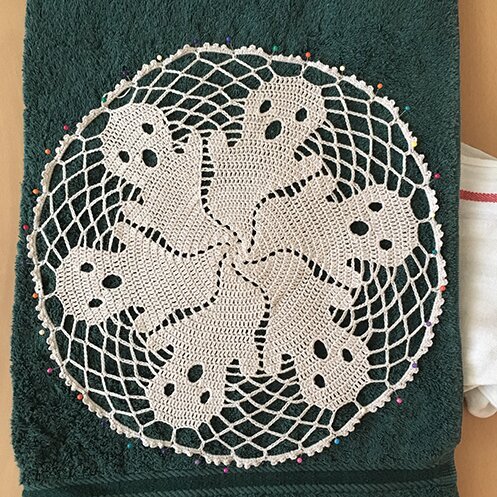 It only took several hours to dry. Because of the cotton content of the yarn, it mostly held its shape after unpinning. It did start to spring back a tiny bit, I guess because of its acrylic content (or maybe I was stretching it too much), but I think for this pattern it's fine for it to shape-shift a little :) I was thinking if it continues to lose shape I can also press it with an iron under a towel, which I had done with acrylics before.
Perfect underneath a candy dish! Stay Puft would be proud :D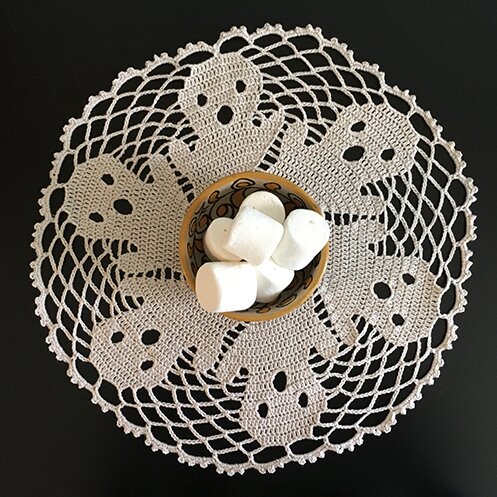 With the rest of the yarn I'm going to start on a crochet pullover pattern that I've been eyeing for a long time. It's going to take a while… but will surely share when it's done!
Be sure to check out Yarn Canada's huge selections of yarn, I always think it's pretty incredible that they offer free shipping on orders over $45 or flat rate of $5 (within Canada). It's also pretty convenient when I have such shortage of time these days… too convenient…
Happy November!
*Disclaimer: I received product from Yarn Canada to write a review of the product; the opinions expressed on this blog are entirely my own.