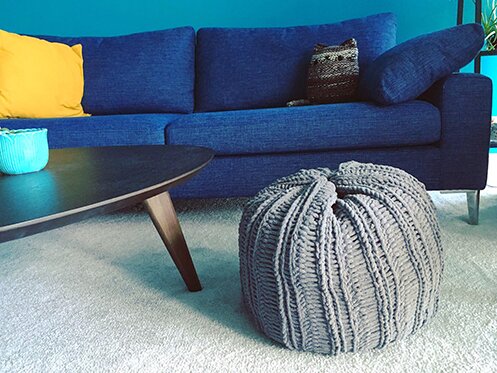 I don't think I've ever been away for so long, I'm so sor­ry folks! >_<
April was a very chal­leng­ing month. There was a great loss in my fam­i­ly, there were final papers for the school term, and we were mov­ing to a new place. The month felt like a blur, but at the same time each day felt excru­ci­at­ing­ly long, with too many thoughts and too many feel­ings. So have been spend­ing the month of May try­ing to set­tle in and feel­ing the earth beneath my feet again.
But I thought I'd bring a new thing when I return here. A how-to for a floor pouf!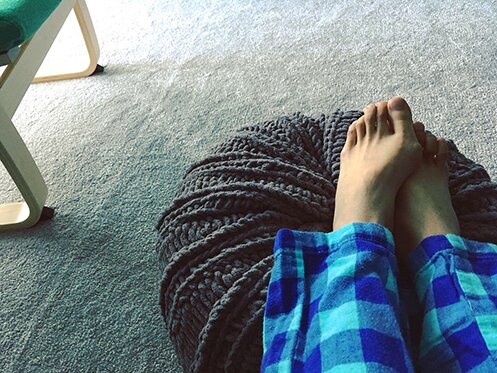 The pouf is fin­ger-knit­ted and uses exact­ly two skeins of Bernat Blan­ket yarn. It uses the same tech­niques of four fin­ger knit­ting and turn­ing as the ear warm­ers, and the pho­to tuto­r­i­al is here.
The pouf is about 2 feet in diam­e­ter and 1.5 feet tall. I stuffed it with an old dou­ble size duvet. I do have to fluff it up after sit­ting on it, so for a firmer pouf it can prob­a­bly be stuffed a bit more with a queen size duvet or anoth­er blanket.
To make the floor pouf, cast on the first row and knit until piece is about 25″ long, then turn and knit until you have just enough yarn left to sew up the seam (about 50″ of yarn tail). The piece would be about 45″ wide.
Sew the short edges of the rec­tan­gle togeth­er using tapes­try nee­dle, tie off, then turn right side out. Weave the yarn tail through the stitch­es around one open­ing edge, then cinch tight­ly and sew shut. Fas­ten off.
Stuff with duvet. Using a dif­fer­ent colour yarn (I used a length of worsted weight yarn dou­bled up) that's about 50″ long, weave through the stitch­es around the oth­er open­ing edge, cinch and tie with a remov­able knot. So that the duvet can be tak­en out for washing.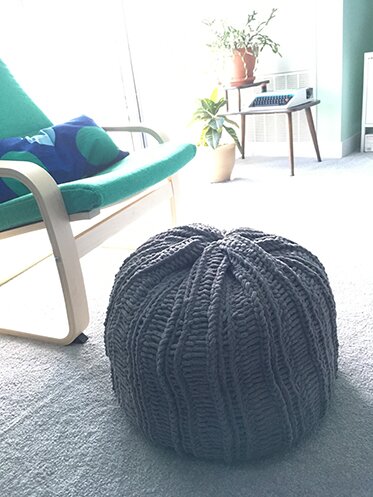 This is the first piece of knit­ted fur­ni­ture I've made so I'm quite proud :)
Hope to write again soon. Until then, take good care!