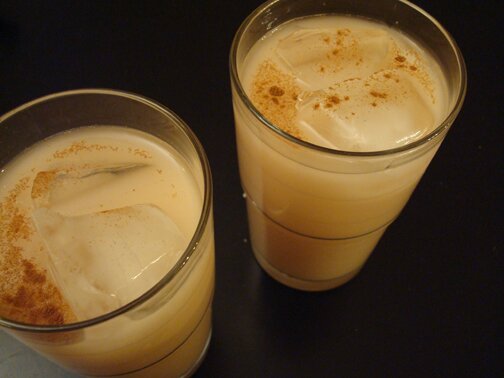 After lis­ten­ing to Hor­cha­ta by Vam­pire Week­end, my culi­nar­i­ly adven­tur­ous hus­band Mike decid­ed that he was going to spend the first day of his East­er week­end mak­ing hor­cha­ta. Being Chi­nese, drink­ing uncooked rice water sound­ed a bit scary to me ini­tial­ly. But after try­ing it once while work­ing at a sum­mer camp last year, I have to turn my back on my Chi­nese roots *sigh* and admit that I quite like it.
And after con­tem­plat­ing for half a morn­ing Mike decid­ed to use the recipe by Aaron Sanchez.
First, he pulsed rice and cin­na­mon stick in blender, until he got very cool-look­ing lay­ers of coarse­ly ground rice and cin­na­mon. And my dou­ble-joint­ed left thumb is equal­ly cool-look­ing here.
Then, he poured the liq­uid (keep out the grind!) into a large bowl and let it sit on the counter for… ever. Or more like 4 hours.
After that, he sift­ed the liq­uid by pour­ing it into a tea infuser. Not that he was try­ing to be extra fan­cy, we just don't have a sift.
Final­ly, he blend­ed it one last time. The result looked a tad more pink than I remem­bered. So, I must say, as much as I love Mike, I was a bit skeptical…
After let­ting it sit in the fridge for anoth­er 4 hours, the moment of truth…
It's actu­al­ly quite good!
So, here we have it, hor­cha­ta! If you haven't learned how to make hor­cha­ta after look­ing at my pho­to illus­tra­tion, then at least you have learned that I have a dou­ble-joint­ed left thumb and I'm cross-eyed. On a side note, if you're hav­ing a par­tic­u­lar­ly bad morn­ing, may I sug­gest toast water, and rue the day!
Any­ways. On a slight­ly relat­ed note, I've decid­ed to enter Instructa­bles' Crit­ter Con­test! (It's slight­ly relat­ed to hor­cha­ta because my sub­mis­sion has some­thing to do with rice. Kind of.) Since it's a con­test, I fig­ure I would do more than just snap a few pho­tos of my crea­ture on our black cof­fee table. So, I spent an hour this after­noon doing a "pho­to shoot". Here's what the set­up looked like:
Will write more about it soon!
Hope every­one's had a good East­er weekend!