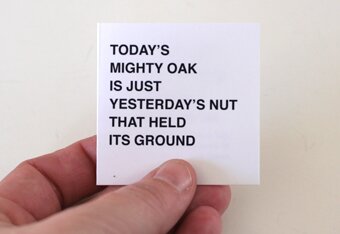 From this post by The Small Object Steno Pad.
It makes me think about what it means to hold my ground, and for what.
It makes me think about what it means to have faith, to be sure of what I hope for, to be cer­tain of what I do not see.
And I thought this is a rather beau­ti­ful reminder:
We believe sto­ries are valu­able, no mat­ter how many peo­ple read them.
We believe fol­low­ing your pas­sion is more impor­tant that watch­ing your site meter.
We believe in the hand­made, the first try, the small start, and the good effort.
We believe that small is beautiful.
From The Small is Beau­ti­ful Manifesto
(to learn more click on the "Small is Beau­ti­ful" but­ton on the side bar)
Just think­ing about the small things this morn­ing. More to come lat­er, hope­ful­ly today. But for now, I need to get some gro­ceries and some school work done (meh).