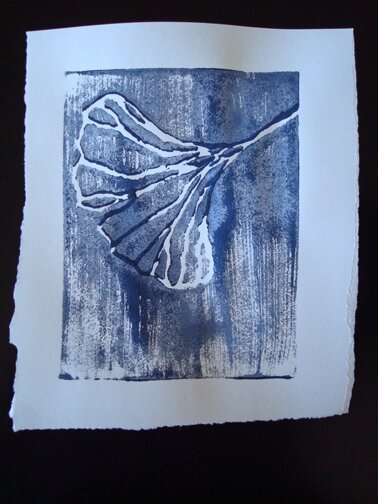 A few weeks ear­li­er I made a bunch of prints using Sty­ro­foam pieces, inspired by the tuto­r­i­al and love­ly images on Glit­ter­goods (you must scroll down on her page to look at the won­der­ful framed com­pos­ite of the kinder­gart­ners' work! If I were a teacher I would total­ly be steal­ing that idea!). Print­mak­ing is my all-time favourite thing to do. It's such a mag­i­cal process, because the print nev­er turns out exact­ly the way you thought it would.
Any­ways, when I saw the tuto­r­i­al I thought it would be love­ly to make a com­pos­ite of gink­go leaf prints. We have this large orange frame with a gener­ic pho­to poster in it and we (or I) have been want­i­ng to replace it with some­thing more per­son­al for some time. Gink­go trees are anoth­er one of my favourite things. Did you know that they are liv­ing fos­sils? I thought that's very cool. There's also a cer­tain ele­gance about them, the fan-like leaves flut­ter­ing in the wind.
Any­how, this was a rather spon­ta­neous project so I just used what­ev­er I could find in the house. One could get foam pieces that are specif­i­cal­ly made for print­ing, but I just cut out rec­tan­gles from, um, meat trays. I know. I know it sounds gross. But I did wash the trays 5 mil­lion times with antibac­te­r­i­al dish deter­gent. And I thought, don't we use the same sponge to wash the forks and the bowl that raw meat was mar­i­nat­ing in? I mean, we're not going to eat the prints! Any­ways, I digress. So here's how I scratched the foam with a lead­less mechan­i­cal pen­cil, using pressed gink­go leaves as a guide: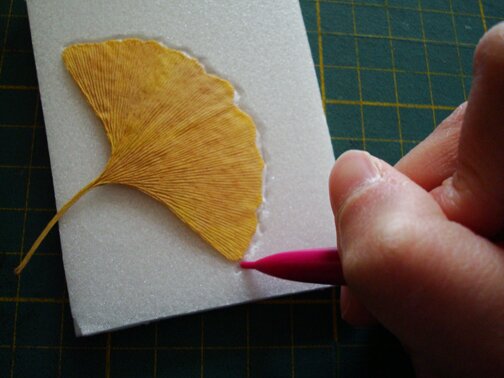 The foam plates are quite inter­est­ing in themselves.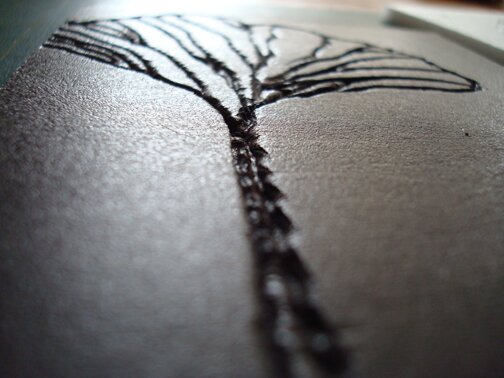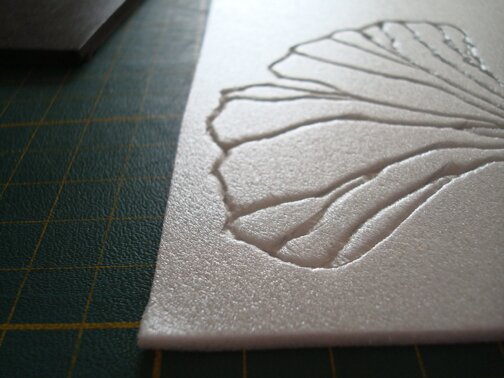 I did­n't have block print­ing ink (I should real­ly invest in some), so I used blue tem­pera paint mixed with a bit of black water­colour. I con­sid­ered using acrylic because it's more tacky, but I did­n't want it to dry and get stuck on the bray­er, because I only have one. I did try to use a bray­er to roll the paint on the plates ini­tial­ly and be all print­mak­er-like, but it did­n't work out very well because the paint was too watery and slip­pery, so I used a paint brush instead. I think I might have impro­vised too much and used none of the prop­er tools, so half the prints did­n't turn out. But then that almost always hap­pens with print­mak­ing. Well for me any­ways. So here I am con­tem­plat­ing my "keep pile" and "toss pile".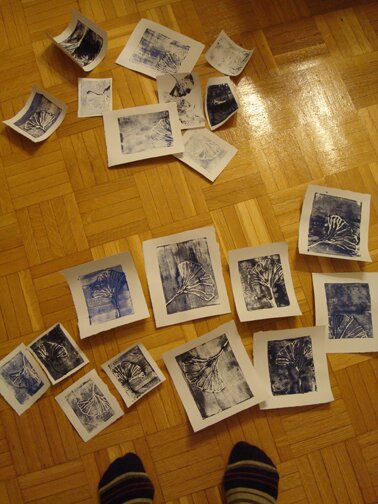 At the end of con­tem­pla­tion, here are some of my favourites. The brush marks actu­al­ly turned out quite interesting.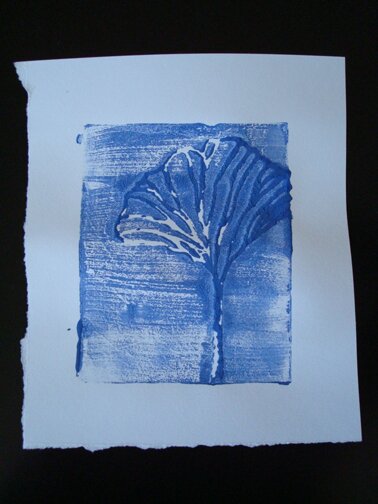 Here's anoth­er print with the same plate.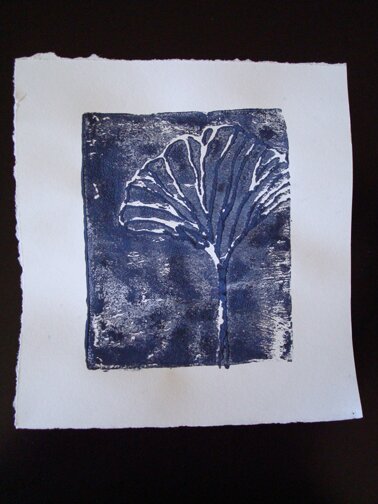 And some small­er ones.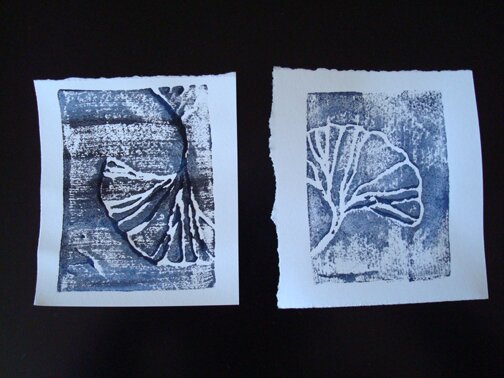 Try­ing a dif­fer­ent view.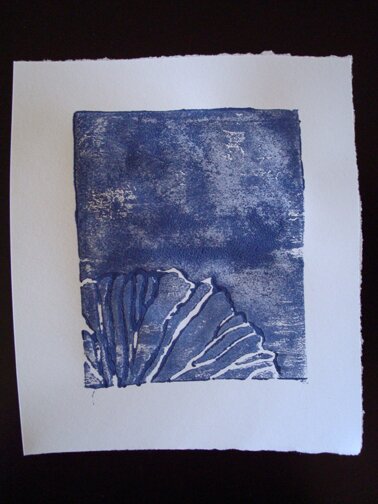 We decid­ed not to put these into the orange frame because we felt that the prints were bet­ter viewed indi­vid­u­al­ly than grouped. But we thought of anoth­er idea for mak­ing scratch foam prints for the frame, which I will sure­ly share when we get around to it :)
I still had a fab­u­lous time mak­ing them though. Espe­cial­ly the part where I don't have to wor­ry about whether the plate is per­fect­ly cen­tered on the paper or whether the ink is rolled on even­ly or whether the paper is torn on a per­fect right angle or whether my fin­gers are per­fect­ly clean so I don't leave fin­ger­prints on the paper.
I thought it would be fit­ting to end with this quote I saw on French Toast Girl's Face­book page:
The prac­tice of art isn't to make a liv­ing. It's to make your soul grow.
- Kurt Vonnegut