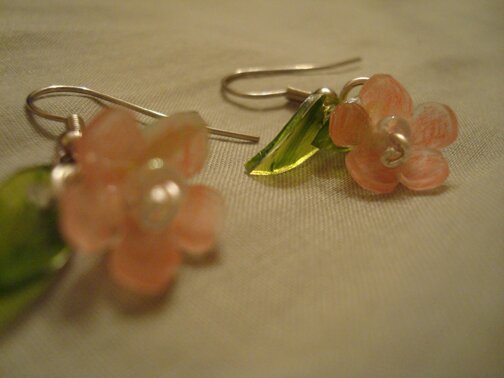 Shrink plas­tic!! :D
I've been want­i­ng to make these shrink plas­tic flow­ers ever since I saw the tuto­r­i­al on Just Some­thing I Made some weeks ago. I have one sheet of that plas­tic left from a long time ago… I think an aun­tie bought that for me from Honk Kong when I was in ele­men­tary school. I real­ly liked work­ing with it when I was a kid. I found it quite mag­i­cal how it works, and not a lot of fume (that I could tell) dur­ing the bak­ing process, unlike Fimo. Any­hoo, I've only ever made things that are flat, and I thought it would be quite an adven­ture to make three-dimen­sion­al shapes, like flowers!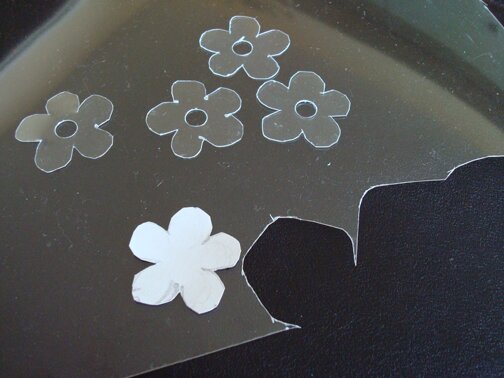 The tuto­r­i­al men­tioned using a flower shape punch, but I did­n't have one, so I just drew a tem­plate by hand. I fig­ure it would­n't mat­ter if the shape is wonky any­way, since it's going to shrink and be reshaped. I want­ed the flow­ers to look like the pink ones on those bloom­ing trees. Not sure what they're called but this is what it looks like…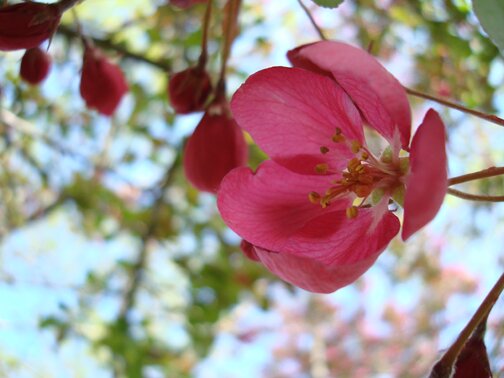 Pret­ty huh. Also like a cher­ry blos­som, except more pink.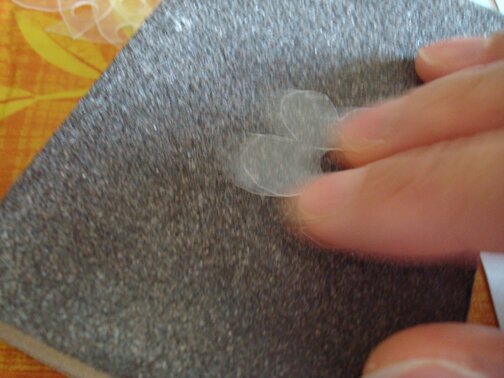 So, any­ways. I did­n't have a pink mark­er, so I sand­ed one side of each flower and coloured them with a pink pen­cil cray­on, which I have plen­ty of.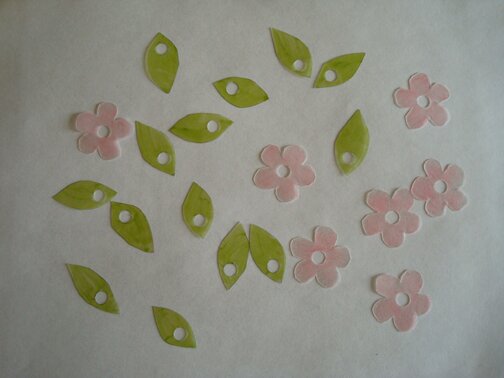 I do have a broad-tip green mark­ers, so that went on the leaves. Now they're all coloured — ready to bake! :D It only said on the pack­age to bake it at 130°C, did­n't men­tion for how long… so I just sat in front of the oven to watch them shrink, which was kind of a cool process to watch, and did­n't take very long, about 2 min each time.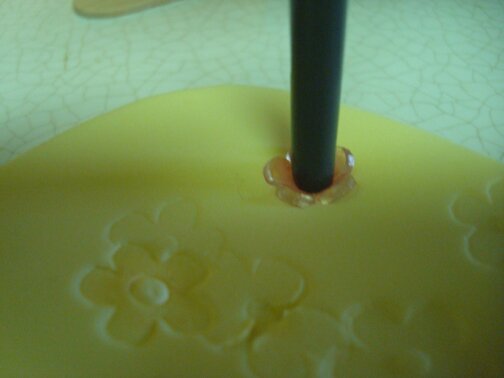 The flow­ers need­ed to be baked indi­vid­u­al­ly, and then imme­di­ate­ly pressed with the end of a paint­brush on a stack of craft foam once it's out of the oven. The first flower cracked when I pressed it :( because I was too slow get­ting it out and it had already cooled. But the rest worked out bril­liant­ly. And what real­ly helped was the pop­si­cle stick I men­tioned in my last post! It's a per­fect shape to scoop the flow­ers direct­ly from inside the oven. I did­n't get pic­tures of that in action because I need­ed to move quick­ly, but here's me using the pop­si­cle stick to scrape the leaves off the bak­ing sheet…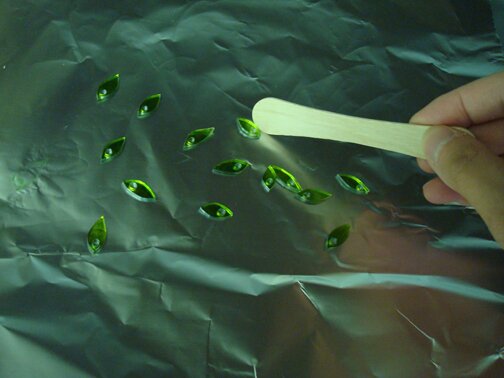 I liked how the leaves turned out, coloured with mark­ers. Very lush-look­ing. The pen­cil cray­on flow­ers, on the oth­er hand, looked like they were coloured with a pen­cil cray­on. Oh well. Can't see that from far away and I do like how it looked kind of frosty.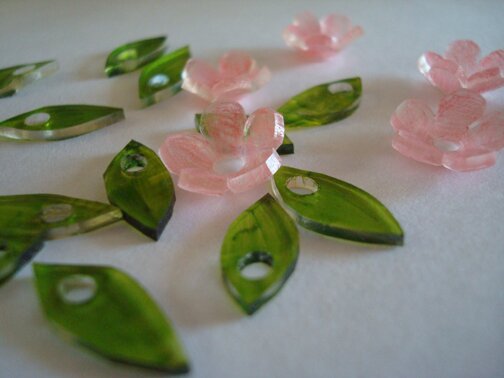 I also did­n't have head­pins, to attach a bead in the cen­tre of the flower. But I do have jew­el­ery wire, so I made my own head­pins. Sort of.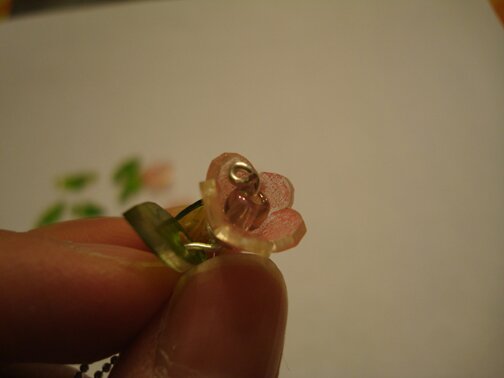 And part of the rea­son why I was so excit­ed about mak­ing these flow­ers, is because I thought it would go so well with the blue beach glass neck­lace I made last summer.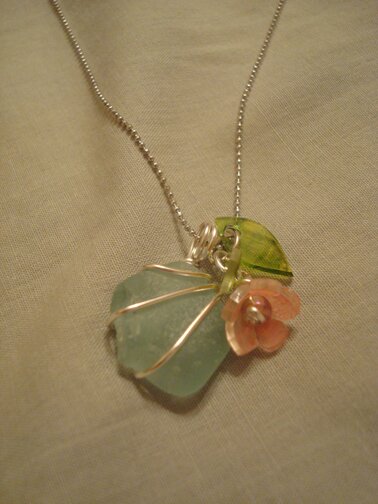 See? I knew the colours would look so pret­ty together.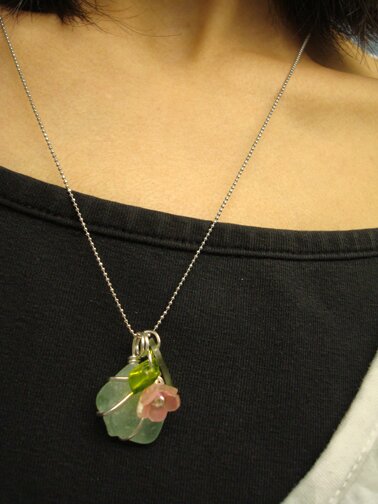 And then I also made ear­rings to match my pink shoes, which I'm plan­ning to wear to a wed­ding in a cou­ple of weeks :D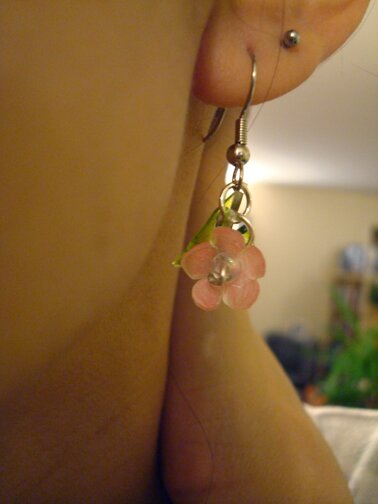 I still have 3 flow­ers and many leaves left, can't decide what I'm going to do with them yet… I might save them to make Christ­mas presents with, or make a brooch with them. The tuto­r­i­al has a pic­ture of a bou­quet pen­dant, also very pret­ty, so I might end up mak­ing that.
But any­ways, it was real­ly fun. Now I might need to find a store where I can get more shrink plas­tic… I came across Klutz's Shrink Art Jew­el­ry book some years ago and there are tons of love­ly ideas as well.
Have a great week­end! :D