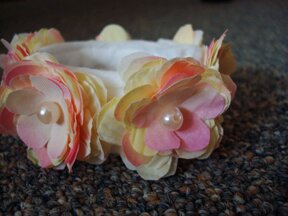 Plunged into a craft project on Thurs­day night. It came from the rose cuff bracelet tuto­r­i­al on Ruf­fles and Stuff! It's one of my most favourite blogs to read, and it's got amaz­ing pho­tog­ra­phy and many won­der­ful projects. And the rose cuff is just a bril­liant idea and it's very pret­ty… I'm plan­ning to wear it to my sis­ter's grad­u­a­tion in a few weeks :D
The cuff is made with felt, petals from fab­ric flow­ers and pearly beads. I did­n't have fab­ric flow­ers with the right size of petals, but I had a bunch of fab­ric ros­es that Mike found lying in the mid­dle of a street some years ago (he brought it home because he thought I could use it in a craft or some­thing, and he was RIGHT! :D). So! I made a tem­plate with card­board, cut off a bunch of petals, and cut out a flower shape from each petal.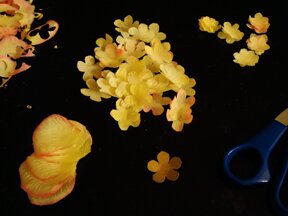 I also cut some small­er flower shapes for the top lay­ers of petals. It took a looooong time. I must have had over 80 petals at the end. And on the petals there were these fake dew drops. For­tu­nate­ly they weren't too dif­fi­cult to get rid of. This one has some seri­ous dew drops going on here…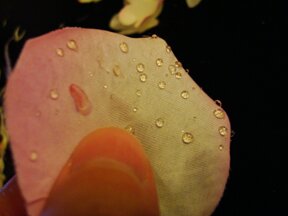 And the sad pile of cast-offs…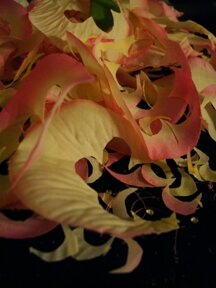 Instead of using Vel­cro, I sewed on some mend­ing tape to attach mag­nets for clo­sure. (And the petals all lined up, ready for action!)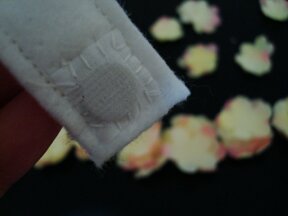 The tuto­r­i­al sug­gest­ed using glue gun to attach the flow­ers, which would make a stress-free and quick process, but I left my glue gun at work :( So, a nee­dle pulling thread…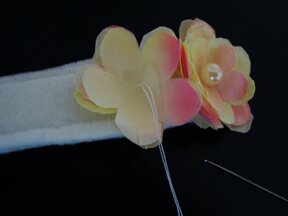 And here we have it, a cuff named Rosie :D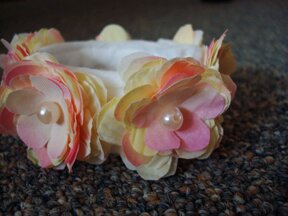 I'd like the petals to curl up more towards the cen­tre, right now they look a bit flat… but I think I'm pret­ty hap­py with it, espe­cial­ly the bit of pink com­ing through.
Smile and wave…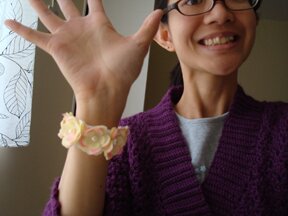 Karate chop!
Uh, that was kind of ran­dom… but yes! it was real­ly fun mak­ing the rose cuff. I real­ly need­ed some­thing to keep my hands busy and my mind calm this week, so I'm rather thank­ful :) The orig­i­nal project was designed as a Moth­er's Day present, but I don't think my mom would like to wear some­thing like that. Rather, I'm think­ing about mak­ing one for my 4 year-old cousin for Christ­mas, she likes flow­ery things, I think. (And no, it is nev­er too ear­ly to think about Christ­mas presents.)
Have a won­der­ful week­end! :D