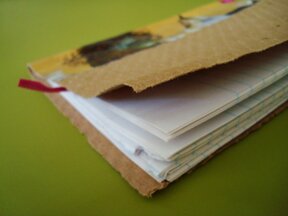 This post is ded­i­cat­ed to a dear friend of mine. She likes to write things down. Wher­ev­er she goes, when­ev­er she comes across inter­est­ing tid­bits of infor­ma­tion or things that inspire her or a book title that seems intrigu­ing, she would write it down. In book­stores, in the park, on the street, she takes notes, and she takes in all the love­li­ness that life has to offer. And so that inspired me to make a handy palm-sized notebook!
But before I go into the process of mak­ing it, I must say that I did­n't come up with this idea entire­ly on my own. Besides being inspired by my friend, I've also got­ten this book-mak­ing idea from Flipflops and Apple­sauce. I mere­ly built on the idea to cre­ate a note­book with more pages.
Any­how, that's how I did it:
I used lined 3‑hole paper because that's all I have at home, I sup­pose it would look more neat with plain lined paper, or plain unlined paper… but I did­n't mind hav­ing holes in my note­book :P
I took about 15 pieces of lined paper, divide into two stacks, and tore each stack in half. I then end­ed up with 4 stacks of 1/2 sheet paper, and I fold­ed each stack in half, as pictured.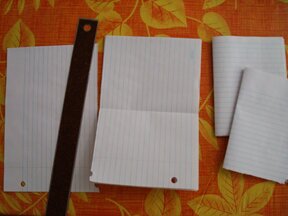 So then I end­ed up with 4 sections.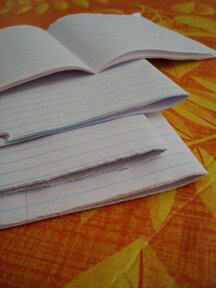 Then I took a thick­er paper and tore it to size to fit the pages, for a book cov­er. Of course, one could also mea­sure and cut the paper to size, but I pre­fer eye-balling, tear­ing with the ruler, and imper­fec­tions :) I think this paper was used to wrap ceram­ic wares when I bought them from a store.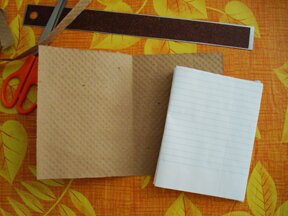 I want­ed to have a built-in rib­bon book­mark, so before I sta­pled every­thing togeth­er, I attached a bit of pink raf­fia to the top edge of the book cov­er with some white glue.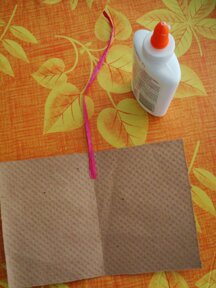 After the glue is dried, I wrapped the cov­er around all 4 sec­tions, with the book­mark stick­ing out at the top…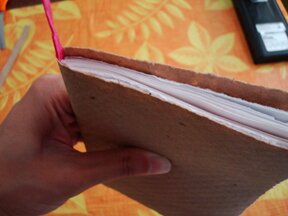 … and sta­pled the whole thing togeth­er. Mike hap­pens to have a heavy-duty sta­pler from his school days, which is real­ly handy for this project. But with a reg­u­lar sta­pler one could also sta­ple from the front of the cov­er, then sta­ple from the back, and repeat, alter­nat­ing sides with each sta­ple, and sta­ple very close­ly togeth­er down the fold side of the book. That should hold all the pages together.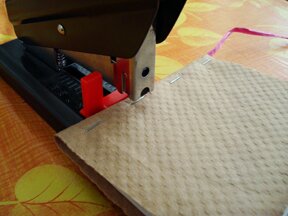 Now this is the fun part — choos­ing a pret­ty paper to wrap around the spine! I like choos­ing from mag­a­zines because I can find lots of inter­est­ing and mean­ing­ful pic­tures that way. But I've also used origa­mi paper. I imag­ine gift wrap­ping paper would be nice too! I tore the image to size — width does­n't real­ly mat­ter but the height needs to be the same as the book's height.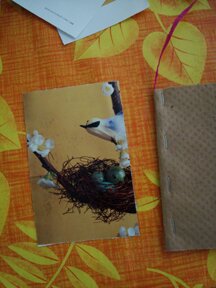 I fold­ed the image in half length­wise to cre­ate a crease, and then opened it up to apply glue (I used spray adhe­sive so the cov­er does­n't buck­le), and then wrapped it around the book's spine.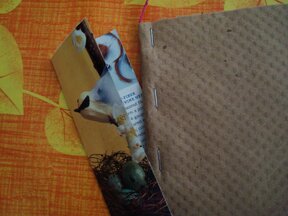 And here we have it, a notebook!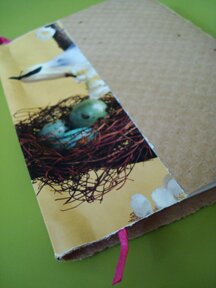 With lots of pages to write in!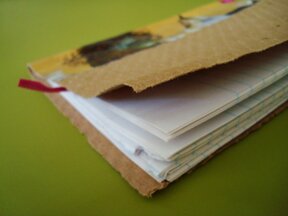 And I also made a gar­den-themed one…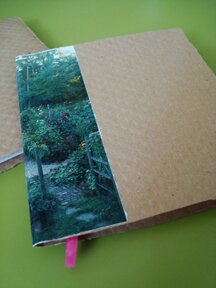 … and an art jour­nal with dif­fer­ent kinds of paper in it! Will have to write about that art jour­nal someday…
I think it def­i­nite­ly beats buy­ing a $10 note­book at the bookstore!
Have a love­ly weekend!