Celebrating our third anniversary today (yay!), I thought I would share some of the crafty moments of our wedding…
Crocheted corsages! On the left is a picture my mom took, showing how they were worn with lime green ribbons (note the date stamp :D).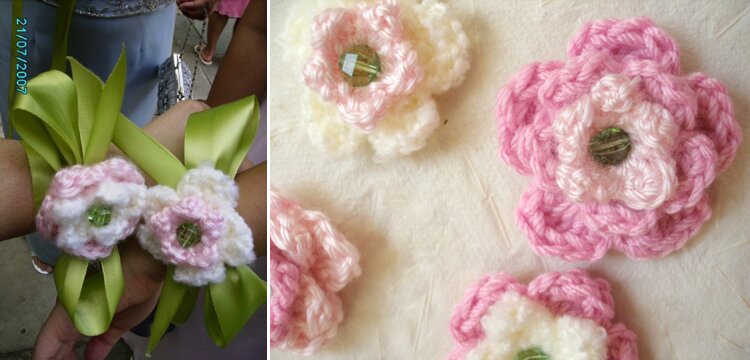 And the bead-and-wire boutonnieres with fabric leaves… I got the idea from an issue of Martha Stewart Wedding. I was looking to link the article on her website, in case anyone wants to use it, but I can't seem to find it anywhere. I believe Mike still has his boutonniere, which is the one on the left with the pearls (I wore a pearl necklace).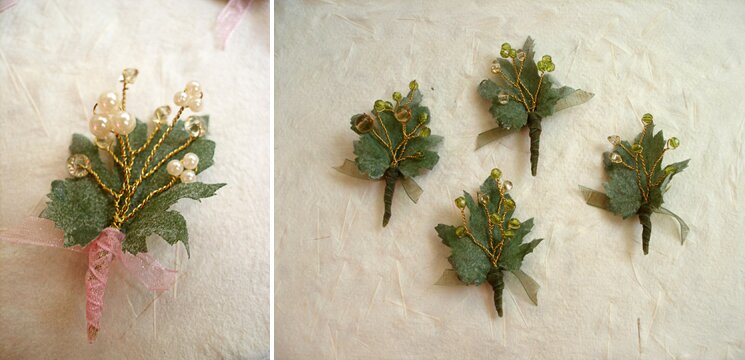 The biggest craft project in the wedding was the top part of the dress. Don't get me started on all the ordeals my mom and I went through trying to find a top that fits! (The skirt was no problem though, just needed to be shortened. I got it from The Bride's Project, an organization I would highly recommend to any bride-to-be!) So eventually I just gave up and crocheted it, with a cream-colour cotton thread. It has pearl buttons on the back, and a sheer ribbon weaved around and tied at the back. I followed a pattern from an issue of Crochet Today, but again, I can't seem to find it on the website anymore…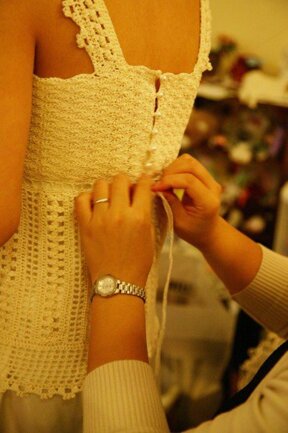 Everyday I feel so very blessed to be married to the most wonderful, creative, patient, supportive, and kindhearted man. Looking forward to many many more years together! :D