Paper­clip pup­pets from Made by Joel! Made with cor­ru­gat­ed boards and bent paper­clips. Absolute­ly bril­liant and def­i­nite­ly an idea I'm keep­ing in my tool box! :D
Anoth­er paper treat! This, my friend, is a piece of bacon. Not just a piece of bacon, but a mag­net­ic bacon book­mark, with a cute smile! :D Free down­load from Wild Olive! I'm so grate­ful~ The PDF down­load includes pen­cil, pick­le, ban­dage, and ruler too! (mag­net­ic pow­er not includ­ed :P)
Since it's been rain­ing for the past cou­ple of days I've been look­ing for mush­rooms when­ev­er I'm out, but haven't seen any. And then one day I came across these mush­room lights by The Great Mush­room­ing on Toky­obling's blog! They're made of glass, LED lights and found wood. Sim­ply mag­i­cal. This eno­ki-like one is my favourite.
More detailed real­ism! Came across this exhi­bi­tion of cro­cheted veg­eta­bles by Japan­ese artist Jungjung via the Craftzine blog. I espe­cial­ly love the car­rot — look at the lace-like leaves!
Speak­ing of car­rots, a cou­ple of vis­i­tors have asked if I could post a pic­ture of the cook­ie cut­ter I used for the crazed rab­bits and their car­rots — cer­tain­ly! Here it is!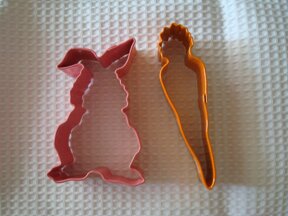 Wish­ing you a great start to the week!