This week I came across these sweet pear orna­ments from lil fish stu­dio… per­fect for a Christ­mas tree! Now I just need to find a partridge…
Found par­tridge! Well, very cool-look­ing birds any­way. Made from paper mâché by that artist woman! And step-by-step instruc­tions on how to make them too!
See? This is a par­tridge. Our paper mâché friend looks pret­ty much like it, does­n't it? Um, maybe I'll need to make my paper mâché par­tridge with a small­er head and a big­ger, more pear-like body…
While I keep find­ing great ideas for Christ­mas (and I find them all year long), I do agree that Sep­tem­ber is a bit too ear­ly to start work­ing on them… so, here's a won­der­ful­ly sim­ple yet amaz­ing­ly styl­ish fall project — A fab­ric scarf from mer mag!
I love cro­chet­ing cowls and wear­ing indoor scarves, because they make me look old­er :P But this time a year it might be a bit warm to wear a wool­ly thing round one's neck… This scarf is made of light-weight fab­ric so it's per­fect for fall :D I also real­ly like this because it's sewn into a ring, like a cowl, so I won't have to wor­ry about how to styl­ish­ly drape the ends of the scarf, which I always had trou­bles with, because I'm not so much a styl­ish per­son. So! Need to make a trip to the fab­ric store soon! :D
And then I recent­ly came across these gor­geous cro­cheted mush­rooms on Wun­derkam­mer, aren't they cool? The pat­terns for mak­ing them are for sale!
And final­ly — love these fall flow­ers sit­ting on our din­ing table! :D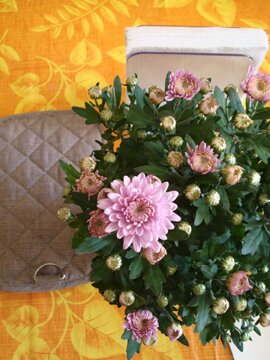 I love fall flow­ers in gen­er­al, but these are espe­cial­ly lov­able because Mike brought them home for me today :D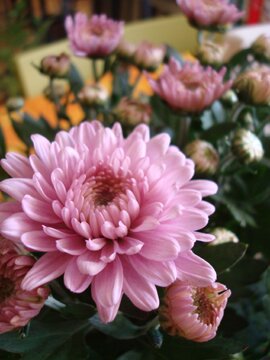 Hap­py Wednesday!